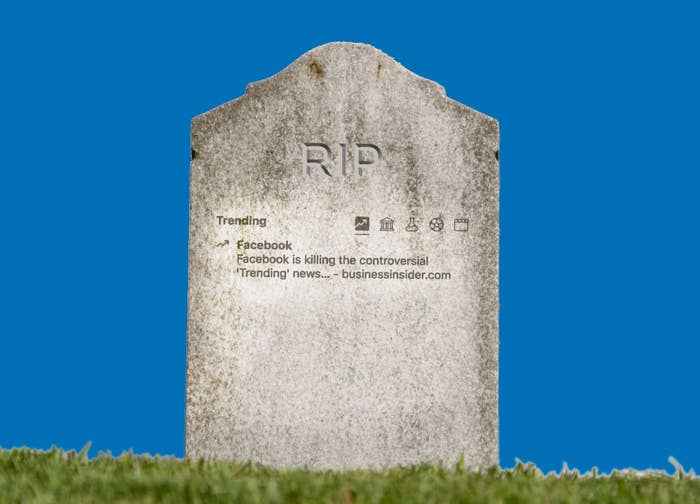 Facebook Trending, a product designed to showcase popular topics and news but that instead became a lighting rod for accusations of bias and a case study in the failure of algorithmic curation, died today. It was just over 4 years old.
Its demise was announced in a company blog post that said the product will be removed "to make way for future news experiences on Facebook." The announcement emphasized Trending's unimportance: "It was only available in five countries and accounted for less than 1.5% of clicks to news publishers on average. From research we found that over time people found the product to be less and less useful."
But what Trending lacked in usage it made up for in controversy, negative press coverage, and frustrations for Facebook. That was likely as much of a factor in the company's decision to put Trending out of its misery as its lackluster stats and small footprint.
At the time of its death, Trending was seen by American conservatives as evidence of Facebook's bias against them, and was simultaneously derided by journalists and others as an example of how the company's reliance on algorithms leads to the promotion of misinformation.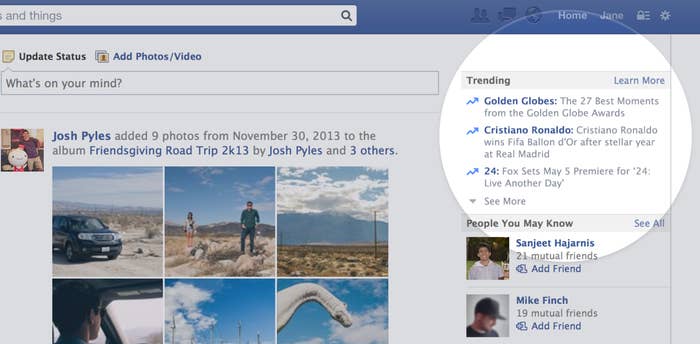 Trending was born in early 2014, at a time when Facebook's product launches appeared to be "tearing pages straight out of Twitter's playbook ... with the launch of hashtags, verified profiles, and embeddable posts."
It was part of an overarching strategy enacted after the 2012 election to strengthen Facebook's offering of real-time information and news.
Trending's early time on the platform was relatively uneventful. It was shown only to English-language users on desktop while the company tried to find a way to make it scale to reach as many users as possible, and on mobile devices. Its most notable characteristic was the people hired to work on it. In addition to engineers, designers and product managers, there were editors (though they were not called that).
A small team of people, many of whom had journalism degrees and/or experience in the journalism industry, were hired on contract as "news curators." They used tools built by Facebook to review the topics that would be featured in the Trending box, and to choose which news article would be featured.
"Anything can be trending online, but that doesn't mean it's news. Our job was to find the news rather than find what's going on on the internet," one former Facebook Trending curator told BuzzFeed News. (They asked to remain anonymous due to an NDA).
That process exploded into a public controversy in May 2016 when Gizmodo published a story, "Former Facebook Workers: We Routinely Suppressed Conservative News."
It quoted an anonymous former Trending curator who said, "I'd come on shift and I'd discover that CPAC or Mitt Romney or Glenn Beck or popular conservative topics wouldn't be trending because either the curator didn't recognize the news topic or it was like they had a bias against Ted Cruz."
Other curators in the story denied there was a bias against conservative sources. Facebook immediately came under intense criticism from conservative commentators and organizations. Its response was to invite a group of prominent conservatives to its headquarters to meet with CEO Mark Zuckerberg and COO Sheryl Sandberg.
Wired reported that one goal of the meeting was "to bring in a group of conservatives who were certain to fight with one another. They made sure to have libertarians who wouldn't want to regulate the platform and partisans who would."
A second goal was to bore the invitees with "a technical presentation after Zuckerberg and Sandberg had addressed the group."
After the meeting, some participants posted on Facebook to express cautious optimism about the company's willingness to listen. Glenn Beck, however, was alarmed by the lack of evidence that Trending topics were being manipulated in the way claimed.
He also criticized his fellow conservatives for using the meeting to make demands that Facebook elevate conservative voices. "It was like affirmative action for conservatives. When did conservatives start demanding quotas AND diversity training AND less people from Ivy League Colleges," he wrote.
But the die was cast: Trending was mistrusted by conservatives and, by extension, so was Facebook — all thanks to a product that was only available to a small percentage of the platform's users.
"The most important consequence of the Trending Topics controversy, according to nearly a dozen former and current employees, was that Facebook became wary of doing anything that might look like stifling conservative news," wrote Wired.
At the end of the summer, Facebook fired all of the curators and began using algorithms to automatically determine which topics to promote to the Trending box, and which associated news articles to highlight.
That's when things got even worse for Trending.
It promoted a 9/11 conspiracy theory, a false story about Megyn Kelly, a claim that presidents Barack Obama and George Bush conspired to rig the 2008 election, and a report about a religious event in Iraq with a false headline. Analysis by the Washington Post found the Trending box repeatedly surfaced false and misleading stories after the curators were fired.
In the span of just a few months, Trending had gone from being an example of liberal bias at Facebook to a symbol of the dangers of unaccountable algorithms, and the platform's failure to police misinformation.
Facebook scrambled to improve Trending. It eventually got rid of its personalization features to better control what was being shown to people, and brought in a team of human "reviewers" to help with quality assurance. (Their role was far less involved than the former curators.)
The product did eventually improve the quality of its topics and related articles. And in August 2017, Trending finally made its way to the Facebook app, though it was hard to find. But as Facebook itself now admits, Trending never caught on — except as a vehicle for accusations of bias.
Even in its final few weeks of existence, Trending couldn't shake its reputation for suppression: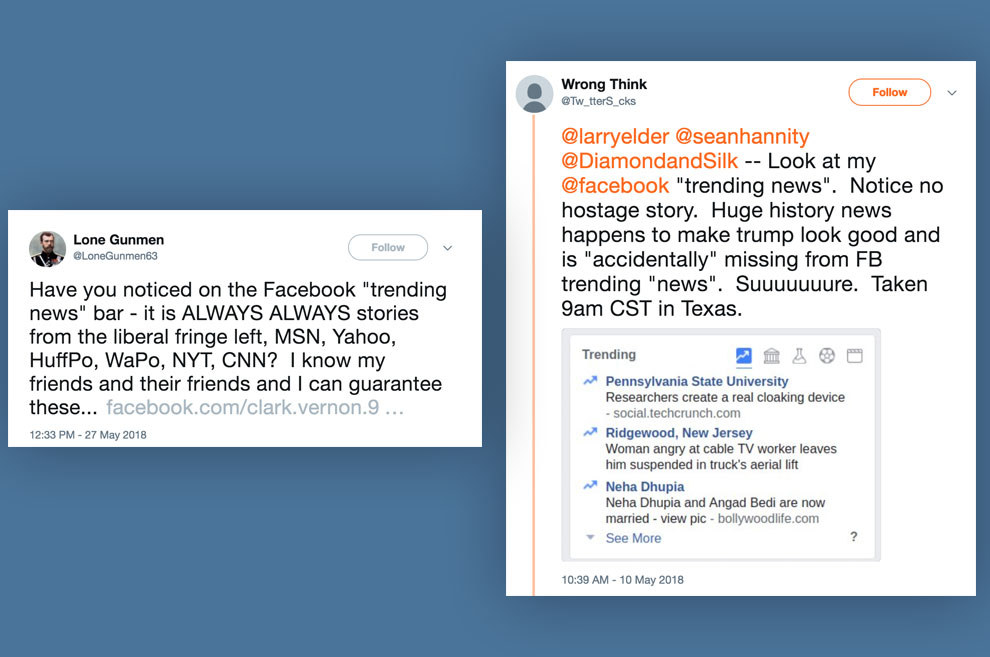 Ultimately, Trending's legacy is a case study in how an algorithmically-driven product can go horribly awry without proper human oversight, and how accusations of ideological bias can turn that same product into a political football, rendering it too problematic to live.

Trending is survived by a handful of curators who say they are left wondering what might have been, but who are also relieved they didn't have to try to write passive headlines for the current news cycle.