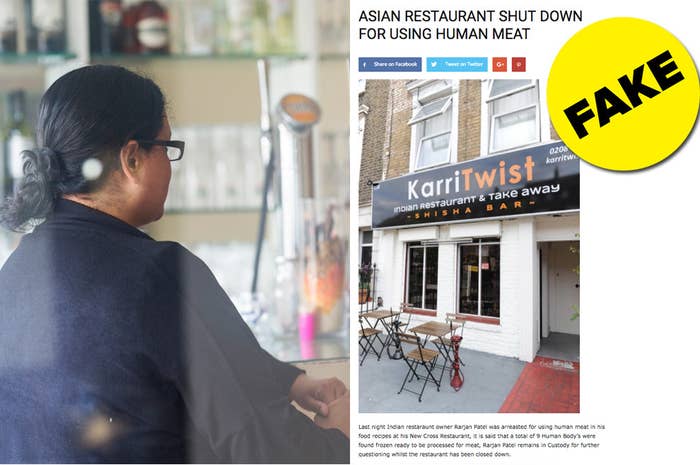 Shrina Begum couldn't understand why people were calling her Indian restaurant to accuse it of selling human meat. The calls started on May 11, and by the next day Begum says she and her staff had answered hundreds of them.
"Both of our phone lines went off and people starting screaming, 'Why are you selling human meat?'" she told BuzzFeed News.
Business at Karri Twist, her restaurant in London, soon dropped by half. Begum had to reduce hours for some staff, and she feared the business might not survive the false rumor. "During one of the calls, [my employee] managed to calm a person down to find out where they'd seen this, and they were like, it's been sent to them via Facebook. I just couldn't believe it whatsoever."
Begum eventually tracked down the origin of the false rumor: A website called Channel23news.com had published a story claiming that her restaurant, Karri Twist, was caught selling human meat and that its owner had been arrested. The completely fake report, replete with spelling mistakes and the wrong name of the owner, featured a picture of Karri Twist and said nine bodies had been found on the premises in the freezer.
The story looked like any other news report when shared on Facebook, and it quickly spread on the site, as well as on Twitter and WhatsApp. People who clicked on the link were brought to a page with the story, and beside it was text that read, "You've Been Pranked! Now Create A Story & Trick Your Friends!" Channel23News.com's homepage is in fact a form that enables anyone to create a fake news story, add an image, and instantly share it on Facebook.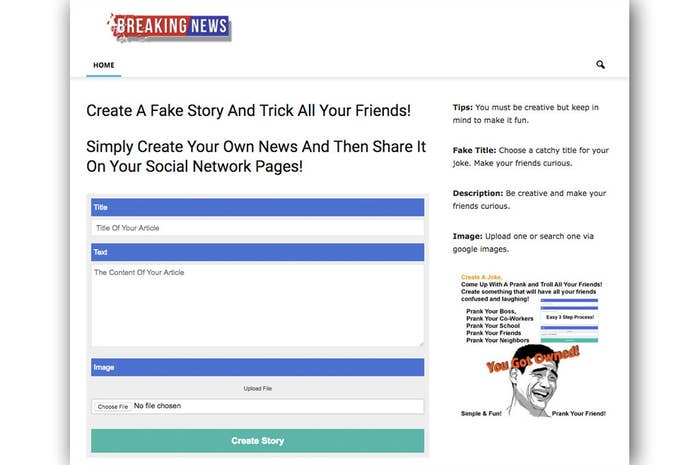 Thanks to a fake article someone had created on the site, an Indian restaurant that has been in business since 1957 was in danger of closing.
"I had planned to do some renovation work — which we had saved for — and now I'd had to cut some staff hours because on the weekend I basically had nobody in," Begum said.
A search of Channel23News.com's archives also found that Begum's restaurant was one of at least six Indian restaurants targeted with fake stories claiming they served human meat. Five of the stories used almost the exact same text as the original hoax about Karri Twist.
Channel23news.com isn't an isolated make-your-own-fake-news site. Using domain registration records, BuzzFeed News identified two separate networks that together own at least 30 nearly identical "prank" news sites and that published more than 3,000 fake articles in six languages over the past 12 months. They're also generating significant engagement on Facebook: The sites collectively earned more than 13 million shares, reactions, and comments on the social network in the last 12 months.
Some of the sites' biggest viral hits of the past year in English include fake stories about a Popeyes manager being arrested for "dipping chicken in cocaine-based flour to increase business" (over 429,000 Facebook engagements), Beyoncé giving birth to twin boys (141,000 engagements), the FBI announcing it found evidence of collusion between the Trump campaign and Russia (38,000 engagements), two great white sharks being found near St. Louis (201,000 engagements), and President Obama passing a law that requires grandparents to care for their grandchildren each weekend (515,000 engagements).
Begum is also by no means the first business owner or organization to scramble to deal with the aftermath of a fake story generated on one of these sites. The mayor of Annapolis, Maryland, was the subject of a fake story claiming he had made racist statements, and a park in Colorado was targeted with rumors that it was closing on June 1. "The post was shared thousands of times, so now officials are doing damage control to stop the rumor from spreading any further," according to a local news report.
Police in Middlesbrough, UK, recently spent time looking into false rumors about a high school after teens there began creating and spreading hoaxes about each other and at least one teacher using one of the sites.
"I think people are using it to bully people," one unnamed mother told a newspaper. She added, "My worry is people will not realise it is fake and something bad will happen to my son."
Meanwhile, officials in Joplin, Missouri, also had to deal with a spate of false stories created about the area on Channel22News.com, a sister site of the one that hosted the hoax about Begum's restaurant.
A Facebook spokesperson told BuzzFeed News it will continue to roll out programs and product updates to make it harder for spammers and fake-news creators to make money from its platform.
"A huge motivation for the spammers who trade in false news is their own profit — and we've recently launched new updates to disrupt their financial incentives and curb the spread of this type of material," they said. "There's more work to do, and people should know we remain absolutely committed to it."
The owner of Channel23News.com and at least 18 other sites like it is listed in domain registration records as Korry Scherer. He's a 25-year-old based in Milwaukee who told BuzzFeed News he prefers to go by the name Korry Tye. In a phone interview he said he's spent the past five years figuring out ways to make money from the internet. He started by using MySpace pages to advertise products, then eventually shifted his focus to Facebook. At the beginning of this year, Tye decided to launch his first so-called prank news site.
"I just thought it could be something that might do well and would be fun and user-driven and take off on its own," he said.
The first site's success led him to launch more. He now owns 19 prank news websites with domains such as Channel23News.com, Channel22News.com, and Channel45News.com. Since February they've published at least 724 fake news stories, generating a total of more than 2.5 million shares, reactions, and comments on Facebook.
Tye says for the most part "people make pranks about their schools or their coworkers."
"There's times that people abuse the platform, like all platforms get abused, and at that point people reach out to me and I have things removed right away," he said. "It's not meant for people to slander people's names or bully people or do disrespectful things that could negatively affect someone's life or ruin their day — that's not cool." (Tye did not respond to a subsequent email noting that the story about Begum's restaurant was still online nearly three weeks after being published.)
He acknowledged that on Facebook the prank stories from his sites look like any other news article. But Tye said most people will click on the stories they're inclined to believe.
"By the time they actually go check it out they're gonna realize it's all in fun," he said. "Not everyone is as savvy as everyone else on the internet, but it's pretty much there before your eyes."
He says the vast majority of stories posted on his prank sites are created by users, though in the early days he sometimes posted fake news stories gathered from other sites to try to raise awareness for his. Hoaxes from elsewhere continue to be copied and uploaded to his sites. The fake story "Man accused of ejaculating in his boss' coffee everyday for 4 years" was first published on World News Daily Report and appeared on Channel34News.com a few days later. (Tye also owns other sites that often publish viral hoaxes that originated elsewhere.)
"Initially I never really set out trying to mess with fake news," he said. "This prank site for the most part is people making stories that affect them and their friends ... I definitely took advantage of online hoaxes and viral hoaxes over the years, I can't deny that. It's a way to make money."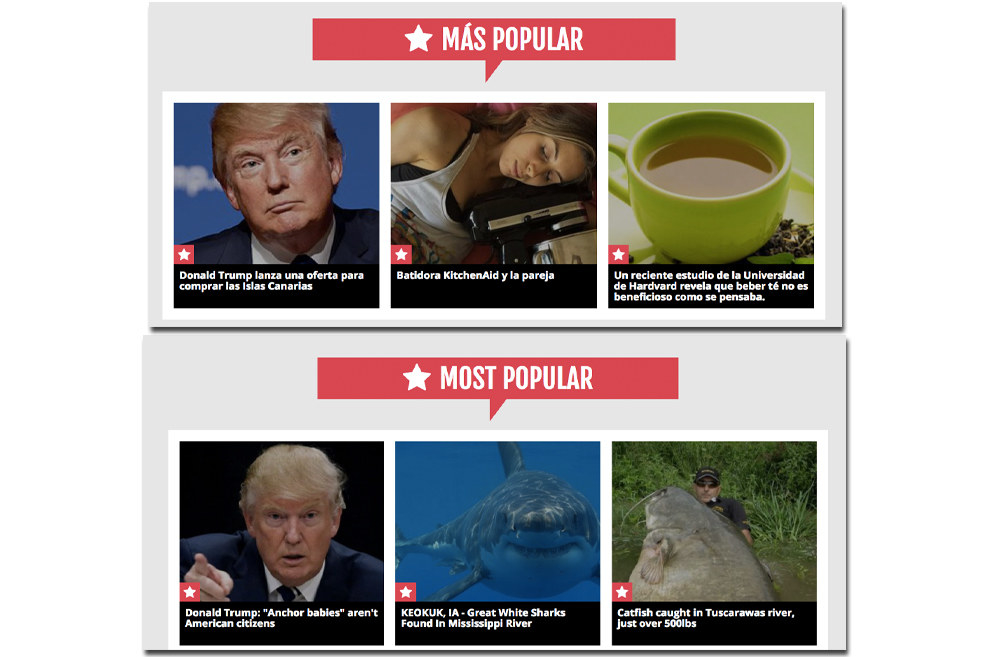 Though he's quickly built up a large network of make-your-own-fake-news sites, Tye isn't the originator of what he calls the "prank news" concept. That may be Nicolas Gouriou, a man based in Belgium who owns at least 11 prank news sites that publish in English, Spanish, French, German, Portuguese, and Italian. The oldest of his sites has been online since at least March of 2015. Gouriou did not respond to multiple emails from BuzzFeed News requesting an interview, or to a list of questions.
Both men's sites feature similar forms for uploading a fake news story, as well as instructions that are almost word for word. One difference is that Gouriou's sites feature a disclaimer: "Any bullying, racist, homophobic or pornographic jokes are prohibited. Do not hesitate to report any inappropriate content by contacting us via the Contact Form."
In spite of the warning, Gouriou's sites have been the subject of critical news stories in several countries where he offers language-specific versions. A website run by El Pais, one of the largest newspapers in Spain, published a story about the Spanish-language hoax site 12minutos.com. It noted that the site is a source of political hoaxes, and one fake story even caused a real journalist to ask a politician about it. France TV has examined Gouriou's French-language fake news operation, and BuzzFeed Germany recently published a story to warn people about his German-language hoax site.
Gouriou's operation generates significant engagement on Facebook. Using data from Buzzsumo, BuzzFeed News found more than 2,300 stories published on his 11 sites in the past 12 months alone. Together they generated more than 10.5 million shares, reactions, and comments on Facebook. Those same stories generated more than 22,000 shares on Twitter during the same time period.
These sites continue to see strong engagement on Facebook in spite of the social network's efforts to crack down on what it calls "false news" and clickbait. Based on his experience with Facebook, Tye said he thinks his sites' success probably won't last.
"Facebook does a lot of stuff to combat anything that's doing well in the world, period," he said. "As quick as it does good, Facebook damages the reach and affects the way it propagates."
He said the reasons for this is partly the company's crackdown on fake news, and partly because he believes Facebook diminishes the organic reach of content in order to push publishers to pay to promote their content.
"Facebook's changed a lot and made it hard on a lot of people, but at the same time they created an opportunity and a space for people like me and others to make a ton of money, and it's life-changing in some cases," he said. "It might not be as sweet as it used to be, but it's still great."
Tye said he'd be happy to follow whatever rules Facebook has for his pages and sites, but he's been unable to speak with anyone from the company about it. "I aim to, and would like to, establish more of a working relationship with Facebook," Tye said. "I have a healthy budget to spend with them."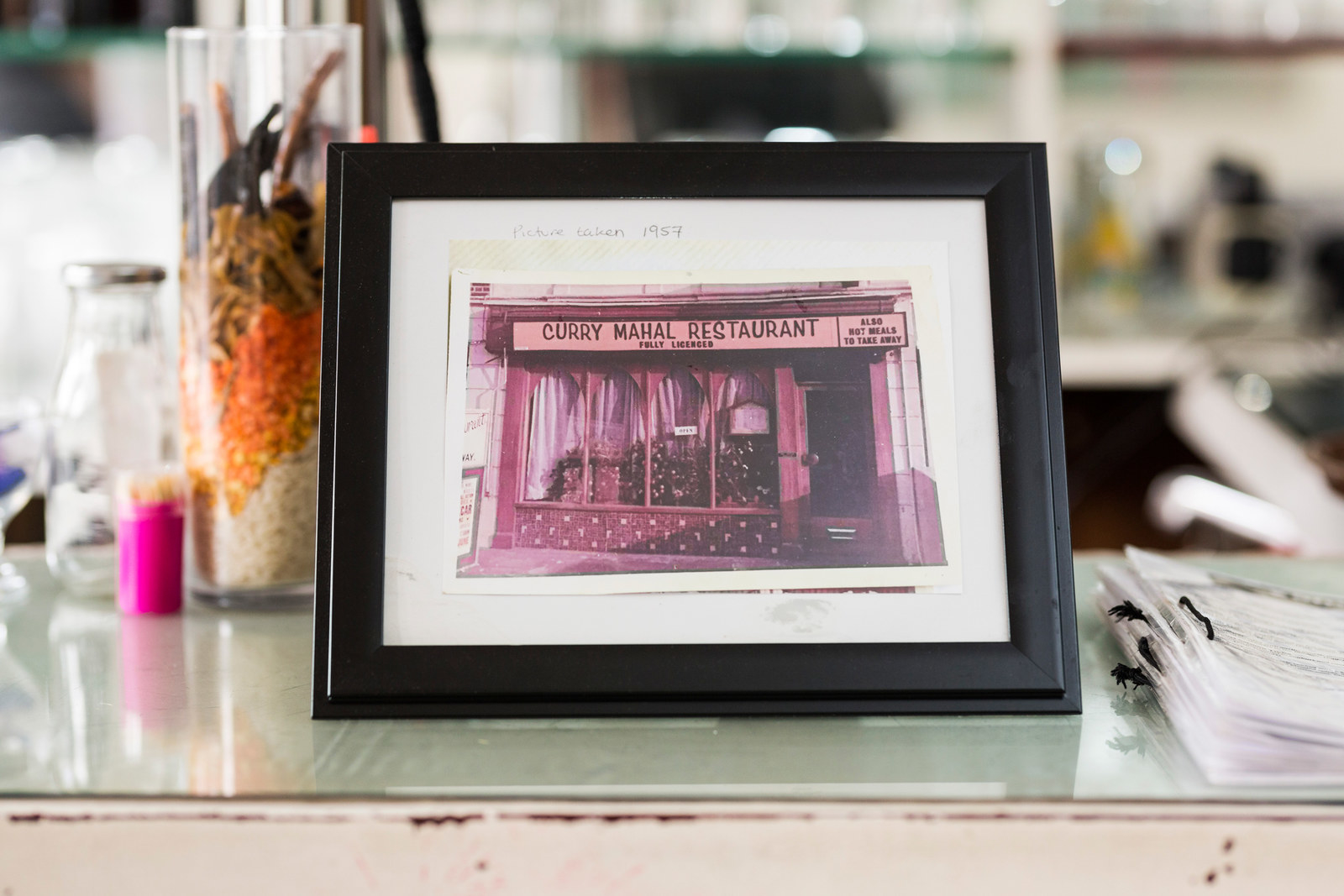 His complaint about not being able to reach Facebook was also echoed by Begum, the restaurant owner whose business suffered after a hoax on his sites.
"I was really angry because I had no way of getting in touch with Facebook — no way whatsoever to tell them that they need to do something to take this down or stop it from spreading," she said.
She suggested the company create a hotline that people being affected by fake news or scams can call. "They make literally billions and billions of dollars globally, and the cost of this would be small."
Today, a little more than two weeks since the story first went viral, Begum says her business is still suffering and she continues to receive angry phone calls accusing her of selling human meat.
"It's been a very, very slow process of recovery, and at the moment my year-on-year sales are completely shot to pieces, it's really terrible," she said. "People are still believing this story — it's still being propagated.
"For people, it's like one screenshot they're passing on to each other," she continued. "It's a couple of clicks and they don't think anything more of it, but the human cost is horrible. I'm not sleeping or eating because of this — I don't know what I'm going to do."