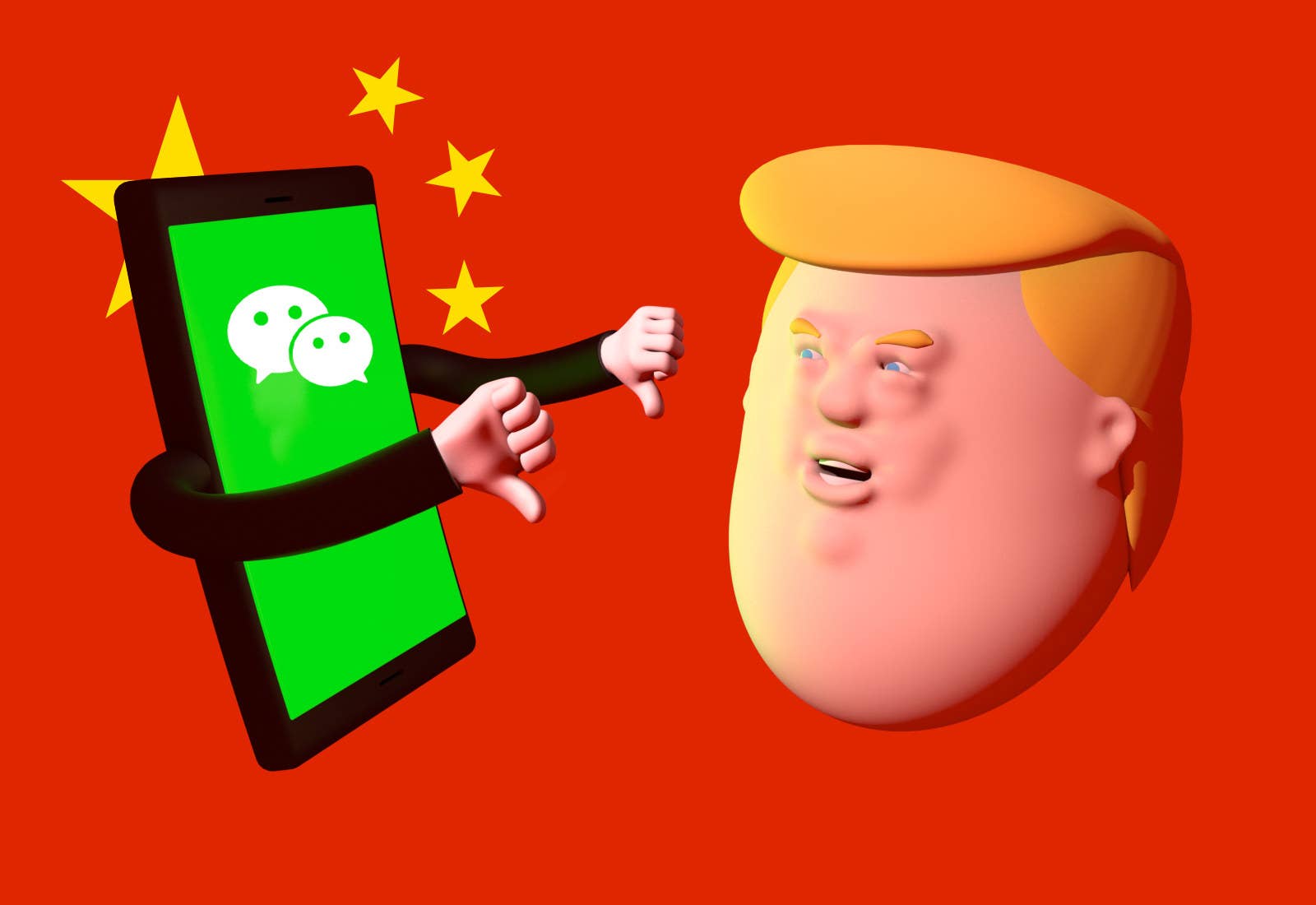 In October, Vice President Mike Pence delivered a speech on China that heavily criticized what he described as Beijing's unfair and unethical trade practices, its "unprecedented" effort to influence the American public and elections, and its opposition to President Trump.
"China wants a different American president," Pence said.
Soon after, posts began appearing on WeChat, China's largest social network, that defended China and attacked Pence. One opinion piece from Chinese state media described the speech as an "all-round criticism, smearing, and demonization of China." The article included screenshots of tweets sent in English that criticized Trump and his administration, and cited them as evidence that even Americans didn't think much of the speech.
"America wants a new president too," read one tweet.
Another said Pence's attack on China was an attempt "to take the heat off the investigation into Russia."
The Chinese government exercises strict control over content posted to WeChat and all other online platforms, and citizens know that running afoul of government censors can have serious consequences. But right now Beijing is happy to let people freely express their anger on WeChat — so long as it's directed at the current US administration and Trump in particular.
The platform is today home to a range of snarky and often mocking content about the US, according to a BuzzFeed News review of a sample of public WeChat posts about Pence's speech, the recent midterm elections, and the ongoing US–China trade war. Now that things are bad between the US and China, censors are allowing plenty of Trump administration bashing.
"You see just as much snark and creativity and flamboyance in Chinese writing as writing [in the US] when it comes to criticism of American politicians. But then when it comes to talk of Chinese politicians things become a whole lot more rote and boring," said David Wertime, the former China editor of Foreign Policy magazine and currently the vice president of Duco, an online marketplace for consultants in geopolitics and international business.
He said the relatively free flow of anti-Trump sentiment on WeChat offers Chinese citizens and media "an outlet for that sort of pent-up desire to express oneself and criticize authorities," since they can't do it about their own government.
WeChat is by far the dominant social network in China, with more than 1 billion monthly active users. As such, it's become the center of online public discourse.
This level of freedom to criticize Trump on WeChat and elsewhere in China is relatively new, though China often stokes sentiment against foreign countries when it's politically expedient. It tolerated boycotts of Japanese goods when tensions between China and Japan ran high, for instance.
But as recently as this summer, Chinese state media was instructed to avoid harsh criticism of Trump and his administration as the two countries tried to avert a trade war. Prior to that, the Chinese government at times even censored anti-Trump content during and after the 2016 presidential campaign as it hoped to forge a relationship with the new administration, according to Wertime.
"We saw Beijing being very reserved and even censoring negative chatter about Donald Trump, which was a surprise," he said. "That of course changed when the relationship soured in many ways."
Pence's speech in particular offered an example of the Chinese government's "information control strategy" related to US–China relations, according to King-wa Fu, an associate professor at the University of Hong Kong's Journalism and Media Studies Centre. He and a team operate WeChatscope, a project that tracks public posts on WeChat to study censorship on the platform.

"Taking a closer look at the articles commenting on Mike Pence's China speech, we observe that WeChat system employed a shift of information control strategy from censorship to propaganda within a week," he told BuzzFeed News.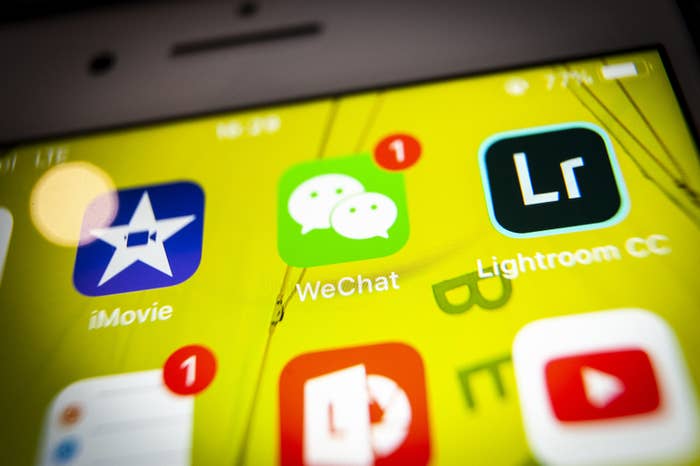 BuzzFeed News gathered its sample of WeChat content using WeChatscope. The posts, just over 500 in total, represent a sample of the total number of public posts on WeChat, and not all public content on the platform. Users on WeChat can also participate in private groups, and that content is not gathered by WeChatscope and was not part of this review. (See "How we got the data" at the bottom of this post for a more detailed explanation of our methodology. You can also view and download the data.)
Fu's team analyzed the posts about Pence's speech and saw that, for example, WeChat removed a public post in advance of his speech. The censored article contained excerpts of the expected speech and was quickly censored "within an hour under the reason of 'violating internet law'," Fu said in an email. The account in question was later removed.
But after the full text and tone of Pence's speech became known, WeChat was soon filled with negative stories about what he said, almost none of which were censored, according to the analysis. "The writers' standpoints were overwhelmingly sensational [and] negative, yet censorship was rare," Fu said.
The government in effect opened the digital floodgates for negative reactions to the speech, and a defense of China's policies.
"We are deep now into the period where the Chinese government has developed a kind of mastery over the censorship apparatus, and understand that they need to, I would say, flood the zone with information that comports broadly with the party line," Wertime said.
Rui Zhong, the program assistant for the Kissinger Institute on China and the United States at the Wilson Center, said China "has been tightening its controls over its media landscape, particularly when it comes to original reporting and content publishing, since 2016."
"Right now everything that gets published to WeChat has to operate in this media environment that has certain censorship guidelines," she told BuzzFeed News.
This results in an onslaught of content that comes from different sources but that all conforms to the same narrative. Along with the Pence speech, BuzzFeed News identified clusters of critical posts about Trump and the trade war, and the GOP's expected performance in the recent midterms, that demonstrated a level of consistency in their messaging.
Taken together, the sample of posts represent a mirror image of Trump's positioning of himself as smart and tough, and the US as strong and standing up to China's unfair practices. For their part, Chinese state media and quasi-independent media and commentators extoll the strength of China and the weakness of the United States, the wisdom of its leaders and their model, and the foolishness and chaos of the Trump administration.
"The tension of course is that on one hand it gives Chinese authorities an opportunity to try to show people how disorganized and internally divided American authorities are and none of that applies in China, even though we all know that's a gross oversimplification," Wertime said.
"But on the other hand it does provide evidence of what happens when you have an open and free political system and press, and savvy Chinese readers will pick up on that. It's a tradeoff the Chinese government have been willing to make."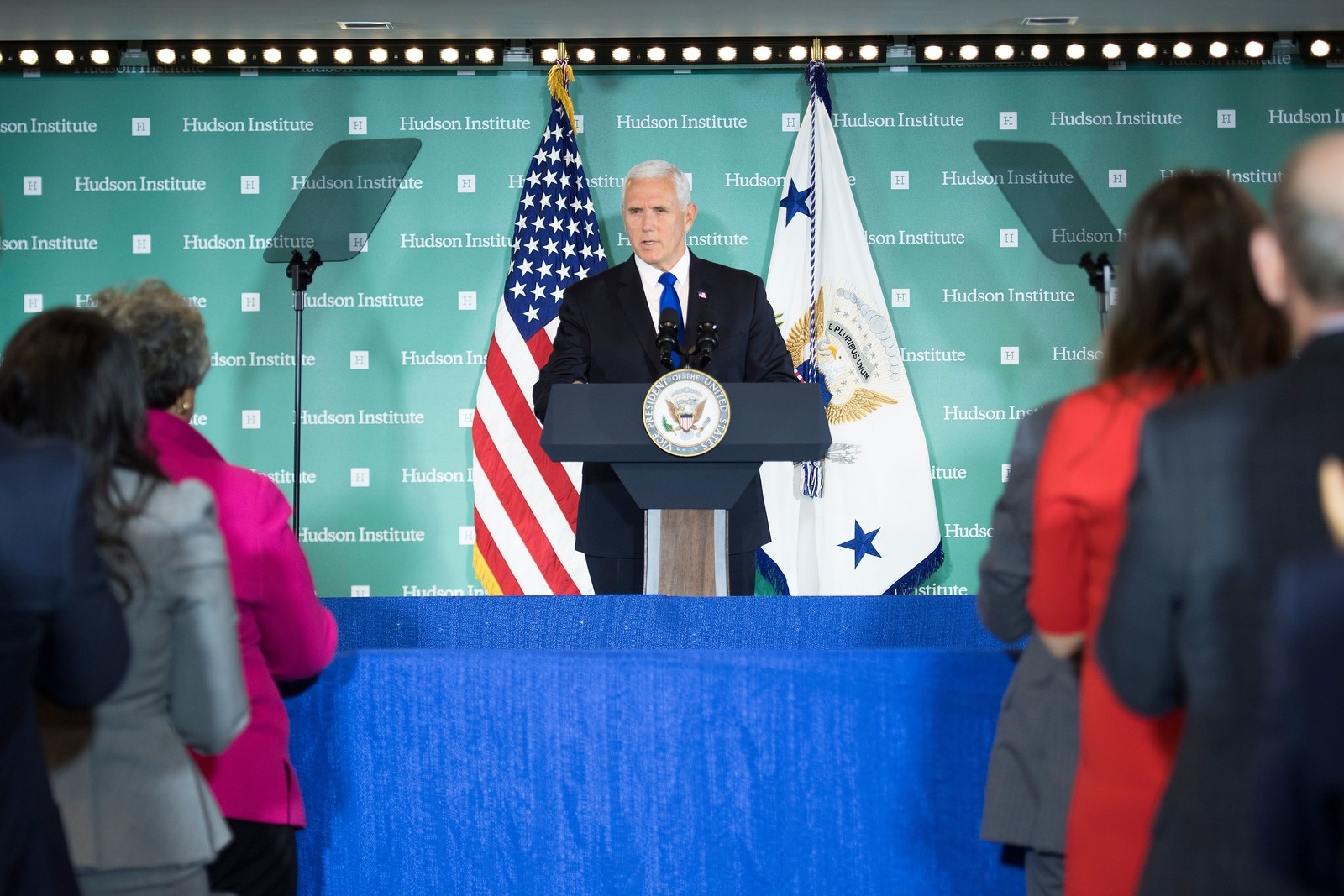 The Pence speech
Prior to his speech, Pence was the subject of curiosity and in some cases praise among the posts gathered from WeChatscope. One fixation in China is his financial situation, which generates almost no discussion in the US.
"It's embarrassing how poor this American vice president is!" read the headline of one opinion article shared by multiple public WeChat accounts in August.
While that may seem critical of Pence, it actually represents the surprise among Chinese that someone as powerful as Pence would not have accrued wealth as a result of his position, which is rarely the case in China.
"It's absolutely true that talking about an American official as 'poor' is evidence of an American official acting normal and ends up setting the internet on fire" in China, Wertime said.
At the heart of this fascination is the issue of corruption among the Chinese leadership. As a result, people there now associate (often ill-gotten) wealth with political leaders. It's therefore notable that at least two articles talking about Pence's financial situation were censored due to unspecified violations, according to data from WeChatscope. It's unclear why those two were removed and others were allowed to remain, but the connection to corruption in China could be one explanation.
"If there's anything that a Chinese censor might worry about, it would be those articles about Pence being poor," Wertime said. "There's a risk of reading into it too much, but it's possible that someone decided 'Enough of these articles about Mike Pence being poor, it's making the rest of us look bad.'"
Similarly, then-US ambassador Gary Locke became an internet sensation in China after he was seen buying his own Starbucks coffee and flying economy. Soon, word went out to Chinese state media to stop covering Locke. "They said not to cover everything about Gary Locke. Don't over-report him," one Chinese editor told the Washington Post in 2011.
Another article shared multiple times after Pence's speech was a largely favorable profile of Pence that described him as "humble and low-key, cautious in his words, with outstanding political achievements and a conservative philosophy on life and family." But its headline again focused on the fact that he had "less than $15,000" in savings and was still paying off student loans. The figures were taken from his financial disclosure forms filed for the 2016 campaign.
The smattering of positive commentary about Pence went away after his speech. The volume of posts about him increased dramatically, and they were universally negative.
"The most frequently reposted article among the pool claimed that 'Chinese are demonized [by Pence]," Fu said. "Other articles described Pence as nonsense, financially poor, anxious and doleful. Meanwhile, Trump was a 'liar' and 'wrecker.'"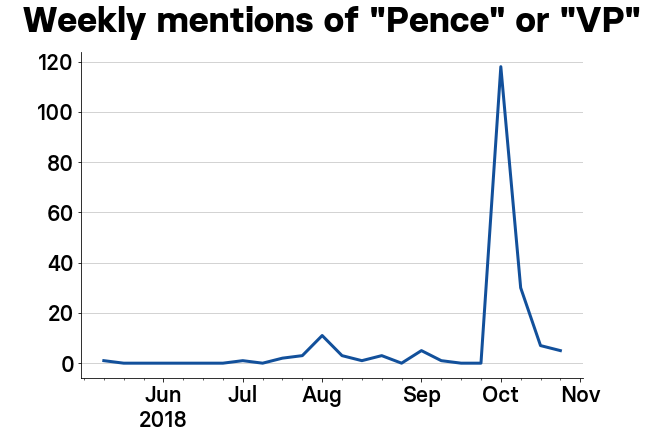 Other posts referred to Pence as being "ceramic" or "fragile." Media articles shared on WeChat also discussed the details of the Mueller investigation, in one case using an amusing cartoon to mock Pence's seemingly weak denials about the probe.
Zhong said the sample of posts about Pence's speech are also notable for what they don't mention. For example, they give no exposure to the fact that he criticized China's humans rights record.
"They have to be very selective about which components of the Pence speech they can mention within WeChat," she said. "Chinese outlets can cover an issue in a way where they can say that the event happened, they can outline certain broad points, but they're also going to obscure certain criticism."
Trade
One of the ways Chinese media and posters on WeChat tried to convey that Trump's tariffs on China are unwise was to use the words of Americans. One article cited tweets and Facebook posts from Americans who criticized the strategy.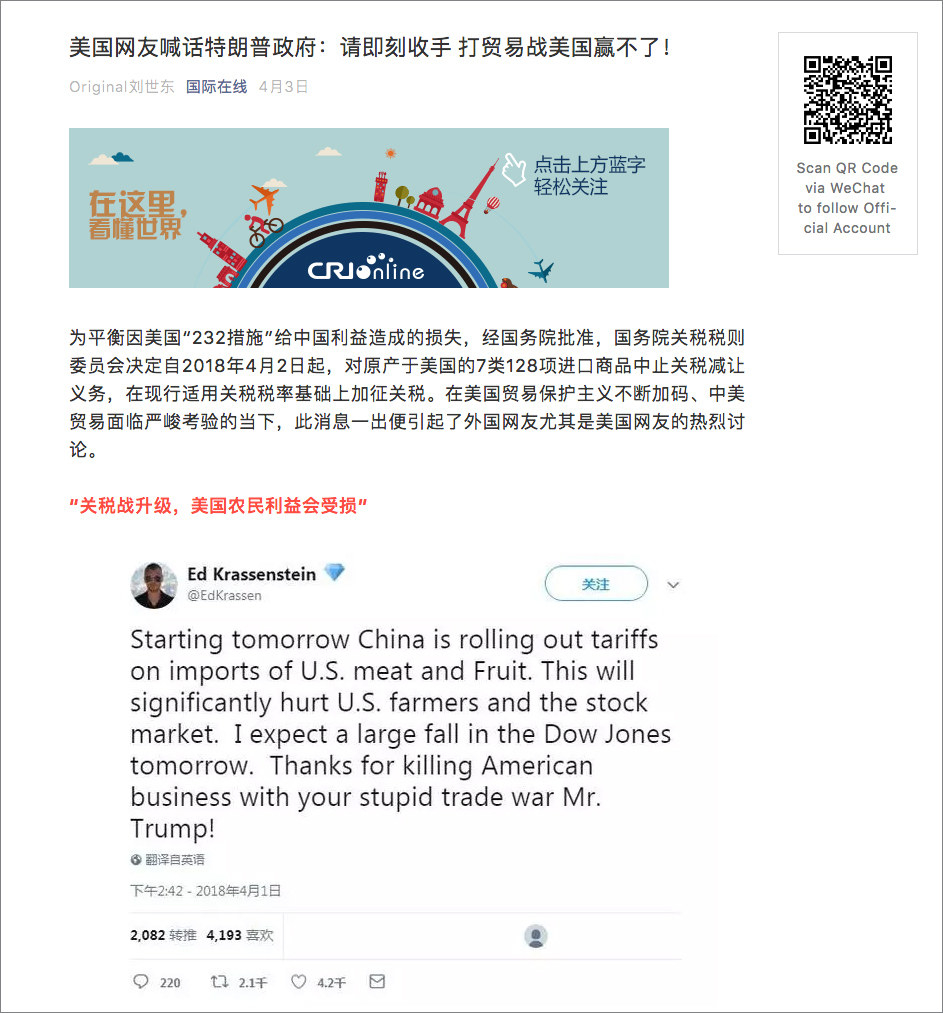 "Internet users believe that if the China–US trade dispute escalates and evolves into a comprehensive trade war, the final victory will not belong to the United States," it said.

Another article cited a Trump tweet about the tariffs and China, and used multiple tweets from Americans as a way to refute what Trump had said.
Chinese state media outlets also repeatedly used "testimonies" from American farmers living in agricultural states to push the message that the trade war is in fact harmful to the US economy.
Other posts and articles portrayed Trump as scatterbrained and dishonest in how he talks about the tariffs and trade war. One piece called him unreliable and indecisive, and argued that China is ultimately in control of whether the US comes back to the negotiation table. The content approved to appear on WeChat about the trade war positioned Trump and the US as lacking strategy and honesty, while portraying China as ultimately holding all the cards.
The posts in the sample all echoed the Chinese government's messaging about the trade war and did not deviate from it. The homogeneity of the reviewed posts about the trade war also reflects a trend of Beijing exercising tighter control over discussion about the Chinese economy, according to Zhong. She cited the fact that the executive director of a prominent Chinese think tank, the Unirule Institute of Economics, was recently prevented from attending an event at Harvard.
"We can see similar efforts underway to rein in economic commentators in the domestic media space as well," she said.
The midterm elections
Leading up to the midterms, Trump and Pence both alleged that China was interfering in the election.
BuzzFeed News examined 79 posts that mention Trump and the midterms and did not see any false, misleading, or otherwise questionable claims among this admittedly small sample. However, the assertion by Trump that China was trying to interfere was itself the focus of several articles that criticized and mocked what Trump and Pence said. One story highlighted a top Chinese official's dismissal of Trump's claim, and went on to note the poor reception of Trump's recent address at the UN.
Several posts from before the election cited the threat of Trump's impeachment in order to create the impression that the Trump administration is highly unpopular and may not be in power for too much longer.
The overall message, repeated by multiple outlets, was that Trump was in trouble and facing a crisis.
Articles in the dataset portrayed Trump as unpopular and potentially harming Republican candidates more than helping them. One story cited reporting from the Associated Press that said Trump's behavior was making made Republican candidates worried about having him campaign for them.
Articles shared on WeChat also offered analysis of what might happen on Election Day, delivered primarily through the lens of how things could get worse for the president. One opinion piece looked at how the charges against Paul Manafort and Michael Cohen could influence the midterms, while others cited problems with the stock market, voter registration trends, and other data points to push the narrative that Trump and the GOP would perform badly.
It continued after the election as well. One article published by Beijing News, a state media outlet, said the results had "exacerbated a feeling of crisis within the Trump administration."
That's the party line for now, but it could change yet again, according to Wertime.
"Right now that's what we're seeing, but then again critiques of Donald Trump were more readily censored a couple years ago," he said. "Who knows which way the pendulum will swing — and it's swinging more rapidly these days."
How we got the data
The WeChat data, which you can view and download here, comes entirely from WeChatscope, a project from the University of Hong Kong built to track what kinds of stories are being censored on the WeChat platform.
It works by regularly scraping all URL posts from WeChat public accounts. The project scrapes a predetermined set of users chosen because of their interest in politics, news, and public affairs. It may not be a representative sample of all WeChat users, but it does provide a useful look at the kinds of media available to users of the platform.
WeChatscope's public interface provides metadata and links to censored WeChat posts within the past seven days. The original links no longer work because of censorship, but copies are archived on HKU's servers.
WeChatscope provided a nonpublic interface to us that provides access to all posts scraped by HKU whether censored or not. We used this interface to collect articles for our analysis.
We scraped documents as far back as we could, with the earliest posts appearing in April 2018. The latest date is Nov. 15, 2018. Our copy of the full database has 74,4671 articles in it.
The database records the title of each URL in the original Mandarin. This is the field we did all keyword searches in. We had the links to the original (and archived) articles, but were unable to search the full text. These are the search terms we used: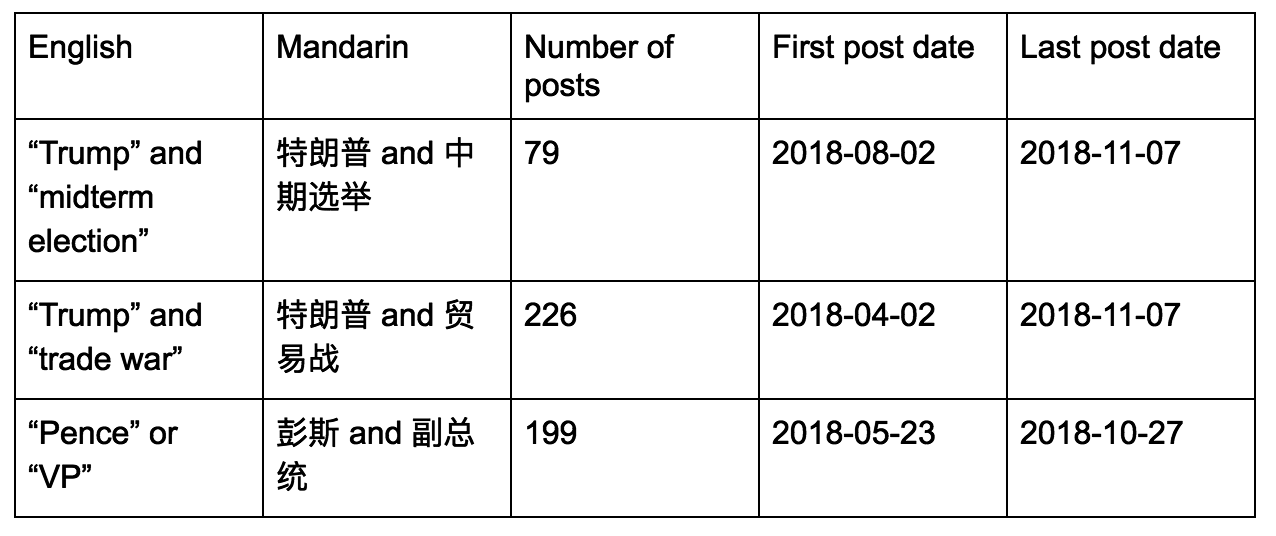 Two Mandarin-speakers read through the posts and summarized them in English.

This sample of posts provides a snapshot of the public content being shared and the comments being made by WeChat users. Given the tight censorship and control exercised by the Chinese government on the platform, the tone and content of the analyzed posts help provide a sense of the kind of messaging and narrative that the government is either actively pushing or at the least allowing to be expressed. ●
CORRECTION
WeChatscope scrapes posts from public accounts on WeChat. This story incorrectly said it gathers content from the "Moments" section of the platform.