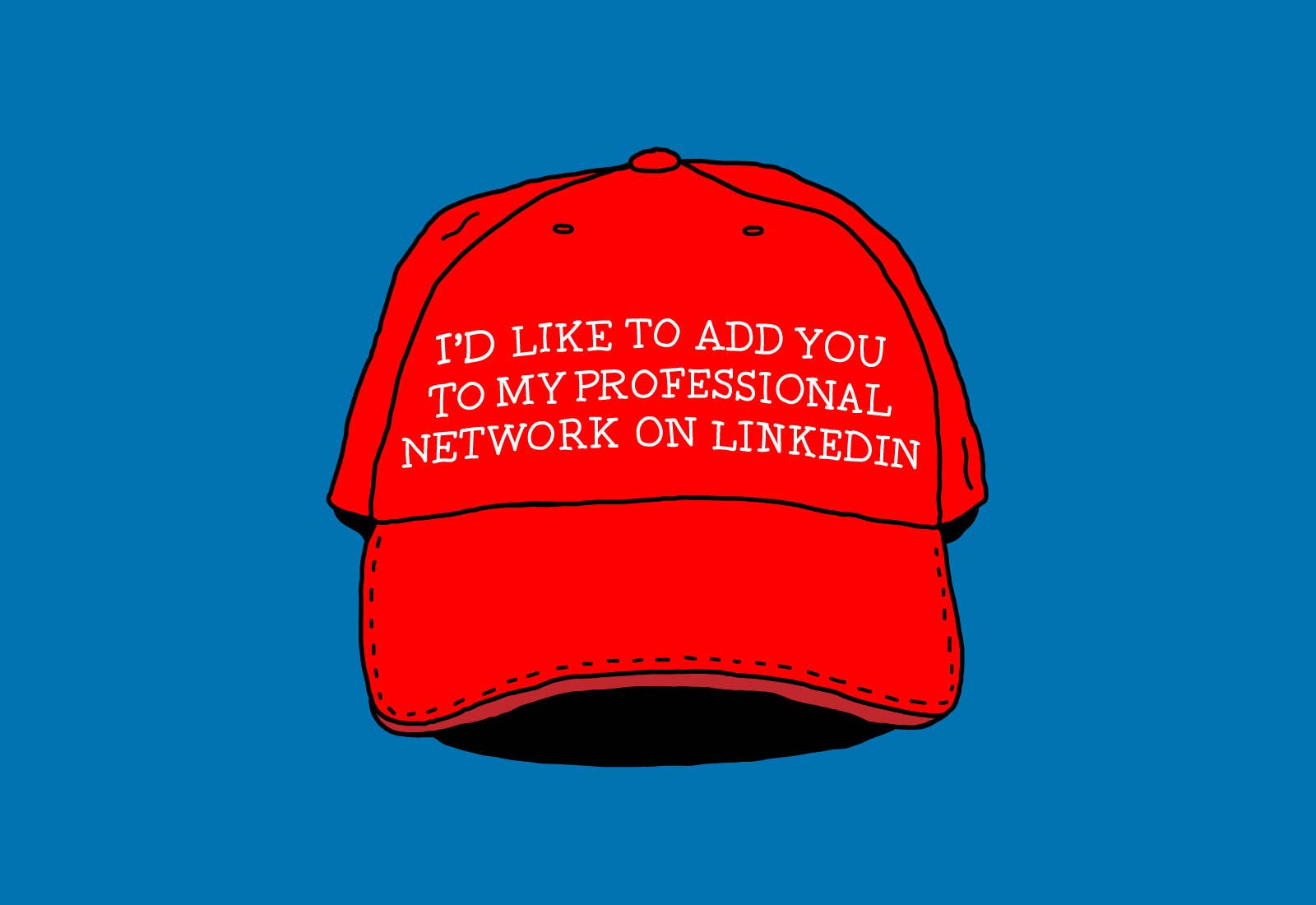 They have American flags and "MAGA" in their profiles, share political memes and hyperpartisan news to their followers, and complain that their posts are being censored because they love Donald Trump. But instead of being active on Twitter and Facebook, these Trump supporters have brought the meme wars to the platform best known for Broetry, influencers, and professional networking: LinkedIn.
Facebook and Twitter's crackdown on hate speech, false news, and manipulation has caused some people to move their political content sharing to LinkedIn. The result is an increase in MAGA and #Resistance memes and intense, sometimes, vitriolic, political discussions. This spike in political content has also led to the familiar problems of fake accounts, false claims and memes, and comment threads that devolve into name-calling and sometimes threats.
But for Trump supporters like Alex Lacayo of Miami, LinkedIn is the best place to be right now.
"Facebook banned me, they hate me. But that's all good — I started posting on LinkedIn and everybody is following me," said Lacayo, who works in the lending industry when not churning out pro-Trump memes or promoting cannabis oil on LinkedIn.
He believes LinkedIn is going to be key for galvanizing support for Trump. "I think it's going to be huge for the president."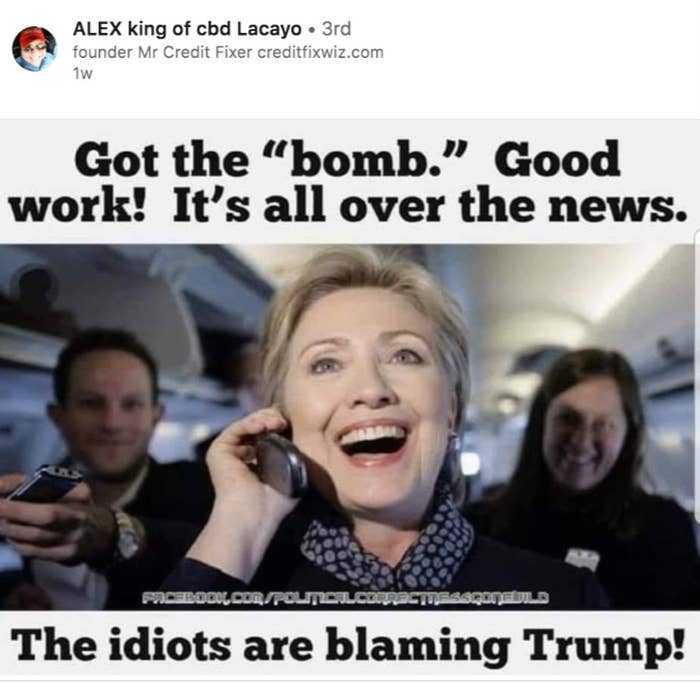 Another of the eight Trump boosters on LinkedIn who spoke to BuzzFeed News said she also left Facebook for LinkedIn. "I have probably been sharing political information on LinkedIn for about a year and a half. I shut down my Facebook account because I did not want to deal with the haters; and because I want nothing to do with Zuckerberg or anything he controls," said Brooke, who asked that her full name not be used, in a LinkedIn message.
LinkedIn does not share their enthusiasm for memetic warfare or political content. Its editor-in-chief, Daniel Roth, said last year on the Recode: Media podcast that LinkedIn has policies aimed at ensuring users stick to professionally relevant content and activity. He also said LinkedIn users don't want to see political content.
"When people start talking about politics, you will see this flood of comments beneath what they are writing, saying, 'This isn't Facebook, please don't put that here — this is LinkedIn, please talk about business,'" he said. "This is not the company saying it at all. It's users."
Roth said "It is very hard to input any kind of fake news on LinkedIn. You can share it, but it won't go wide."
A review of political content sharing and related discussions and profiles found examples of false claims or offensive content being shared, which violate the platform's "professional community policies." Some examples include posts falsely stating that former president Barack Obama was not born in the United States and had helped fund ISIS, and a graphic instructing liberals how to kill themselves. "Rock on insignificant Liberals … you will not be missed," wrote the person who shared it, whose profile says she is a registered nurse.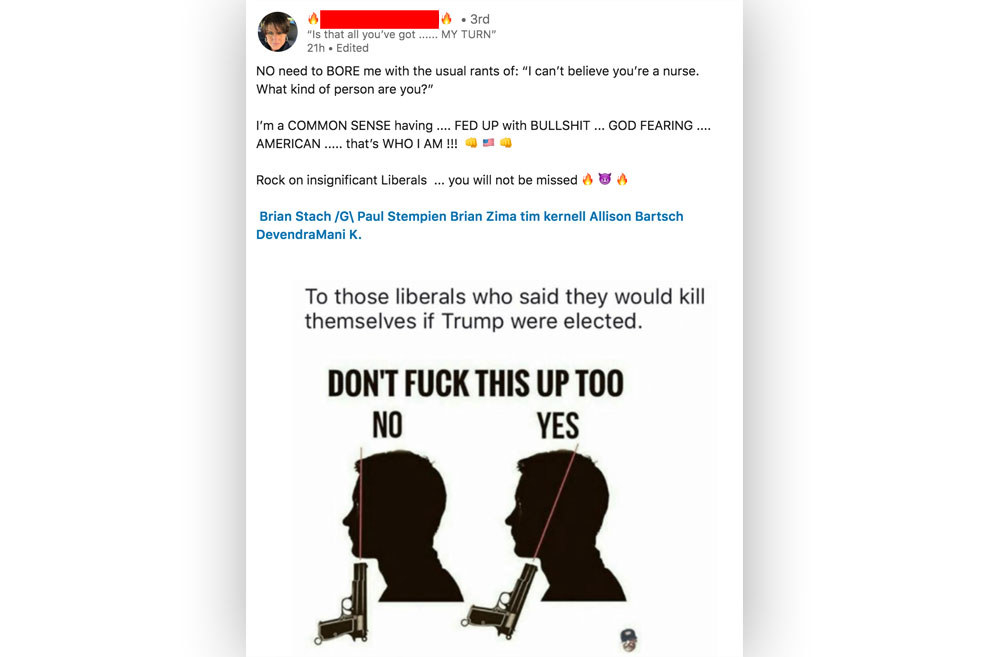 That post was removed after BuzzFeed News asked about it and other content. It appears the profile that shared the image was also removed by LinkedIn, though the company declined to comment on specific cases.
"While most of our members do not share political content, we do believe that high quality discourse that is relevant to our purpose, to create economic opportunity for every member of the global workforce, has a place on our platform," Nicole Leverich, a LinkedIn spokesperson, told BuzzFeed News. "However, any form of abusive behavior does not. This includes behavior such as harassment of others or sharing of inaccurate or misleading content."
The company did not remove the Obama birther post. LinkedIn also left up a post with a photoshopped image of Georgia gubernatorial candidate Stacey Abrams and Muslim activist Linda Sarsour that added the word "communist" to an Abrams campaign sign.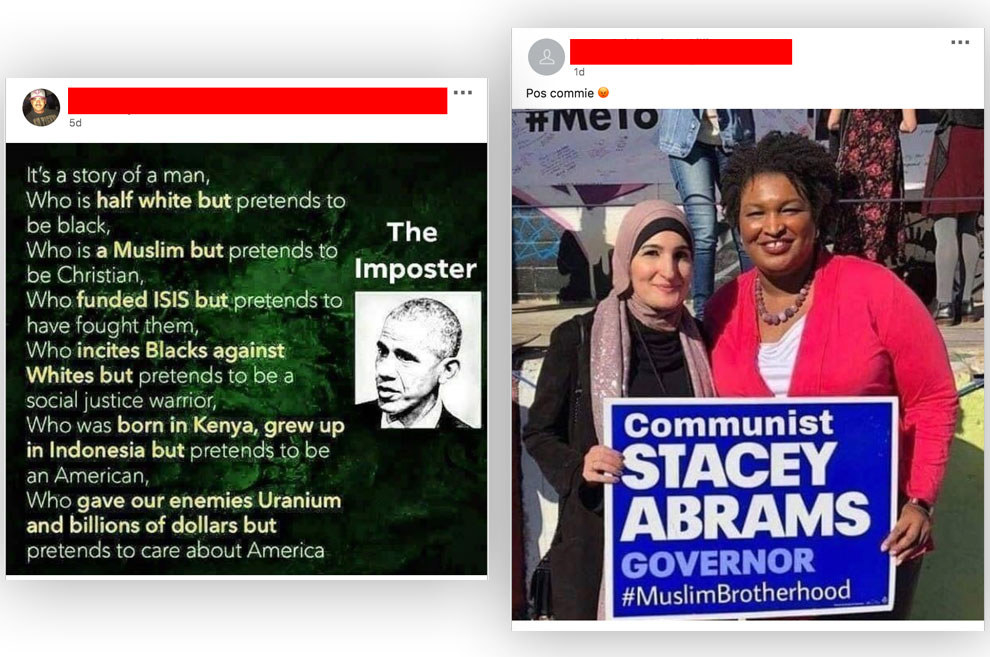 BuzzFeed News began examining political content on LinkedIn after Shailin Dhar, the CEO of digital advertising consultancy Method Media Intelligence, said he'd noticed an increase in accounts sharing hyperpartisan content on LinkedIn. He began making a list of the accounts because "aggressive and partisan political rhetoric is generally uncommon on a professional networking site."
"I began noticing accounts with strange pictures and a spike in aggressive political conversation and posts," Dhar told BuzzFeed News by email. "It was just a few accounts at first but as I continued to follow them, I saw that they were getting more engagement."
He shared his list of profiles with BuzzFeed News, which expanded it to roughly 100 by reading comment threads and searching for political content. The vast majority of the identified accounts are sharing pro-Trump content and often interact with each other. (Vocal liberals on LinkedIn appear to share less content, but often jump into the comments with Trump supporters.)
BuzzFeed News found examples of accounts that have no profile photo, and little or no other personal information, and share or engage with political content, and at least one person said they had created a new profile with fake information after being banned by LinkedIn. Another account belonging to someone who says they work in aircraft maintenance posts the exact same comment in thread after thread. It calls for people to boycott the NFL and the media. (He did not respond to questions.)
"Fake accounts are epidemic, and manipulative dissemination is a problem on every single major social platform," said Renee DiResta, the director of research for New Knowledge, a company that investigates and monitors disinformation campaigns and online manipulation. "As platforms like Facebook whack the moles, seeing them pop up on platforms that are less sophisticated in their understanding of the problem — and less vigilant about managing it — is what we should expect to see."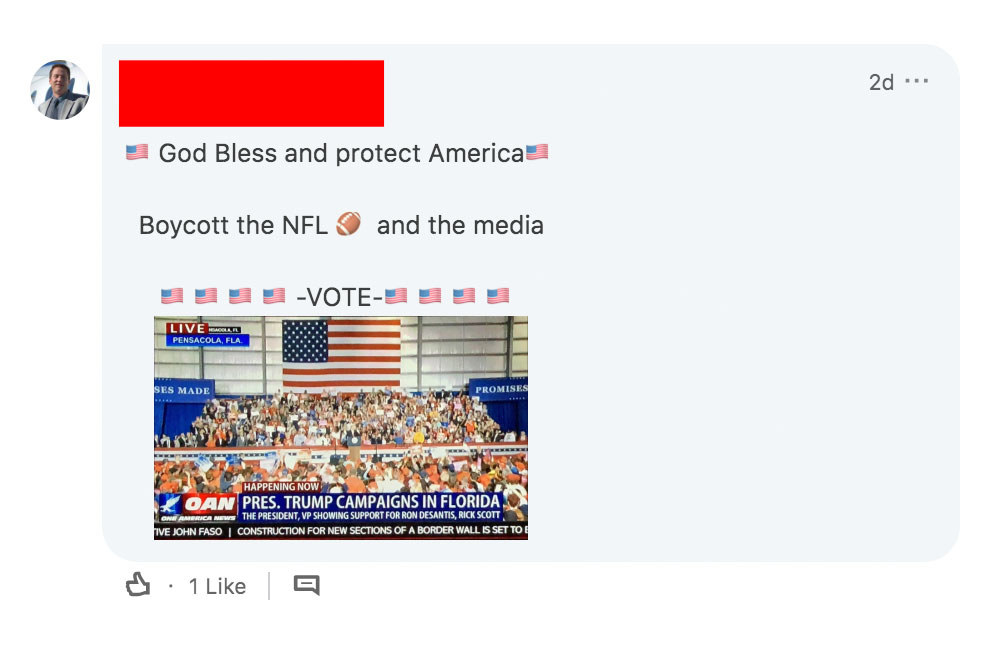 Many of the people who spoke to BuzzFeed News said LinkedIn is a perfect place for political content and conversation. "As a matter of fact, I get the majority of my political input from Linkedln," said Richard Martin, a retired defense industry worker who has amassed 11,000 followers.
Waskewich, the recruiter, said she lost a client over her LinkedIn content, but she has no regrets.
"Anyone with a brain, in my opinion, understands that politics and business are inextricably entwined. Those who don't, and who are hard left, very quickly are blocked by me," she said.
Lindsey Muller, a chief warrant officer in the US Army and an attack helicopter pilot, told BuzzFeed News she's concerned about the recent uptick in partisanship and toxic content she's seen on LinkedIn. Muller moved to LinkedIn four years ago after experiencing a hostile reception on a military-focused social network when she came out as trans.
"I switched to LinkedIn thinking, 'Well it's ok, it's a professional network,'" she said. "The content they are allowing now is more fear-based propaganda from the extreme left and the extreme right, as opposed to an actual network of professionals that want to better each other."
Muller often joins in on comment threads that she sees devolving into name-calling or abuse in an effort to try and calm things down. (She emphasized that she speaks only for herself on LinkedIn and when talking to the media.)
"I go to the comments that are extreme and look for the toxic posts. Sometimes if there's a debate, yes, it can be heated but that can be cooled down," she said. "Being in the military I try to remain apolitical, but when I see Americans literally wanting to kill each other it's disheartening."
Muller recently spent a significant amount of time reporting accounts that she feels violate the rules of the platform. "I've been doing the reporting now for two weeks and have yet to receive a single response from LinkedIn," she said.
Trump supporters say the issue with LinkedIn is it's too quick to ban accounts, and some allege it's deliberately reducing the reach of their posts. (LinkedIn told BuzzFeed News it does not limit the distribution of posts; if a piece of content violates its policies, the company removes it.)
"These days, LinkedIn has been playing games. Shadow banning people, and removing posts that their censorship arm does not like," said Brooke. "It's been getting worse over the last few months, and has ramped up over the last few weeks. I suspect it will get worse until the midterms are over on Tuesday!"
The owner of another pro-Trump profile told BuzzFeed News that LinkedIn banned his real account with roughly 3,000 followers due to the content he was posting. Now he's back with a new profile that doesn't have a photo or his real name. He uses it to share political content and add comments.
"I have been heavily censored by [LinkedIn] and had posts removed and I have been suspended several times ... for being conservative and making pro Trump posts," he wrote in a message sent via the platform.
Along with sharing the photoshopped image of Stacey Abrams and Linda Sarsour, his other recent post is a meme that falsely says multiple cures for cancer have been "suppressed because cancer is worth $200 billion a year." ●