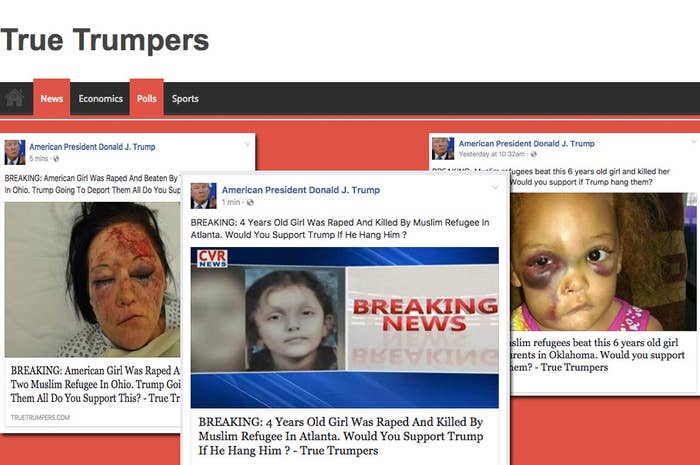 The Facebook page American President Donald J. Trump has close to 400,000 fans and says its mission is "to keep fellow Trump Supporters informed of any and all news regarding our President." In many cases its references to Trump consist of asking people if they want him to deport, arrest, or hang Muslims.
"BREAKING: Muslim Refugees Kills 30 People In Michigan Because Trump Bombed Syria. Would You Support Trump If He Hang Them?" asked a recent typo-laden headline shared by the page.
As with most links shared on the American President Donald J. Trump page, which is not affiliated with President Trump, the false story came from a site called TrueTrumpers.com. It pumps out a constant drumbeat of mostly false stories about Muslims raping, killing, and otherwise wreaking havoc in Western society. (It also mixes in celebrity death hoaxes, fake celebrity quotes about politics, and the occasional real story copied from another website with a completely false headline added on top.)
Recent false True Trumpers headlines include "BREAKING: Today Cop Was Killed By Muslim Refugee In Ohio. Do You Support Arrest or Hang Him," "2 Muslim Refugees Rape and Beat This 15 Years Old Girl. Do You Support To Hang Of Them?! [POLL]," and "BREAKING: Three Muslim Kills American Soldier's Family In Michigan After Trump Bombed Syria. Would You Support Trump If He Deport Them All?"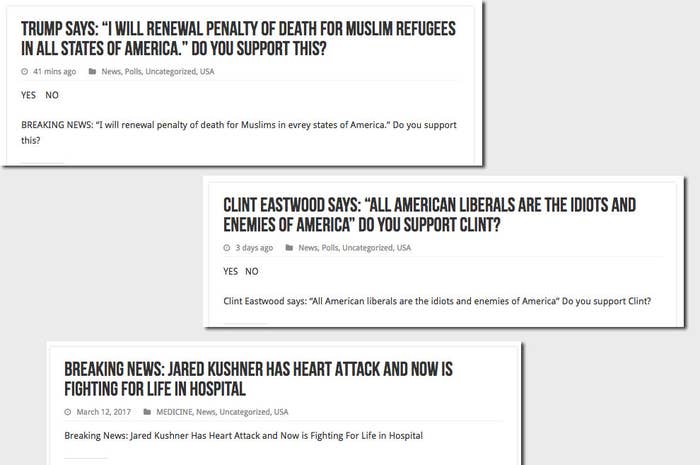 Each day it's the same: frequently false stories about crimes by Muslims and other topics, written in poor English, that end with a question meant to inspire engagement on Facebook. Then there's the website itself. Anyone clicking on a True Trumpers link from Facebook is brought to an article page that often consists of nothing more than the headline and a few words of text meant to look like a poll for readers to click on. Other articles have no body text at all, offer unrelated text stolen from another website, or are completely plagiarized from other sites.) The rest of the page is littered with ads served by Revcontent, an ad network. And just in case anyone fails to click on those ads, True Trumpers has also been booby-trapped to ensure that a click anywhere instantly triggers a pop-up ad.
True Trumpers is one of the many low-quality "news" websites cashing in on the Trump traffic bonanza and the growing market for hyperpartisan news. But in a more important sense it represents a nakedly shameless expression of nearly all of the worst tendencies of digital content and attention harvesting in our current age of Facebook, programmatic advertising, and intense political polarization.
True Trumpers shows that as long as you have a big Facebook page and can craft rage-inducing headlines and thumbnails, your website can literally have almost zero content and still make money. (It also reinforces the fact that there's a market for anti-Muslim fake news.)
"The actual content on the page doesn't matter because most people don't even read it," Augustine Fou, a researcher who specializes in ad fraud, told BuzzFeed News after looking at TrueTrumpers.com. "It's about the ad impressions."
"I am not against Muslims"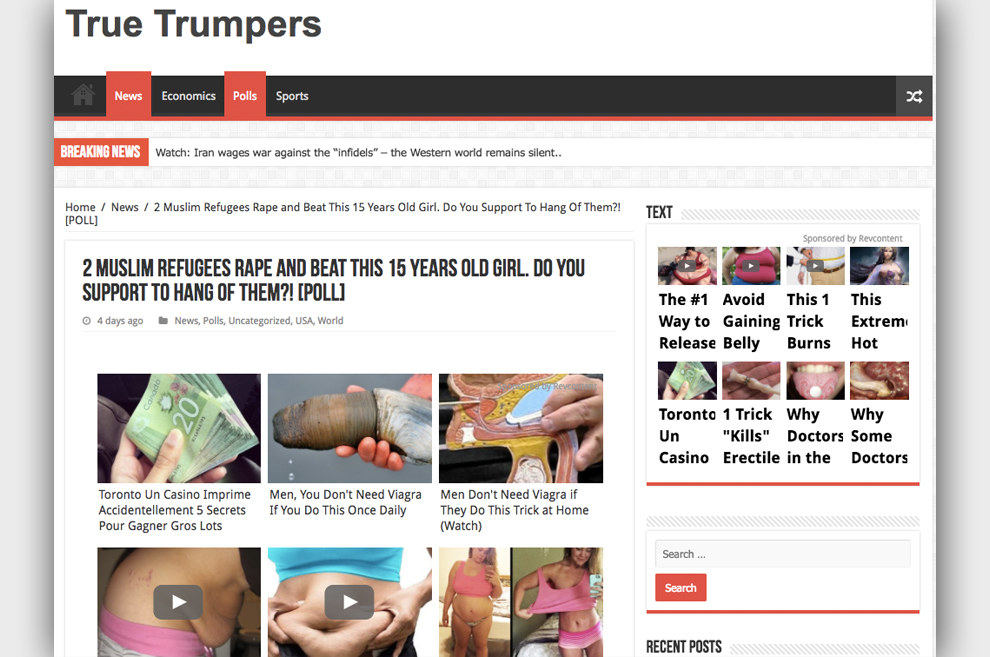 True Trumpers is what internet advertising experts call a traffic arbitrage site. Its existence is predicated on being able to earn more money from the traffic it attracts than its owner needs to spend in order to obtain that traffic. The content and audience are merely a means to that end. Some arbitrage sites pay for cheap traffic generated by bots and attempt to turn a profit from the resulting fraudulent ad impressions.
Other traffic arbitrage strategies involve placing ads on Facebook or content recommendation platforms such as Outbrain or Taboola to drive real traffic to a website filled with ads. As long as the publisher pays less to acquire the traffic than it earns from the ads, it'll turn a profit. One online marketer claims he made $1.4 million in revenue by using Facebook ads to execute this strategy.
"Bogus sites go live every day and can be profitable almost immediately," wrote Ken Van Every, a business development executive with DataXu, in a column for AdExchanger. "The path to making money is simple: Buy traffic through these platforms at a cost per click (CPC), which is less than the revenue generated from landing page video and banner ads."
True Trumpers appears to be focused on generating free traffic from Facebook and monetizing it using webpages stuffed with ads and barely any content. This is a common tactic now that Facebook is the single biggest referrer of traffic to English-language news websites.
"It's basically leveraging the public's openness to fake news, the capabilities of ad tech ... and social amplification by cross-posting content to Facebook," Fou said.
The site's combination of a pro-Trump stance with anti-Muslim content is therefore a result of what its publisher found performs well on Facebook.
So who owns True Trumpers? Using domain registration records and the unique IDs connected to ads being served on the site, BuzzFeed News linked the site to a familiar name in the fake news game: Beqa Latsabidze. (See the bottom of this story for a detailed breakdown of the connections between Latsabidze and True Trumpers.)
Latsabidze is a young man in the republic of Georgia who was featured in a November New York Times story about fake news. He did not reply to BuzzFeed News' request for an interview, or to a detailed email listing his connections to True Trumpers. (Domain records also show he owns maganews.co, a site that also churns out anti-Muslim fake news and is sometimes shared from the unofficial American President Donald J. Trump Facebook page.)
Latsabidze was 22 when the Times caught up with him in Tbilisi. He and two partners were running several sites that mixed real and fake news about Donald Trump and US politics. Latsabidze acknowledged that many stories on sites he owns, such as departed.co, painted Muslims in a negative light. He said it was nothing personal — anti-Muslim content just happened to work well with his audience on Facebook.
"I am not against Muslims," he said. "I just saw that there was interest. They are in the news."
Anti-Muslim arbitrage
The anti-Muslim arbitrage strategy is working well for True Trumpers. Using CrowdTangle Intelligence, a data analysis tool owned by Facebook, BuzzFeed News compared the unofficial American President Donald J. Trump Facebook page against four other pages. We chose pages that publish political content, and that all have more fans than the page pumping out True Trumpers content. The four pages used for comparison were TruthFeed, a hyperpartisan conservative site with over 550,000 fans; conspiracy site InfoWars (over 760,000 fans); Politico (over 1.5 million fans); and ABC News Politics (over 700,000 fans).
This chart shows the total number of weekly interactions on Facebook (shares, reactions, comments) for each page's link posts between Feb. 24, the day after the domain was registered, and April 20. The number of interactions on links shared from the American President page are consistently higher than all the other pages.
BuzzFeed News ran the same analysis for all post types, not just links, and the page promoting True Trumpers content still came out on top. (Note that the gray dotted lines at the end of the chart show the in-progress data for the current week.)
The chart below shows the total interactions (shares, reactions, and comments) for each page's link posts between Feb. 1 and April 20. Again, the page promoting True Trumpers' largely false content easily beat out other pages with more fans and a much longer history online.

One difference between the American President page and the others is that it posts at a much higher rate. During the first week of April, the main Politico page posted 272 links. During that same week, the American President page published an astounding 4,722, often reposting the same articles multiple times. (Excessive posting isn't necessarily a good strategy for getting interaction, and Facebook's guidance is to publish "24 to 48 posts per day," according to a digital editor with the Chicago Tribune.)
The page's interaction rate on Facebook suggests it's receiving decent traffic, though certainly less than established sites like Politico or the other domains connected to the pages used in the CrowdTangle comparison. But in a way True Trumpers isn't really trying to beat those sites, or to build a more loyal audience. It simply wants to generate cheap human clicks that trigger ad impressions. Its Facebook page is the mechanism for generating those clicks, and by that measure it's doing extremely well.
It's difficult to accurately estimate True Trumpers' traffic, but one publicly available metric is its Alexa ranking, which is calculated based on an estimate of its traffic. This chart shows that the site's ranking has been on a drastic incline since launch: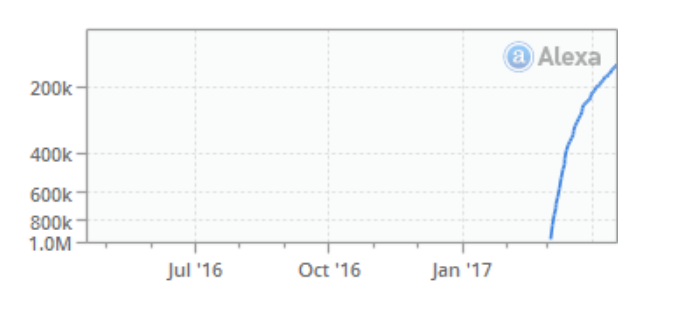 Though not a perfect metric, it reinforces that True Trumpers' arbitrage strategy is working.
That's perhaps not surprising, given that the site strictly adheres to what performs well on its Facebook page. If the American President page's audience and the Facebook algorithm reward partisan anti-Muslim content with little or no basis in reality, that's what True Trumpers will publish. If a shocking thumbnail of angry Muslims or a battered woman's face will generate the most interactions, True Trumpers will supply them in spades. If few people seem to care whether there is actual text in the associated article, then the site won't bother to add any. And if ad networks will pay out even if the content is fake and barely present, then sites like True Trumpers will proliferate.
Latsabidze summed it up for the Times: "For me, this is all about income, nothing more."
What connects Latsabidze to TrueTrumpers.com
So who owns True Trumpers? Its domain ownership records are private and have been that way since TrueTrumpers.com was registered on Feb. 23 of this year. But the site's source code contains identifiers linked to advertising networks that together provide a trail that leads to a prominent fake news entrepreneur based thousands of miles outside of the United States.
True Trumpers displays ads from Revcontent, and those ad modules each contain an ID. BuzzFeed News found another site with the exact same design template that was also using the same Revcontent widget IDs to display ads. That site, dcposts.info, has a widget promoting the unofficial American President Donald J. Trump Facebook page. BuzzFeed News was able to link the sites' Revcontent IDs using the fingerprinting product provided by Trendolizer, an application that can be used to track trending content and research the related domains.
Like with True Trumpers, the domain registration records for DC Posts are private. But along with Revcontent IDs, that site also has Google AdSense IDs contained in its source code. Anyone could place an ad network account ID on a website, but because the IDs determine who gets the money generated by the ads, there's no incentive for a website owner to place someone else's ID on their site. Doing so would mean someone else earns the money from your traffic.
One of the AdSense IDs present on DC Posts is also present on a site called DailyNewsPosts.info. That URL now redirects to DC Posts, providing further evidence that the sites are owned by the same person. Historical domain records from DomainTools revealed that DailyNewsPosts.info was registered in early February 2016 by Beqa Latsabidze.
Data from DomainTools also showed that the email used to register that domain is also linked to other US politics sites such as americanpresident.co, maganews.co, FoxNewsSports.info — and departed.co, a site Latsabidze confirmed to the Times that he owned.
Outside Your Bubble is a BuzzFeed News effort to bring you a diversity of thought and opinion from around the internet. If you don't see your viewpoint represented, contact the curator at bubble@buzzfeed.com. Click here for more on Outside Your Bubble.