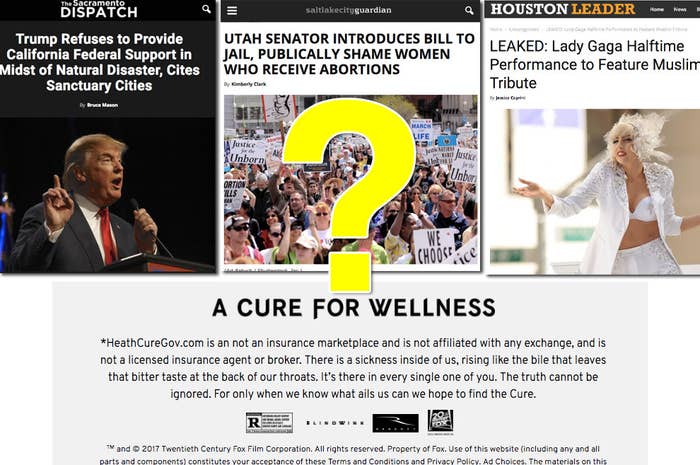 After BuzzFeed News revealed that a Hollywood thriller hitting theaters this week used a network of five fake news websites to promote itself, the sites were shut down and the film's distributor eventually issued a public apology. They haven't, however, explained who they partnered with to create and populate the sites.
BuzzFeed News examined the film's sites and found they share several striking similarities to two local news sites run by perhaps the most famous fake news publisher in the US: Jestin Coler.
Coler gained public attention in November when NPR revealed he was the man behind fake local news sites such as the Denver Guardian and Baltimore Gazette, as well as the fake conservative site NationalReport.net. Coler admitted to running the sites as part of his company, Disinfomedia Inc. After being outed by NPR, he appeared on Full Frontal With Samantha Bee and did other media interviews. For many, he became the face of fake news.
State business records now list Disinfomedia as inactive. But NationalReport.net continues to push out new content, suggesting Coler is still in the game. His high profile also means he's the kind of person a Hollywood marketing team might seek out. But his work is so famous it could also be an imposter.
After finding evidence connecting Coler to the fake sites that promoted A Cure for Wellness, BuzzFeed News repeatedly emailed him to ask about his involvement. Coler replied but would neither confirm nor deny a role in helping promote the film. He eventually stopped responding to questions.
Regency Enterprises, the film's producer, responded to BuzzFeed News earlier in the week to confirm that it had "partnered with a fake news creator" for the publicity campaign. But subsequent emails asking the company to confirm Coler's involvement received no response. 20th Century Fox, the film's distributor, did not reply to repeated requests for comment about Coler.
BuzzFeed News also reached out to another high-profile fake news creator, Paul Horner. He's the man behind ABCNews.com.co and other fake news sites, and has been interviewed by the Washington Post and other media outlets. That makes him another logical partner for a fake news marketing campaign. In an email Horner said he had nothing to do with the sites. (BuzzFeed News was also unable to find any connections between Horner's previous work and the film's fake sites.)
Neither Coler nor the companies involved in the film will even address the question of who might be behind the hoax sites. But here are some of the similarities between Coler's two previous fake local news sites and the sites used to promote A Cure for Wellness.
All five film sites and Coler's two earlier fake local news sites use "about" text that includes a line stating that the site "thrives [sic] to maintain a non-partisan newsroom making our content the most reliable source available in print and across the web." A Google search found that this poorly worded text only appeared on Coler's sites and the ones for the film.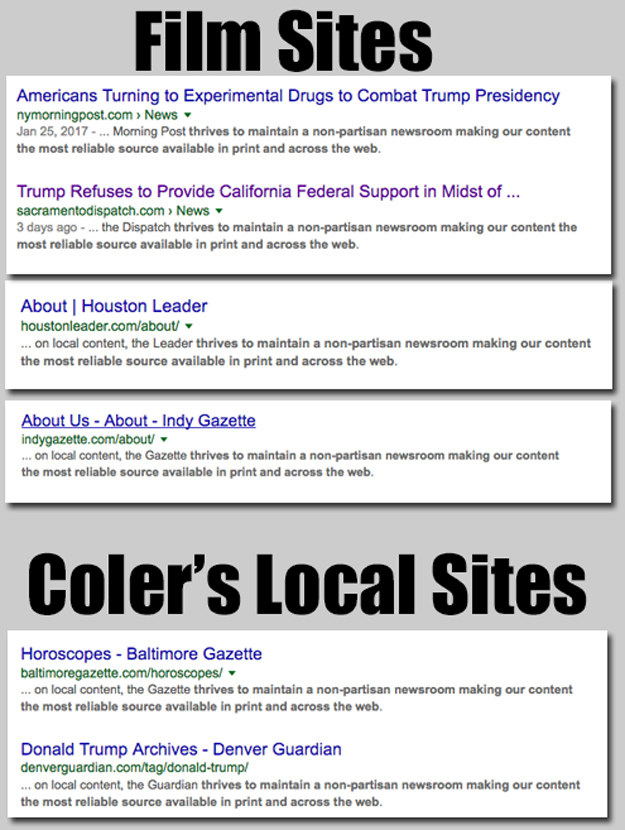 Two of the film's sites (Indy Gazette and Salt Lake City Guardian) use the same logo design and a similar template as two of Coler's previous sites (Baltimore Gazette and Denver Guardian).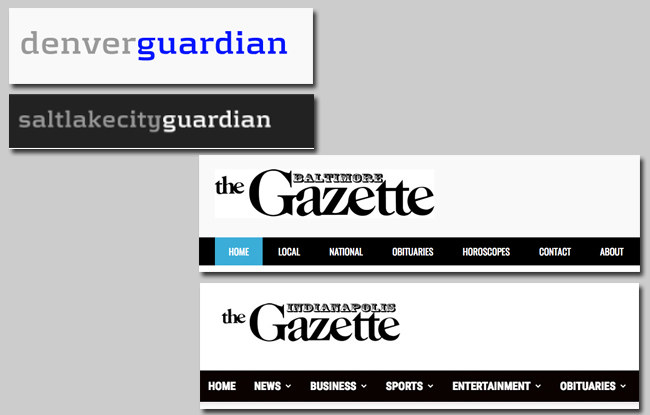 All of the film's sites use privacy policy text that is exactly the same and that appears on relatively few websites. This text appears on his two previous fake local news sites. It also appears on another of Coler's sites, NationalReport.net, with a few additions.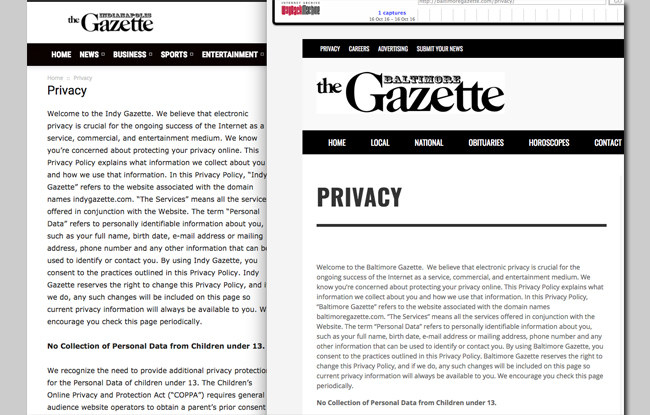 The one difference between Coler's older local sites and the five used to promote the film is that the film sites include an additional legal disclaimer: "Information on this site is not to be construed with actual events. If you are in need of medical assistance, please contact a medical professional." A Cure for Wellness, of course, has a medically focused plot.
All of the sites use a Weather Underground widget to display local weather.
In addition to the above, the domains of the five newer sites and Coler's previous two sites were all registered with GoDaddy, have IP addresses in Arizona, have their ownership info protected by a service called Domains by Proxy, and run on WordPress. This combination of services and platforms is by no means unique to these sites, but it's another similarity to add to the list.

None of the above is a smoking gun. But together with the refusal of Coler and the Hollywood companies to even address his potential involvement, this evidence strongly suggests Coler could be the fake news hand behind the controversial publicity strategy.

If it's not him, that means someone used Coler's previous sites and exact combination of services and tools to launch new fake sites for the film's promotion — and that this person had a high enough profile as a fake news creator for Hollywood to come knocking.
BuzzFeed News will update this post with any new information about the person behind the fake news marketing campaign as it becomes available.