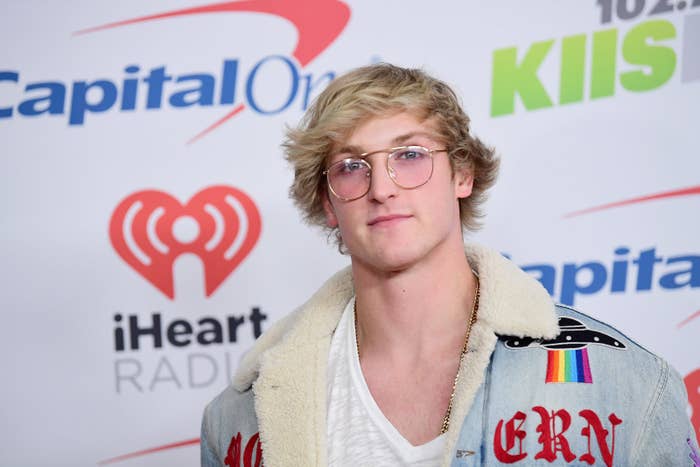 Controversial YouTube star Logan Paul, who has more than 16 million followers, said that recent months have been the "hardest time of his life" as he's lost fans and business deals over his posting of a video showing a dead body in Japan's "suicide forest."
"I am a good guy who made a bad decision," Paul said in an interview with Good Morning America's Michael Strahan Thursday.
The public outcry over the "suicide forest" video posted on Dec. 31 led to YouTube severing business ties with Logan and removing his channels from its Google Preferred program. Last week, Logan returned to YouTube with a video dedicated to suicide prevention.
Paul said that the backlash to his "suicide forest" video showed him that many members of his audience skew young and that he's going to be more thoughtful about what he posts in the future. He also said he believes parents have a responsibility to monitor what their children watch.
"I'm going to be honest... I think parents should be monitoring what their children are watching more," Paul said. "Every parent I meet whose kids are under 9 or an age of, like, 12, I go, 'Hey, you let your kids watch my stuff,' and they go, 'Yeah, what am I going to do?'"

Paul, 22, said he doesn't necessarily make content with kids in mind.
"Sometimes I cuss. Sometimes I make inappropriate jokes," he said. "I want to make jokes that kids my age are going to like... Now I will say I'm much more aware of the impact that my actions have on myself and others."
The viral megastar also said that some of the outcry around the video made him feel "hated by the whole world" for the first time.
"It's been tough. Because ironically I'm being told to commit suicide myself," he said. "Millions of people literally telling me they hate me [and] to go die in a fire. The most horrible, horrific things."
Paul added that he believes his experience with the video "happened for a reason," specifically so he could "take this experience, learn from it, spread the message the right way about suicide prevention and suicide prevention awareness."

He said that the controversy has affected his bottom line — "it hurts, but it's not like I'm drowning" — and that he tries not to think too much about the money.
"I try not to live my life thinking about money because money doesn't make me happy," he said. "Creating and making other people happy makes me happy. Creating content to make people smile and laugh is what makes me happy."

Paul said he respects the decision of some companies not to do business with him, as a result of the content he posted, and that he's also "met the most incredible people" as he's learned about the world of suicide prevention.
"That's the one thing I don't regret about this whole experience," he said. "I would have missed out on making these relationships and getting this education."
"One of the things I'm learning, which actually pertains to me as well, is 'crisis passes,'" he added. "Crisis passes, man, and for anyone suffering, I think it's important to know that you are not alone."
In Paul's case, he said he's "never been hated by the whole world and it's been something to definitely overcome. I will think twice in the future about what I post. Probably three times."