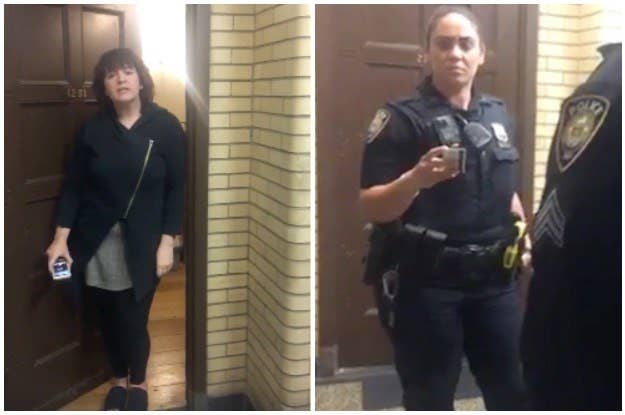 When a white graduate student at Yale came upon a black graduate student asleep in a common area of the school early Tuesday morning, she called the police — telling them the student didn't have a right to be there.
After a 17-minute interaction with the officers who answered the call — which the student, Lolade Siyonbola, recorded on video and posted to Facebook — the police determined she had done nothing wrong and had every right to have fallen asleep on the common room couch.
The video, much like a video of two black men arrested at a Philadelphia Starbucks for sitting at a table waiting for a friend to arrive, has since been viewed hundreds of thousands of times.

On Wednesday evening, Yale's Vice President for Student Life Kimberly Goff-Crews wrote in an email to all graduate students that she was "troubled" by the incident and that she would be holding listening sessions with the school community.
"We remain committed to quickly and appropriately addressing issues of racism and bias on campus," she wrote.
"The Yale police officers who responded spoke with both parties and subsequently admonished the complaining student that the other student had every right to be present," Goff-Crews added.

Siyonbola, 34, who is working towards a master's degree in African studies, told the New York Times she was working on a "marathon of papers" and had fallen asleep.

In a second video, the white student can be heard saying, "I have every right to call the police. You cannot sleep in that room."
When the officers arrive, one tells Siyonbola, "We need to make sure that you belong here," and asks for identification.
While verifying her identity, at one point Siyonbola says, "I am not going to justify my existence here."
Yale spokesperson Tom Conroy said in a statement Wednesday that the university believes "the Yale police who responded followed procedures."
"As we do with every incident, we will be reviewing the call and the response of the police officers to ensure that the proper protocol was followed and to determine if there was anything we could have done better," he said.
According to a university spokesperson, the reason it took longer than usual for the student's identification card to be verified was because the name on her card was her preferred name (which students are permitted to use) and did not exactly match her name in the university records.
The spokesperson said officers are trained "on unconscious bias, de-escalation techniques, and problem-solving, and seek to treat each individual with respect."
In emails to the Yale student body following the incident, the dean of the School of Graduate Studies wrote that the incident "remind[s] us of the continued work needed to make Yale a truly inclusive place," and that she is "committed to redoubling our efforts to build a supportive community in which all graduate students are empowered in their intellectual pursuits and professional goals within a welcoming environment."
On Facebook, Siyonbola thanked people for the outpouring of support.
"Black Yale community is beyond incredible and is taking good care of me," she wrote. "I know this incident is a drop in the bucket of trauma Black folk have endured since Day 1 America, and you all have stories."
BuzzFeed News has reached out to Siyonbola and the student who called the police and will update with any comment.
You can read the emails from administrators to students in full below. The first was sent Tuesday, the second on Wednesday.


Dear Graduate Students,

I write to you about an incident that occurred last evening in the Hall of Graduate Studies. A resident of HGS called the Yale police to report that there was an unauthorized person in the Common Room. The police responded and confirmed the student was in fact a resident of HGS and had every right to be there.

Incidents like that of last night remind us of the continued work needed to make Yale a truly inclusive place. I am committed to redoubling our efforts to build a supportive community in which all graduate students are empowered in their intellectual pursuits and professional goals within a welcoming environment. An essential part of that effort must be a commitment to mutual respect and an open dialog.

Please feel free to contact me with any concerns or comments.

Yours,

Lynn Cooley, Ph.D.
Dean, Yale University Graduate School of Arts and Sciences
C.N.H. Long Professor of Genetics
Professor of Cell Biology and MCDB
Message from Vice President for Student Life, Kimberly Goff-Crews:

Dear Yale students,

I am deeply troubled by an incident that took place Monday night in the Hall of Graduate Studies. One graduate student called the police to report another student in the common area, who had every right to be there. The Yale police officers who responded spoke with both parties and subsequently admonished the complaining student that the other student had every right to be present.

As Vice President for Student Life, I have worked with administrators, faculty and students to strengthen the resources available to address incidents of racial bias, discrimination and harassment. This incident and others recently reported to me underscore that we have work to do to make Yale not only excellent but also inclusive. I strongly believe we must strive to create an environment that values equity and justice and in which all students are empowered to pursue their personal and professional goals – an environment that is diverse, intellectually challenging, and broadly welcoming. Over the last 48 hours, I have been in discussion with Dean Lynn Cooley, Chief Ronnell Higgins, and other university staff, including Yale police, to better understand what exactly happened at HGS on Monday night, and how we can work together to avoid such incidents in the future.

We still have so much more to do.

As a step in the process, Chief Higgins, Dean Cooley and I will hold listening sessions with students in the coming days and months. In addition, the university will continue to implement the initiatives we announced a year ago, including the appointment and training of dean's designees in each school to address student concerns about equal opportunity, diversity and inclusion, and discrimination and harassment. This past year, we also launched a comprehensive website and adopted a discrimination and harassment reporting protocol using the Bulldog Mobile (LiveSafe) app and have been looking at ways to make this more accessible. As already planned, we will share this tool more broadly with students and clarify the reporting process. Over the summer, I will work with administrators and student leaders to review and strategize around suggestions that we have received from faculty, staff, and students, especially with regard to improving the university's response to incidents of discrimination and harassment. We remain committed to quickly and appropriately addressing issues of racism and bias on campus. As always, we welcome your ideas and feedback on how we can improve our community together.

All of us in senior leadership recognize that incidents such as this one are being framed within a difficult national context. I want to underscore our commitment to carry out our mission as a university in an ethical, interdependent, and diverse community of faculty, staff, students, and alumni, where all are respected.

Sincerely,

Kimberly M. Goff-Crews