Following last week's National Labor Relations Board ruling that graduate teachers at private colleges are classified as employees and therefore can unionize, student teachers at Yale from 10 departments filed petitions with the board Monday requesting certification of Local 33–Unite Here as their union.

The local is the New Haven-based chapter of the international union Unite Here, which represents hotel, gaming, food service, and airport employees.

The landmark NLRB decision in August restored organizing rights for graduate student workers at private universities, reversing the board's 2004 decision that classified them as students rather than employees. In the 1990's, Yale became the birthplace of private university grad student organizing, although these worker groups never formally achieved recognition.
Prior to the decision, union drives had been under way at Yale, Harvard, Cornell, Duke, and Northwestern. University athletes still lack organizing rights as employees, per an NLRB ruling last year.
Many graduate students are already unionized at public universities, which are covered by state, not federal law.
According to Aaron Greenberg, Local 33-Unite Here Chair and a graduate teacher in political science, 75% to 100% of graduate teachers at Yale support unionization in the following departments, representing roughly 800 graduate workers: Comparative Literature, East Asian Languages and Literatures, English, Geology and Geophysics, History, History of Art, Mathematics, Physics, Political Science, and Sociology.
Pending responses from the labor board, they could see a union within the academic year.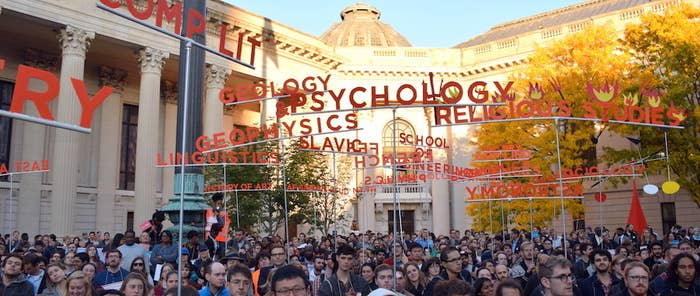 Graduate teachers interviewed who support unionization said they aim "to resolve longstanding issues around teaching and funding security, mental health care, equity for people of color and women, and affordable child care" through collective bargaining.

In an email to the Yale community responding to the NLRB ruling, Yale President Peter Salovey said he has "long been concerned" that the relationship between professors and graduate students "would become less productive and rewarding under a formal collective bargaining regime, in which professors would be 'supervisors' of their graduate student 'employees.'"
Salovey said that he "disagreed" with the board's decision, but that it "presents an opportunity to engage in a robust discussion about the pros and cons of graduate student unionization," one "free from intimidation, restriction, and pressure by anyone to silence any viewpoint."

The students are now petitioning for union certification in "micro-units" to speed the process of recognition — a strategy made possible by a 2011 NLRB decision that permits union elections in the "smallest appropriate unit," even if larger units would also be appropriate.
"Our hope is that by filing each department separately, starting where the desire for unionization is overwhelmingly clear, we'll avoid any legal gamesmanship by the university," said Greenberg.