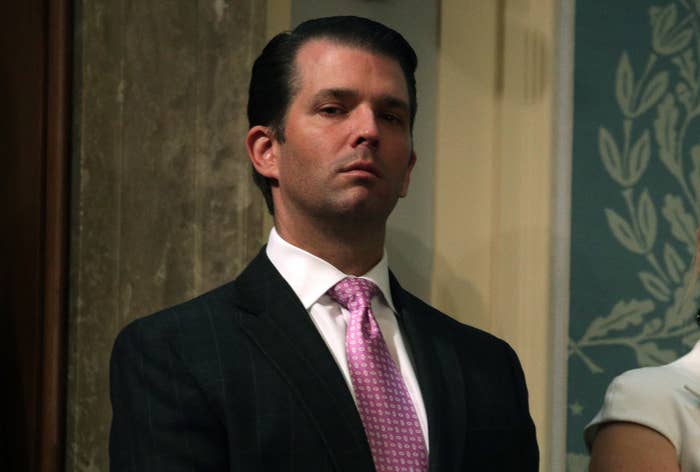 A Massachusetts man was arrested Thursday for sending a letter containing white powder to Donald Trump Jr., which was opened by his wife, Vanessa, and led to her brief hospitalization.
Vanessa Trump opened the envelope Feb. 12, reported feeling nauseous, and called 911, according to authorities. After a brief hospital stay, she was released. The powder in the envelope was found to be cornstarch.
Daniel Frisiello, of Beverly, Massachusetts, was arrested Thursday for sending the envelope. He is expected to appear in federal court in Worcester.

"Thankfully, the white powder in these letters was inert and no one was harmed," said US Attorney for the District of Massachusetts Andrew E. Lelling in a statement. "This does not change the fact that the defendant allegedly used the internet, the U.S. Mail, and popular fears of biological weapons to threaten and frighten people who did not share his views, and that is something we will prosecute accordingly."
The letter, postmarked in Boston Feb. 7, read: "You are an awful, awful person, I am surprised that your father lets you speak on TV. You make the family idiot, Eric, look smart. This is the reason why people hate you, so you are getting what you deserve. So shut the **** UP!"

Donald Trump Jr. tweeted on Thursday afternoon that he was "incredibly relieved" that authorities had charged the man, thanking the Secret Service and other agencies for their work.

Vanessa Trump tweeted her thanks to law enforcement Thursday night.
Authorities say Frisiello also sent letters containing powder to four other people, including a California prosecutor, a law professor, a Michigan senator and actor Antonio Sabàto Jr.

One letter accused Interim US Attorney for the District of Los Angeles Nicola Hanna of "murdering" Glee star Mark Salling, who committed suicide after being prosecuted on child pornography charges.
A second threatened Democratic Sen. Debbie Stabenow for defending a father who charged at gymnastics doctor Larry Nassar during his sentencing for child molestation.
The remaining two letters criticized Sabàto, who is running for congress, for his pro-Trump political views, and Stanford Law professor Michele Dauber for trying to recall a judge who gave Stanford University student Brock Turner a brief sentence for sexual assault.
"While we determined that the mailings did not contain toxins or poison, each of these incidents required a significant law enforcement response, a field screening of the letter's contents, and a methodical analysis by FBI weapons of mass destruction and laboratory experts," said Harold H. Shaw, special agent in charge, FBI Boston Division. "All this comes at a cost to taxpayers' money and diverted first responders and other limited resources away from actual emergencies."

The charge of mailing a threat to injure the person of another can carry a sentence of up to five years in prison, 10 years for threats addressed to a federal official. The charge of false information and hoaxes can carry a sentence of up to five years in prison.

Read the full complaint against Frisiello here:
CORRECTION
Nicola Hanna is the interim US attorney for the District of Los Angeles. An earlier version of this post misspelled his name and misstated his title.