WeWork Will Pay NYC Cleaners $15 An Hour, Stop Using Contractors
The co-working startup has invited laid-off cleaners to reapply for positions directly at the company. Benefits include health care and stock options.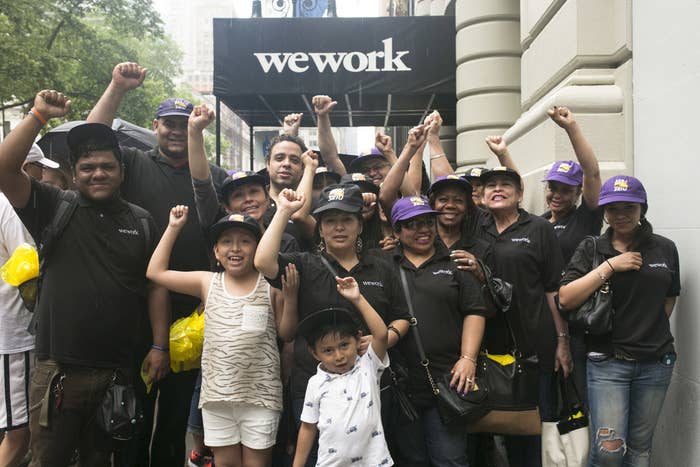 They may work at WeWork once more.
The people who cleaned the company's shared New York City office spaces, home to dozens of small and startup businesses, were recently told they would lose their jobs, after their employer terminated its contract with WeWork just a week after they had protested for better pay.
Today they were invited to reapply for their positions, now titled "community service associates" and "community service leads," and become directly employed by the $10 billion startup, rather than a contractor.
"I am a big believer in in-sourcing member roles," Artie Minson, WeWork's COO and President, told BuzzFeed News. "It is critical for a company like us to have those individuals be part of the company, and particularly a company like WeWork which is very much a mission-focused company."
On Tuesday, the cleaners asked for their jobs back in person at WeWork's new headquarters, ambushing the company's CEO as he arrived at the office. He quickly turned his back and walked away, although the workers were able to hand over a petition that the company later said had been passed on to the right people.
Now, WeWork has notified the workers that it will bring the jobs in-house, with new responsibilities and expectations.
"We have made a business decision in NYC to hire workers directly rather than through a third-party contractor," states a letter addressed to the vice president of the Service Employees International Union, Local 32BJ, which has supported the workers in their protests for better pay. The letter was signed by Chris Hill, WeWork's head of community and operations.
The company confirmed the news in a blog post, saying it was "thrilled to announce the creation of approximately 100 new positions within our New York City community team" and detailing the pay and benefits for the positions. "Normally, we wouldn't get into the details of how we will be paying these employees," the post said, "but recent coverage in the press makes us feel compelled to address this issue."
Workers hired for the new community service associate positions will receive "a competitive starting wage of at least $15 per hour," the post said, while community service leads will start at $18 an hour. The jobs also come with benefits like health care, access to a 401(k) plan, and equity in WeWork.
The company has encouraged all cleaners formerly employed by the contractor to apply for the new positions, provided they meet the job requirements. But it is unlikely all will be hired — Minson said about 150 people were employed by the cleaning contractor that previously worked with the company, while only about 95 employees will be hired in the new WeWork staff roles.
WeWork's conception of the janitor role seems to have evolved considerably alongside the better pay and benefits. A job description seen by BuzzFeed News listed more straightforward tasks like "prepare and lock beer kegerators" and "sanitize fruit water container" alongside responsibilities including "post-event analysis" and conducting "Zendesk Tickets metrics analysis."
And all that work needs to be done in the spirit of WeWork's values, the job description said, asking workers to execute their roles while demonstrating an attitude that is "inspired, entrepreneurial, authentic, together, grateful, [and] tenacious."
Fluency in English was initially listed as a requirement in the job description, which could have prevented some of the cleaners from getting their jobs back. "Most of these cleaners are Latino immigrants whose first language is Spanish," wrote Rachel Cohen, a representative with 32BJ, in an email to BuzzFeed News.
But WeWork replied that cleaners would only need to be able to communicate in English, and provided an updated version of the job description where fluency was replaced with "ability to communicate" in English.
The company also pushed back against complaints that the $15 an hour starting wage on offer is still well below the approximately $23 an hour earned by the majority of New York janitors, who are unionized. "How many of those are year-one wages?" asked Minson, the COO. "How many of them, frankly, get equity in a company that has grown as quickly as WeWork has grown?"