Cleaners Say WeWork Threatened To Fire Them If They Unionize
The complaint to the National Labor Relations Board followed a protest at the company's HQ on Thursday. WeWork denies the charges.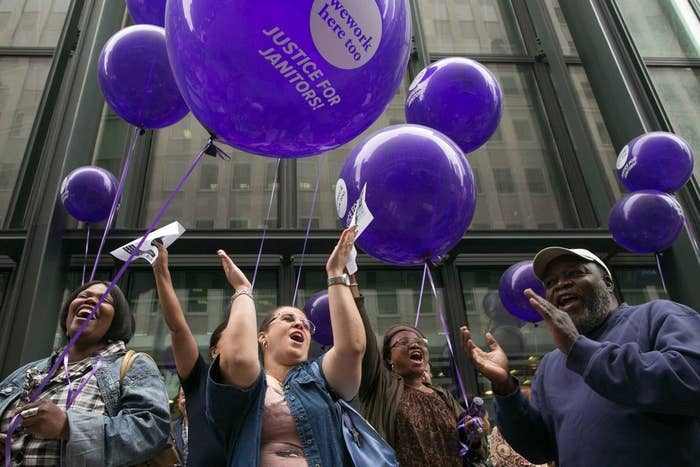 WeWork allegedly threatened to fire cleaners at its New York locations if they unionized, according to an unfair labor practice charge filed to the National Labor Relations Board on Thursday evening.
A local branch of the Service Employees International Union filed the charge on behalf of over 100 contracted cleaners who have been part of an organizing campaign to raise wages and improve benefits at the company, which provides shared office spaces.
A WeWork company spokesperson said in a statement Friday that WeWork "did not and would not threaten the employment of any one who works at one of our locations because of any union activity." The spokesperson said the company had not received a charge from the NLRB, and that the cleaners at their locations in New York are employees of their cleaning services contractor.
Most janitorial workers in New York City office buildings are unionized, paid wages that begin at $18 an hour and go up to $23 an hour, and are provided with health and retirement benefits. But WeWork gets its cleaning staff through a non-union contractor, which pays about $11 an hour, workers say.
Yesterday, WeWork cleaners and their supporters demonstrated outside the company's headquarters, asking to be paid the same as their unionized counterparts.
WeWork has emerged as one of the most valuable startups in the country, valued at $5 billion in a funding round last December. The company runs 15 office buildings in New York, 3 in San Francisco, and dozens more across the country.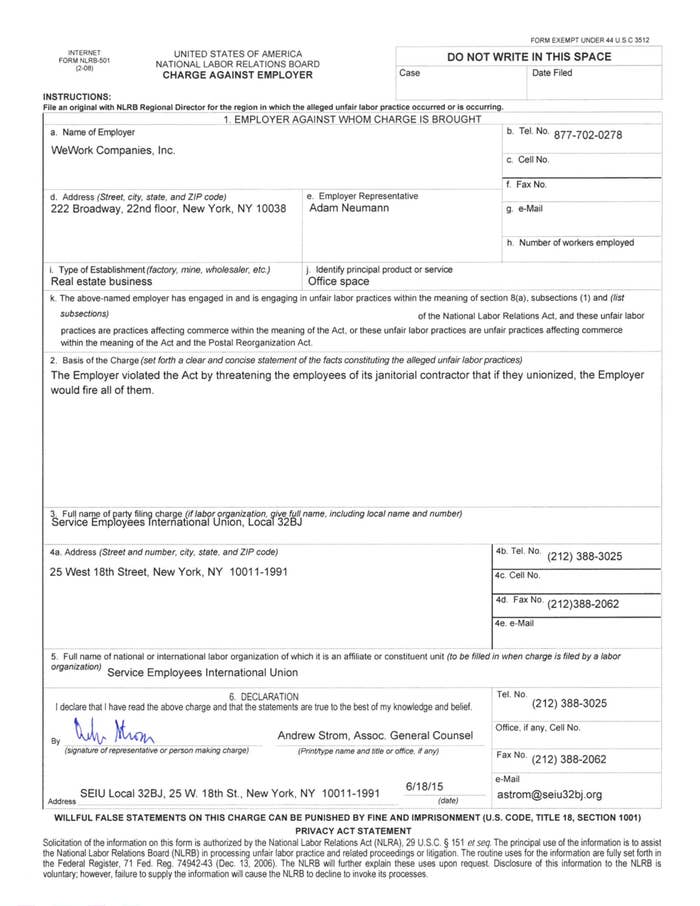 This post has been updated to include a statement from a WeWork spokesperson.