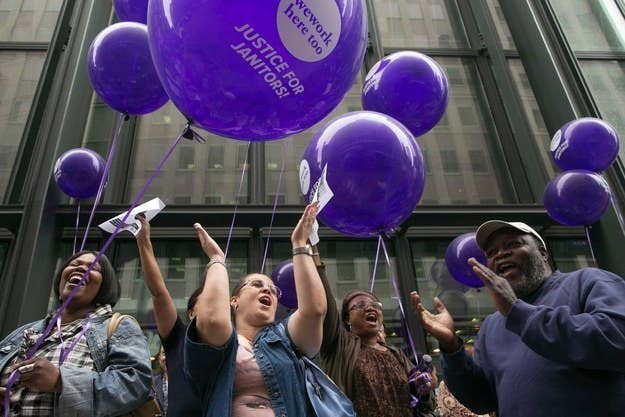 The union-backed campaign targeting cleaning staff at shared office space provider WeWork has notched up a victory: The company will now use unionized cleaners, at least in New York and Boston.
WeWork agreed Tuesday to work with union-friendly cleaning contractors at its locations in the two cities, after previously dealing with a nonunion provider that paid less than half the standard union wage. It will also pay compensation to former cleaners who lost their jobs when the previous contractor ended its relationship with WeWork in August amid union-backed protests.
While the company has said it will try to rehire as many of the fired cleaners as possible, WeWork will make a $250,000 pool of compensation available to those who lost their jobs. The money will be distributed according to a formula based on years of service, said the company, which was valued at $10 billion by investors in a funding round this June.
Since summer, the cleaners had picketed and leafleted, organized street theater, and delivered petitions, all with the goals of joining a union and receiving wages comparable to those of most of New York's building and office service workers, the majority of whom are unionized.
The workers won a small victory when WeWork committed to bringing its cleaners in-house, at starting wages of $15 an hour (still lower than the union standard). But it soon became clear that not all of them would be rehired. Some laid-off employees held a vigil for their lost work.
Now the cleaners and their union supporter, the local 32BJ chapter of the Service Employees International Union, are celebrating the accord as an "unprecedented" win. They say it is the first of its kind with a major co-working space company, which brands itself as part of the on-demand economy.
"We're hoping this sets a path for good jobs being associated with the so-called 'sharing economy' as we see more of these efforts to share office space or other forms of space," said 32BJ President Hector Figueroa. "We hope that they understand that service workers need to have a part of that new economy."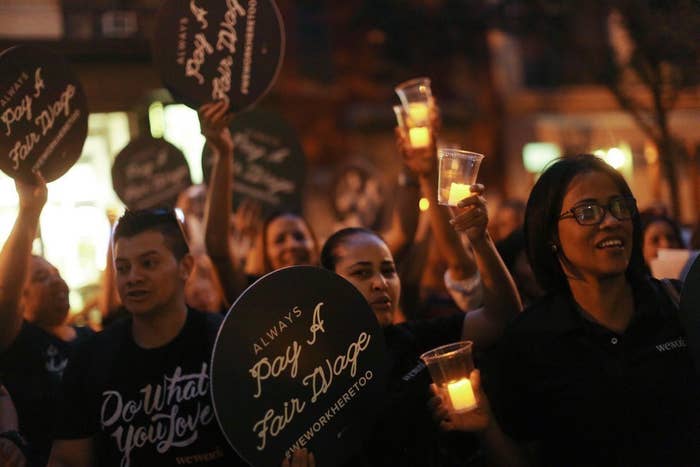 Commercial Building Maintenance, the nonunion contractor that previously employed the cleaners, will distribute the severance payments to cover the interruption in their work time and earnings, according to a 32BJ representative.
"We are ... demonstrating our corporate commitment to doing the 'we' thing by providing generous severance payments to formerly contracted cleaners who were not offered a job," said WeWork President and COO Artie Minson.
Though WeWork is providing the funds, as part of the agreement with the union, CBM will write the checks to the workers, since it has the names and addresses of all the formerly contracted cleaners. The detail is one example of the ways in which contractors can insulate large companies from responsibility for workers: While CBM literally paid and employed the cleaners, it's easy to argue the degree to which WeWork could control their wages, hours, and other working conditions.
Ivan Castelan, a former CBM-contracted cleaner at WeWork in New York who lost his job, said it was "very exciting" that he will have a chance to return to work at the company. "It feels really good to see that when working people stand together we can change our lives and the lives of other workers for the better," he said.
Predominantly member-facing jobs, known as community service leads and associates, will continue to be performed by full-time WeWork employees. And this pilot program of full-time workers will expand to Boston.
WeWork and the fired cleaners have also resolved their disputes related to charges filed with the National Labor Relations Board. The first, a charge of threats of retaliation to cleaners attempting to unionize, has been dropped, while the second, a charge of discriminating in hiring against cleaners who were trying to unionize, was withdrawn by the union as part of the agreement.
"[W]e are pleased that we were able to develop a win-win partnership with 32BJ SEIU," said Minson in a statement. "This arrangement provides a sensible path forward that allows us to focus on our top priority: providing the best possible experience for our members in a way that allows their passion and innovative spirit to flourish."
Minson said WeWork was "thrilled" to expand their New York pilot program to Boston, where they will begin interviewing current Commercial Building Maintenance cleaners for the new roles.
UPDATE
This story has been updated to reflect the fact that workers who lost their jobs are eligible for severance payment, whether or not they hired back. Workers who receive the payments may still be re-hired by WeWork.