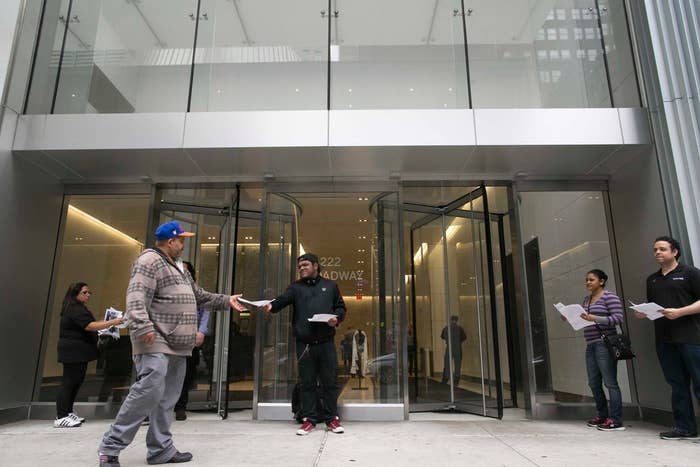 Not long after a giant funding round made WeWork one of the world's most valuable startups, the people who clean its co-working spaces in New York are asking the company for a raise.
The 4-year-old operator of shared office buildings has 15 locations in the city and was valued at $5 billion in a December funding round. But it pays its office cleaners less than half the industry standard, and provides no benefits, according to SEIU 32BJ, the local Service Employees International Union chapter that represents 70,000 New York workers.
The majority of New York janitors and cleaners belong to a union and make more than $23 an hour, plus family healthcare and retirement benefits, 32BJ said in a statement. WeWork did not immediately responded to requests for comment.
Janitors and their supporters plan to protest today at WeWork's Manhattan headquarters at 222 Broadway. In that same building, 32BJ said, other renters and owners hire cleaning contractors at the standard city-wide rate, while WeWork pays an average of $11 an hour.
"WeWork says it aims 'to create a world where people work to make a life, not just a living' but many of its cleaners are struggling to survive," the union said in a statement, adding that WeWork's cleaners and maintenance workers are employed through a contractor whose staff are not unionized.
Yuly Amaya, 21, works at 79 Madison. For $10 an hour, 20 hours a week, she cleans bathrooms, takes out the garbage, empties trash cans from each office, and collects coffee cups to wash. She lives in a house in Far Rockaway with her parents and two children, and contributes $500 towards their mortgage each month.
In the past, Amaya said that paychecks wouldn't always come on time, and managers would blame the mail system.
"Now they say what they pay us depends on the contract they have with the building," she said.
Yosel Fernandez, who works at 395 5th Avenue, said she has been cleaning under contract with Commercial Building Maintenance (CBM) for a year and a half. She started out making $10 an hour, and got a fifty cent raise three months ago.
"At other places, if you are a responsible employee and do your duty, they give you a real raise," she said.
Working 35 hours a week, Fernandez takes home about $280 after taxes each week, she said. That money goes towards the $1000 rent on the apartment she shares with her mother, as well as other bills.
Fernandez said CBM distinguishes between classifications of workers, some of whom make $11 or $12 an hour for doing work as porters, such as taking deliveries or making coffee. On days when those workers aren't available, Fernandez has taken on those tasks, she said - but her paycheck didn't reflect the difference.
"They paid me the same as before," she said.
The protests come at a significant time for unionized cleaning staff in New York: this week marked the 25th anniversary of the Justice for Janitors campaign, which successfully unionized the city's cleaners. The SEIU has compared the successful drive to organize the city's janitors to the ongoing movement to raise fast food wages.