WeWork's CEO Snubbed Laid-Off Office Cleaners
The co-founder of the $10 billion startup came face to face with the janitors, who were laid off just weeks after protesting for higher pay. Then he walked away.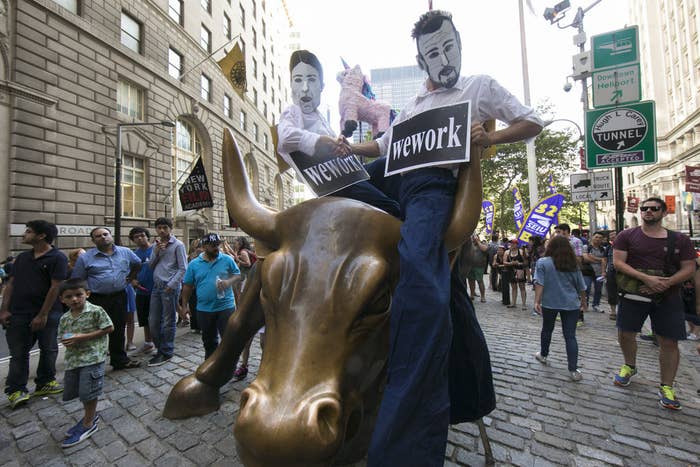 The cleaners had already been turned away from one of WeWork's co-working locations Monday afternoon, and their numbers had fallen from a dozen to six. Now they were being told the startup's CEO was not available to see them at the company's new Manhattan headquarters on 18th Street. "Never Settle," a neon sign had glowed on the wall of the first office they visited.
"Adam's not here," said a staffer at the entrance, referring to co-founder and CEO Adam Neumann. The man declined to give his name or title, and initially refused to allow the workers into WeWork's office. "You can email or mail your petition. Use the proper channels."
The petition, signed by more than 75 of the cleaners working at WeWork's New York office buildings, had a simple request: Please let us keep our jobs. Last week the cleaners were all notified they will be laid off, just weeks after they began campaigning for better pay and benefits from the startup, which was valued at $10 billion in a recent funding round.
With their livelihoods now on the line, the cleaners were prepared to wait around for a chance to deliver their petition in person, standing in the elevator vestibule if necessary. When this became clear, a second WeWork employee asked them to have a seat in the office corner closest to the door. He introduced himself as "Adam — just Adam. But not that Adam."
Then in walked that Adam — CEO Adam Neumann, recognizable by his height and shoulder-length dark hair. He wore a white collared shirt, black pants, and black shoes. He'd been ambushed.
"Adam! Hi, Adam," called one member of the delegation, and Neumann whirled around to see who was greeting him. The other Adam whisked him aside and told him who the cleaners were, and presumably what they were there for — to petition to keep their jobs. Without a backward glance, Neumann walked away into the offices.
The other Adam returned. "I'll deliver your petition. You have my word I will give it to him," he said.
Did he have a minute to speak with BuzzFeed News? "Come back in a few weeks and ask for Adam at the front desk," he said. "They'll know which Adam. I can talk to you then."
Nestor Melgar, 26, one worker with the delegation, has been cleaning WeWork locations for a year and a half, as has his mother. Melgar wore one of his uniform T-shirts to the action, featuring WeWork motto "Do What You Love" in looping swirls. Six nights a week, Melgar cleans the mini-bar, kitchen, hallways, and restrooms of WeWork's 25 Broadway location, along with two other workers responsible for cleaning the offices themselves. He said he likes the work, and he's made friends with some tenants when their happy hours run long, including members of the learn-to-code school, Codify Academy.
Last week Melgar and his mother were told they would be fired, just weeks after they joined a campaign asking for union-level wages for their work. They are employed by a contractor, Commercial Building Maintenance (CBM), which pays cleaners as little as $10 an hour, less than half the standard wage for the majority of New York City's janitors, who are unionized. WeWork said CBM terminated its contract with the company about a week after the first protest by cleaners. CBM has not responded to multiple requests for comment.
"WeWork has never and would never discriminate against anyone for union activity," a spokesperson told BuzzFeed News.
So far, WeWork has not committed to rehiring the cleaners, either directly or through a different contractor. The spokesperson said the company had no comment on hiring at this time.
"It's sad, because if we don't win, now I'm out of work," said Melgar. The document he signed and handed over Monday was a statement of "unconditional application for employment with WeWork or any successor cleaning contractor WeWork might hire." The WeWork spokesperson said the "right people at the company" had received the petition.
Also present at the action were Maria Castañera, 22, and her mother, Sonia, from Guatemala, both of whom work cleaning WeWork's locations. Susanna Martinez brought along her 7-year-old sister, Gisell, who sat quietly on her lap while they waited. A "Yo ❤️ El Salvador" keychain dangled from Melgar's backpack.
The document signed by the workers ends with the lines, "As you know, many of us have been involved in union organizing activity. We want to make sure that you or any contractor you hire does not discriminate against us because of this union activity."