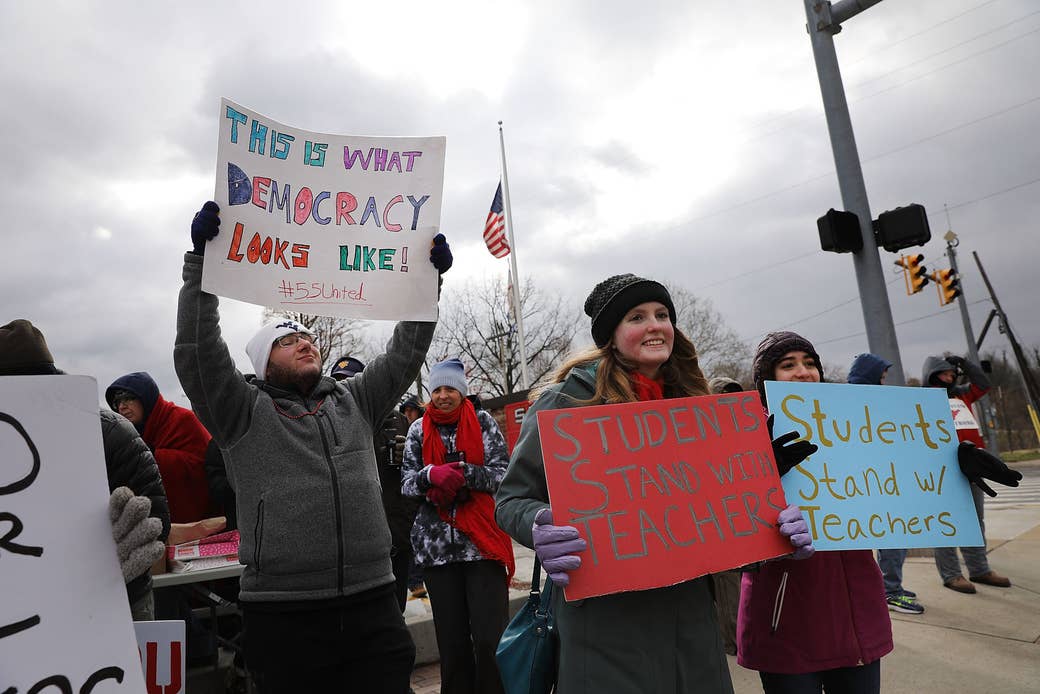 Their strike is illegal. It's led by women. And it's taking place in a state that the national Democratic Party has all but totally written off.
The teachers' strike in West Virginia — in which thousands of workers have shuttered every public school in the state for more than a week — is offering a new model for the American left in a political era that has scrambled the old rules.
West Virginia went 68% for Trump in 2016. Bernie Sanders won every county in the Democratic primary. Now, teachers in the state, which is home to old American labor battlegrounds like "Bloody" Mingo County, have been striking over low pay and increasing health care costs.
The workforce shows no signs of returning to work until their demands are met, including a 5% raise and plan to reform the underfunded state health care system. In 2016, West Virginia's average teacher salary was $45,622, more than 20% below the national average. Meanwhile, premiums have gone up for everything from insulin to doctor's visits, teachers say, and their plans, administered by the Public Employee Insurance Agency (PEIA), now cover fewer conditions.
On Feb. 27, Gov. Jim Justice and union leaders negotiated a deal that would have had the state employees return to work on March 1 — but, in a twist, the state Senate refused to vote on the legislation that would implement the agreed-upon 5% raise. Instead, senators argued for a 4% raise and sent an amended version of the bill back to the state House of Delegates.
Jenna Prudich, 25, who teaches second grade, called it a "circus."
Matt Adkins, a 38-year-old elementary school gym teacher from the city of Huntington, which received national attention in the Oscar-nominated documentary Heroin(e) for its high rates of opioid addiction, said he wished he could "blow his whistle" on the legislators and make them "walk back into the chamber to do it over again."
Other teachers told BuzzFeed News they're worried lawmakers are stalling until the legislative session ends on Friday, which would nullify the proposed bill.
"Nobody trusts the government in West Virginia, period," Adkins said. "We said we wouldn't go back to work until they sign the bill, and they never signed it."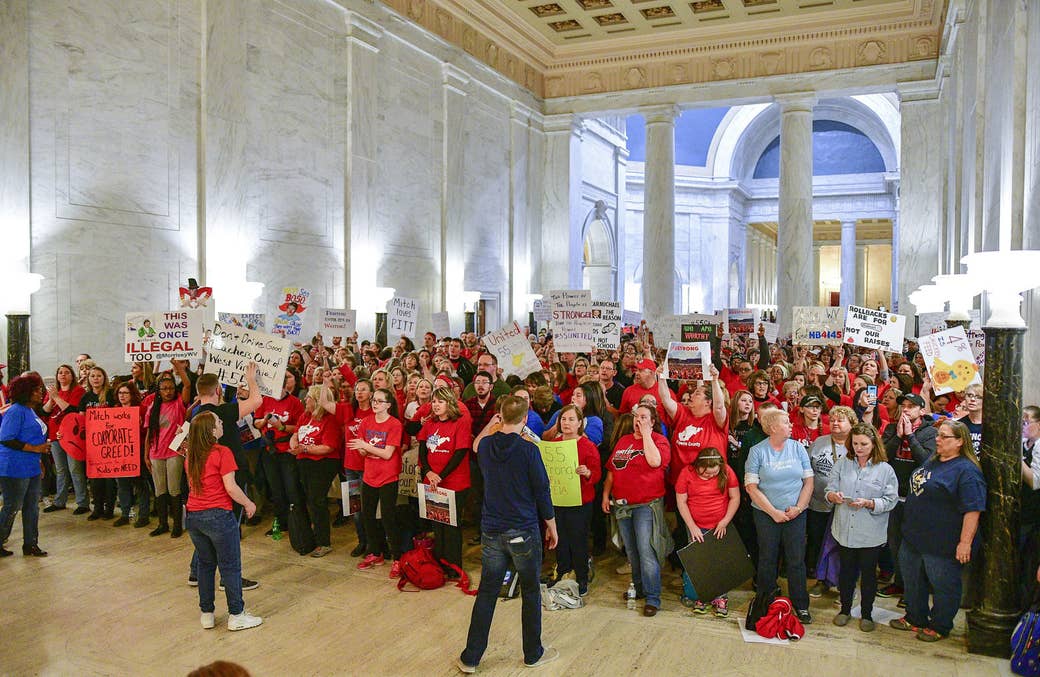 Adam Culver, who teaches seventh-grade language arts at Huntington Middle School, said he made just over $40,000 this year, his 11th year as a teacher.

"When they first announced everything, there was nothing in writing, just promises," Culver said of the proposed deal.
During the first days of the strike, Culver had worn a banana suit to the rallies to draw light-hearted attention to the cause, he said. But he went back that day dressed in all black, with a big sign over his head reading, "Bullshit."
Monday, the lines to get into the capitol building in Charleston swelled to the largest since the protest began, teachers said, with thousands showing up in red shirts and bandanas, holding signs reading "#55strong" for all 55 closed school districts, and singing "Country Roads," with lyrics that begin, "Almost heaven, West Virginia."
The crowds Monday prompted a warning from police and the fire marshal that the capitol could exceed capacity.
Workers interviewed by BuzzFeed News say the strike is now about more than specific contract demands. It's a testament to wide-ranging frustration over how state legislators undervalue and underinvest in the public school system.
Ami Lester, a 36-year-old who has been teaching in West Virginia for 14 years as a reading specialist in a small community elementary school, said teachers had already succeeded in killing recent bills that pertained to seniority, charter schools, and school vouchers through organizing.
"Two things are happening here," Adkins said of the ongoing action. "One is the people — the grassroots of West Virginia — fighting its government."
The other, he continued, is old-fashioned "party politics," which teachers now say reflect poorly on the Republican state Senate leadership holding up the bill with their promised raise.
Monday afternoon, occupying the capitol building, teachers chanted cheers tailored to state Senate president Mitch Carmichael, including, "Mitch Better Have My Money," a play on the Rihanna song.
When the politician emerged in the afternoon to urge the crowd to accept the 4% raise instead, teachers responded with a resounding, "Move, Mitch, get out the way. Get out the way, Mitch, get out the way."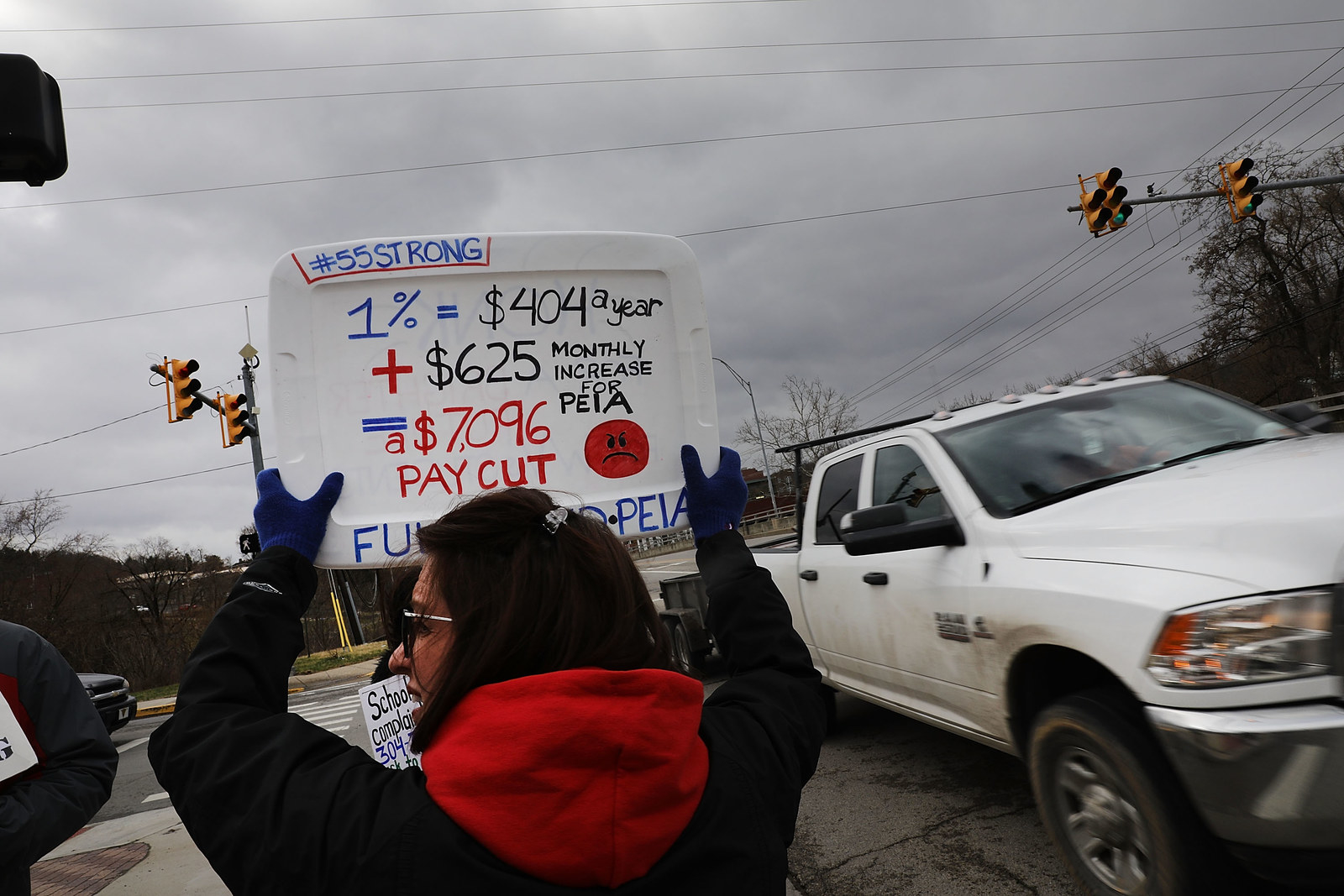 Several teachers said they were prepared to strike indefinitely, with some expressing a desire to ask for more when they heard teachers in Oklahoma are now asking for a $10,000 across-the-board raise. As it stands, a 5% raise for most teachers in West Virginia amounts to just a few thousand dollars.
Don Scalise, 39, who makes $45,000 teaching students Advanced Placement US government and politics at Cabell Midland High School, said lawmakers should be keeping an eye on their polling numbers.
"There are a number of people in the state Senate who are up for reelection, and a lot of their constituents are teachers and parents," he said.
Notably, the workers' battle has raged on despite the fact that West Virginia law does not technically permit public employees to collectively bargain or strike.
The Supreme Court is also likely to decide this summer in the case Janus v. the American Federation of State, County, and Municipal Employees. Should the court find that it's unconstitutional to require public employees to pay fees to the unions that represent them, unions will likely take a colossal hit to their coffers and membership.
But the teachers in West Virginia — and now Oklahoma and Kentucky — are demonstrating that workers can organize and take action even in states where such strikes are illegal, and wield leverage over a state employer the old-fashioned way.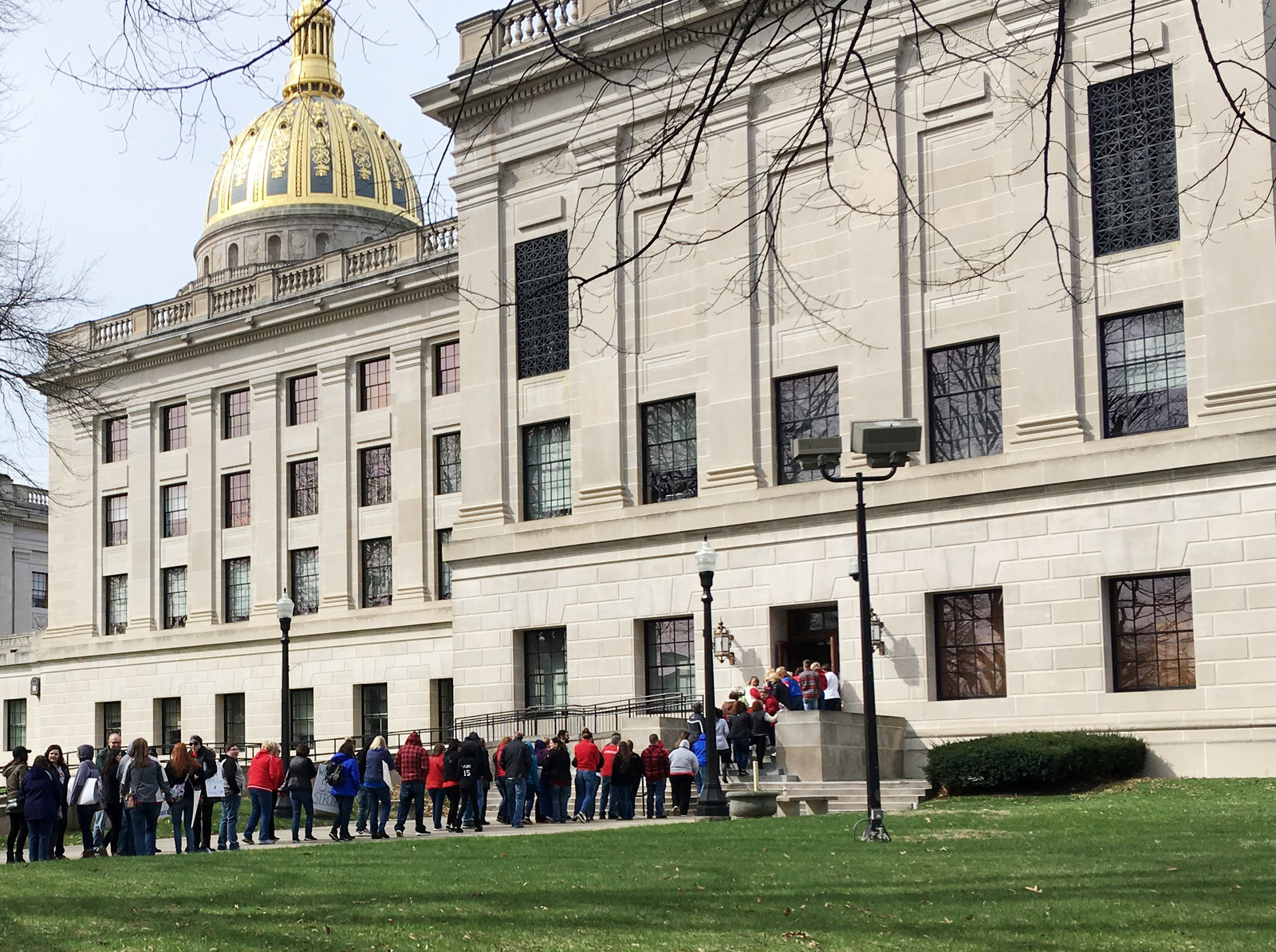 Scalise said Monday that he sees the teachers' strike as the first front in a broader labor struggle, with eyes on nearby states. Teachers in West Virginia told BuzzFeed News that they're now speaking with teachers in Kentucky about striking over unsatisfactory pension and retirement fund negotiations.

And in the past few days, nearly 40,000 people have joined a Facebook group — "Oklahoma Teacher Walkout"— that has pledged to strike on April 2 if teachers don't receive a $10,000 increase to bring their salaries to a livable floor. In 2016, Oklahoma's average teacher salary was $42,460, according to the Bureau of Labor Statistics.
As the action continues, West Virginia teachers have pledged to keep providing lunches and meals to students despite schools being closed, coordinating with superintendents to make sure backpacks of food are available to students who relied on them. One in four children in the state lives in poverty and experiences hunger, the highest rate in the country.