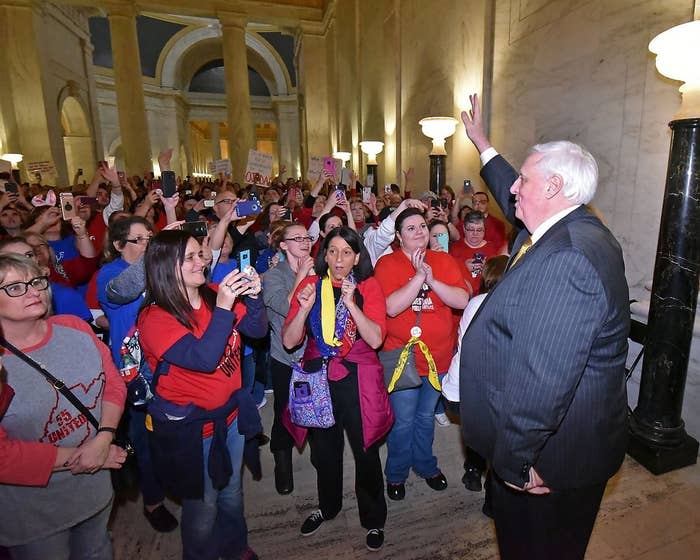 West Virginia lawmakers on Tuesday approved a deal to give public school teachers a 5% raise, tentatively ending a statewide strike as the bill awaits the governor's signature.
Both the House and Senate chambers agreed to the raise, one of the key victories teachers have been fighting for since they walked off the job nine days ago in a massive show of strength that is now inspiring teachers in Oklahoma.
Jennifer Wood, a spokeswoman for the American Federation of Teachers union, said they are still waiting for Gov. Jim Justice to sign the bill into law before promising to return to classrooms.
"There's no question I'm going to sign it," Justice said. "I believe in your purpose, I believe in you, and I love our kids."
Sixth-grade teacher Danni Parent told BuzzFeed News that she had been excited to hear the governor's renewed promise to support the 5%, but that his promise to deliver the very same deal last week was still fresh in her mind.
Senate Republicans blocked the deal by only agreeing to a 4% raise, forcing lawmakers back to the negotiating table.
"He had announced the strike was over last Tuesday ... that everything was fine, and we'd be going back to school immediately, and the Senate Republicans refused to honor that deal," she said. "I'll spare you the parliamentary procedure, but ... as exciting as that announcement is, I'll believe it when it's law."
Meanwhile, in Oklahoma, teachers are readying themselves for a strike in early April.
Larry Cagle, one of the founders of the Oklahoma Teachers United group, which now has more than 40,000 members on Facebook, said he and his fellow teachers in Tulsa have been invigorated by what has been achieved in West Virginia.

"I don't know how long it's been since Oklahoma has had a mandate to force legislators to do what they want them to do," Cagle told BuzzFeed News. "We have a mandate for a strike. We have the tiger by the tail."