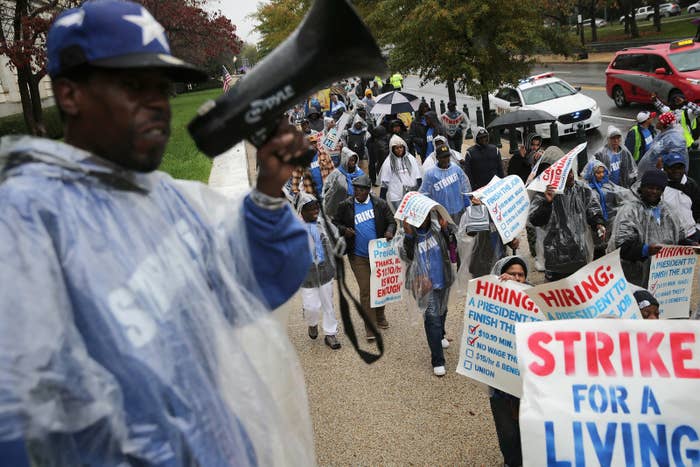 Washington D.C. is set to raise its minimum wage to $15 an hour by 2020, making the nation's capital the latest big city to approve an ambitious wage hike. The raise was passed by the city council on Tuesday and Mayor Muriel E. Bowser committed to signing the bill into law, although a second formal vote is also required later this month.
With the vote, D.C. joins California, New York, Seattle, Los Angeles and San Francisco, all of which have all passed laws that will eventually increase their minimums to $15 — a figure that has been the central demand of the nationwide Fight For 15 protest movement in recent years.
The raise was opposed by many in the business community, with the D.C. Chamber of Commerce releasing a poll showing half of all business owner respondents saying they would reduce their payroll and eliminate jobs if a $15 minimum was approved.
Some labor advocates also expressed disappointment in the bill, saying it didn't go far enough. The City Council rejected proposals to phase out rules that allow tipped workers to be paid at levels below the minimum wage.
D.C. employers may pay tipped staff, such as servers and nail salon workers, less than $3 an hour, with the expectation that tips will make up the rest of their wages. When business is slow and tips are scarce, employers must pay their workers the difference between their paychecks and the district's minimum. But a 2010 White House Study found that employers often fail to make employees whole, and in 18 states, the tipped sub-minimum wage is as low as $2.13.
"The Council's refusal to meaningfully raise the tipped wage leaves behind 29,000 restaurant, nail salon, car wash and other tipped workers," said Christine Owens, executive director of the left-leaning National Employment Law Project in a statement. "It is disappointing that city leadership as progressive and diverse as D.C.'s would not do more."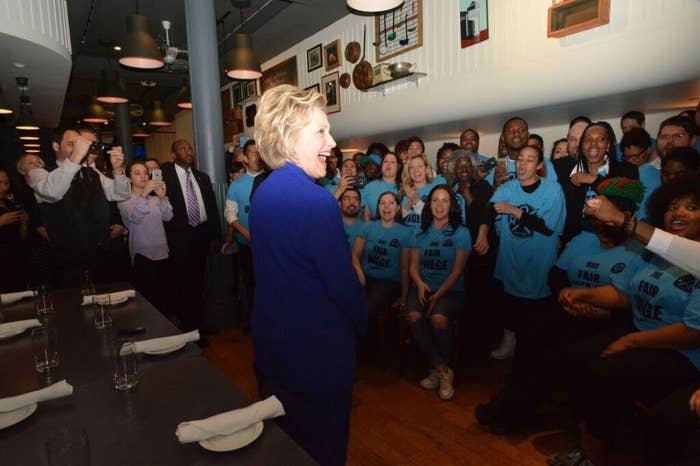 San Francisco, Los Angeles and Seattle all included tipped workers under their laws raising their local minimums to $15 an hour. Under the law approved in D.C., the district's tipped sub-minimum will rise to $5.00 per hour from its current $2.77 and then be indexed to inflation.

Saru Jayaraman, co-founder of the Restaurant Opportunities Center, a restaurant worker advocacy group, said the city council had caved to business pressure by excluding the tipped workforce.
"This wage deal, carved in backrooms with the help of the National Restaurant Association, is a disgrace for Washington D.C.," she said in a statement.
The ROC and other labor groups had been supporting a separate D.C. ballot initiative for November that would raise the minimum to $15 for all workers, including those who receive tips. The D.C. Board of Elections requires supporters to collect 22,000 signatures from registered D.C. voters by July 11 for an initiative to qualify for the ballot, and the worker group says they're on track to the meet that deadline.
"We're continuing to gather signatures and will fight for the District's tipped workers until we have achieved one fair minimum wage for all workers," Jayaraman said.