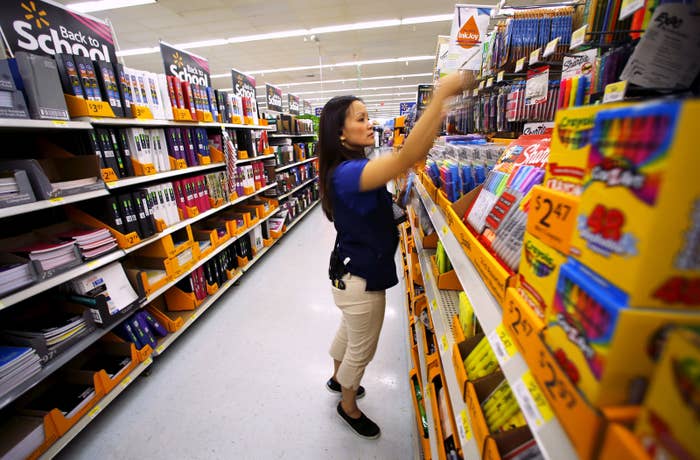 More than six months after Walmart announced it would raise its minimum wage to $10 an hour, hundreds of thousands of store staff have yet to get the increase, with just a trickle of workers managing to complete a training program required for the pay boost.
While Walmart — the country's largest private-sector employer — earned plenty of positive coverage on announcing plans for the $10/hour raise, it qualified the news by saying newly hired staff would first need to complete its new Pathways course, which combines video tutorials and in-store training.
And a lot of Walmart staff at any given time are new hires. The company employs 1.5 million people in the US, and the nature of its low-wage, part time jobs means it has high staff turnover. It says it expects 500,000 new hires to go through the Pathways program this year, and they won't move to $10/hr until they complete it.
But current and former Walmart store staff have said that the program — which the company has said takes six months to complete — is marred by buggy and outdated computer software, and slowed down by bureaucratic hold-ups. In interviews with BuzzFeed News, as well as posts on discussion boards and social media, they say most staff are unlikely to complete Pathways in six months, due both to the glitchy systems and lengthy delays built into the training.
In fact, just 3,100 stockers and cashiers have completed Pathways as of September, according to Walmart spokesperson Kory Lundberg, with another 2,500 now taking a final assessment, one step away from graduation. The company is "very excited about these early numbers and expect to see them continue to grow," he said.
Glitches and teething problems are inevitable when rolling out something at this scale, Lundberg said. "As you can imagine, when making a new program available across 5,000 locations to hundreds of thousands of associates, there are times when we don't get everything right the first time."
While the program can be completed in six months, workers may take up to 18 months to finish it, according to Lundberg. "The timing is based on what works best for them," he said.
Workers interviewed said they have been told they would be fired if they don't complete Pathways within 18 months. Asked about the deadline, Lundberg said Walmart has "guidelines for store managers to follow up with associates regularly who are approaching the 18 month timeline so they have what they need to complete the training and take the assessment."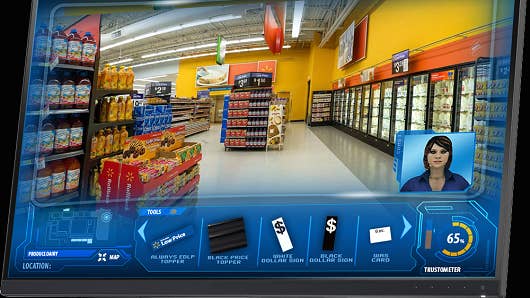 Walmart piloted the Pathways training program for several months last year before instituting it in all its stores early this year. The game-like training modules cover topics like stocking, cleaning, cashier work, company history, and corporate structure.
At the end of each section, employees must have managers check in and sign off on their progress before they can move to the next module. It's a bottleneck that workers say slows progress — at busy Walmart stores, where managers are often in short supply, it can be hard to get ahold of one.
Walmart says the delays, which can last up to 42 days between training modules, are in place to prevent "fire-hose learning" and give workers a chance to show managers their new knowledge in action on the shop floor.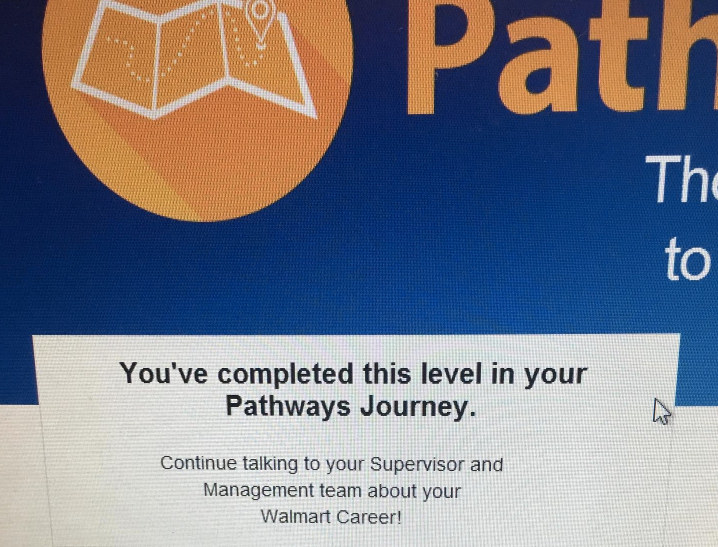 Staff say the training software's slow-loading videos and images are another drag on getting it done. One worker said they waited 35 minutes for videos to load during a 90-minute session. "How much does Walmart waste on slow internet?" asked one popular Reddit thread. On the same message board, another commenter said their store manager turned on a back-room TV and let workers watch The Brady Bunch while waiting for the training modules load.
Henery Cash, a student at Indiana University and former Walmart employee, told BuzzFeed News that after experiencing "constant freezing and unresponsive tabs" in the training system, he tweeted at the company, offering to help debug the software. Walmart replied, telling him where to apply for an internship, but he said he didn't end up doing any tech work for the retailer.
"My experience with Pathways had been dismal," one store worker, who asked not to be named, told BuzzFeed News, citing the buggy software and slow progress. But for the extra dollar per hour, he said he'll put up with it. "I used to work at Walmart for nine-and-a-half years, only to quit and come back recently, only to be told I have to do Pathways," he said. "You don't get the raise until you finish."
Lundberg, the Walmart spokesperson, said the company irons out bugs when it is made aware of them, and is "excited" about the feedback it has received from staff about Pathways.
"No other retailer offers as wide a range of jobs, training opportunities, room for advancement, benefits and the opportunity for financial advancement" than Walmart, he said.