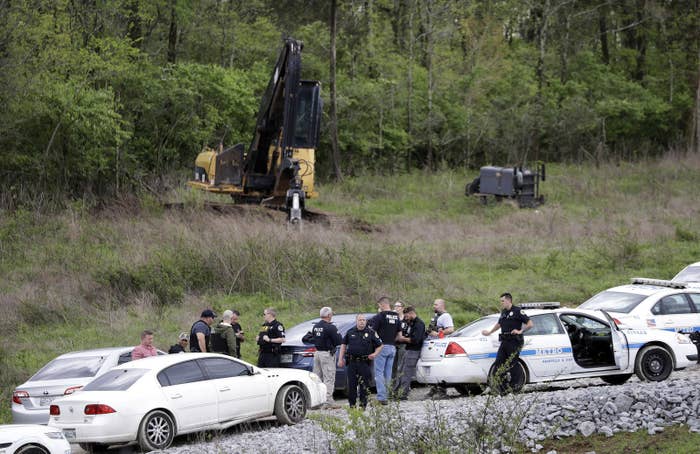 The man who police say opened fire inside a Waffle House restaurant near Nashville on Sunday morning, killing four people and wounding two others, was arrested Monday after a sprawling, nearly 34-hour search.

Metropolitan Nashville Police said 29-year-old Travis Reinking was apprehended peacefully in a wooded area not far from the shooting scene after authorities received a tip from the public. Scratched and dirty, Reinking was taken to the Nashville General Hospital before being booked into jail downtown on four murder warrants, police said. He refused to give a statement to detectives and is currently being held on a $2 million bond.
A construction worker spotted Reinking emerging from a wooded area less than a mile from the scene of the shooting appearing disheveled and disoriented, authorities said at a press conference after the arrest.
"A tip from the community is what led to the arrest today," Nashville Mayor David Briley said, thanking the network of federal, state, and local officials for their "tough" work.

A team of law enforcement officers descended on the area and noticed a pathway into the woods, police said. Shortly after, Detective Kyle Williams saw the suspect in front of him, Lt. Carlos Lara said.

"The suspect proned himself out," Lara said, adding that Reinking, who was wearing a maroon shirt, jeans, and a backpack, complied with officers' orders and did not resist arrest.

Detectives found Reinking within 10 minutes of receiving the tip call.
When officials searched his backpack, they found a loaded .45-caliber silver handgun, ammunition, and a flashlight.
More than 160 law enforcement officers had been searching Antioch, Tennessee, for the suspect, including members of the local police, the FBI, and the Bureau of Alcohol, Tobacco, Firearms, and Explosives.

Before the arrest, authorities said Reinking had been last seen by a civilian at 8:30 a.m. Sunday, standing shirtless in black pants behind his apartment complex.

"If he is still in the woods, he's been there now for more than 24 hours and at some point he's going to have to come out for food and water," said a spokesperson for Nashville police early Monday afternoon, shortly before the suspect was taken into custody.
White House press secretary Sarah Huckabee Sanders said Monday that the president offered his condolences to the victims and their families.

Around 3:30 a.m. Sunday, officials said Reinking sat in his pickup truck outside the Waffle House before opening fire on workers and diners with an AR-15 rifle while naked except for a jacket, and then fleeing on foot.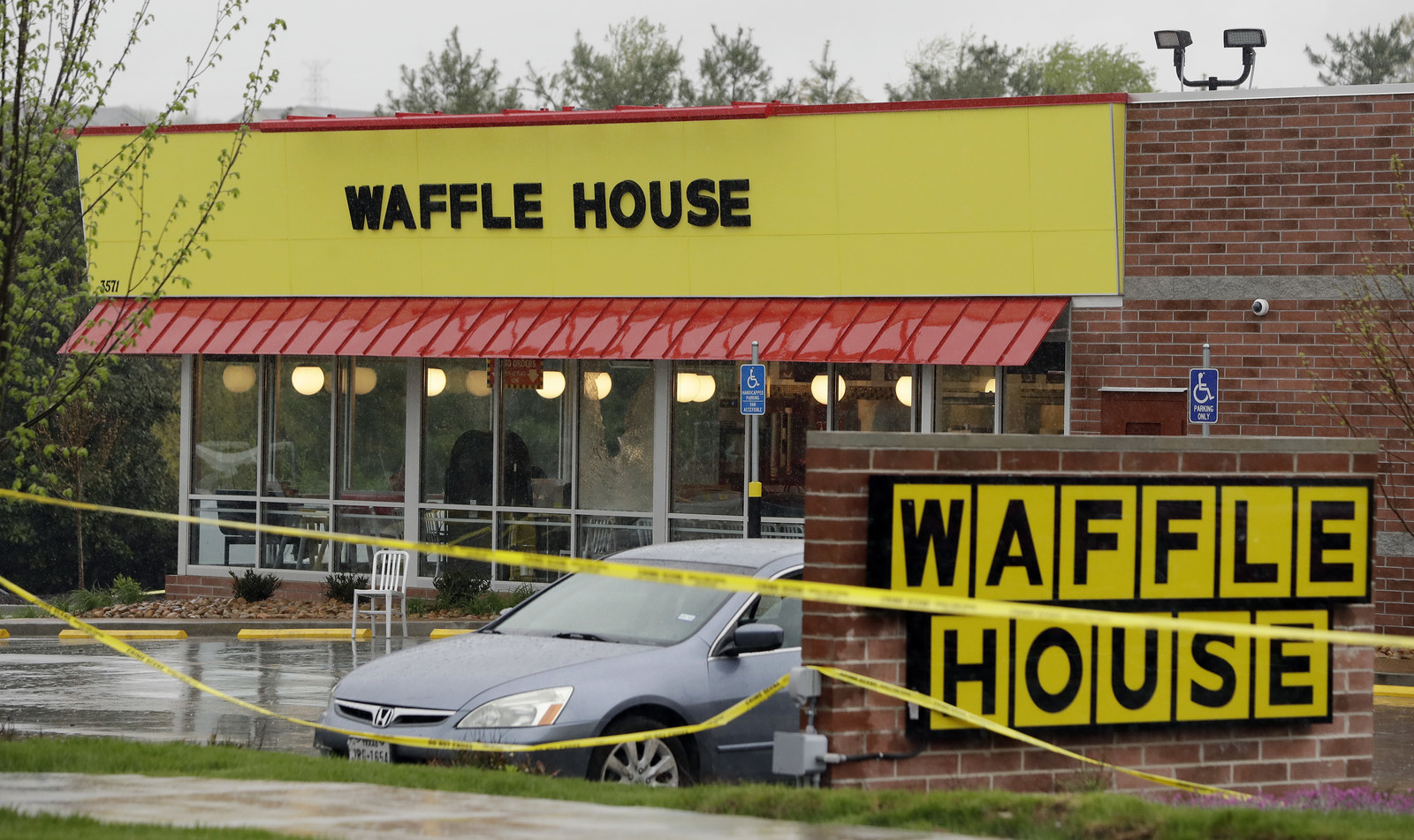 On Monday, authorities also reported that a citizen had found a soft laptop case that appeared to belong to Reinking in the area of Interstate Highway 24 and Old Hickory Boulevard, containing a cardboard luggage ID card with his name and phone number handwritten inside. The citizen reported the find, though authorities said it was unclear whether it was left there before or after the shooting.
Reinking had also stolen a car days before the shooting, officials said Monday, by pretending to be interested in purchasing a BMW and obtaining a key, allowing him to drive away. The vehicle was recovered at his home, officials said.
Asked whether law enforcement had any information on reports that Reinking identified as a "sovereign citizen," a group identified by the FBI as engaging in white supremacist domestic terrorism, the police spokesperson said he didn't "have anything to say about that."
At the press conference, FBI special agent Matt Espenshade said law enforcement was investigating "all possibilities that he was connected to any groups."
According to a Washington, DC, police report, Reinking previously told Secret Service agents last year that he "was a sovereign citizen and has a right to inspect the grounds" of the White House, refused to leave, and demanded to speak to President Donald Trump.

His case was dismissed in November 2017 after he completed a first-time-offender program and the required community service, DC court records show.
When asked if authorities might have let Reinking slip through the cracks after that incident, Espenshade said that "every federal resource was brought to bear" to evaluate Reinking after the White House incident and "neutralize what they felt was the threat at the time by ensuring that he did not have the ability to purchase weapons and that those weapons were taken."
Officials also said they believe he had additional ammunition and was prepared to use a second magazine in the attack.

Illinois authorities revoked Reinking's firearms identification card and confiscated his four weapons, turning them over to his father, Jeff Reinking, in August 2017. According to a sheriff's report, Jeff Reinking vowed to keep the weapons secure and locked away from his son. It's not clear when the father gave the guns back to Reinking, who had a troubled history with local law enforcement in Morton, Illinois, where he lived before spending time in Salida, Colorado, and eventually moving to the Nashville area.
Police said they are still not sure where his fourth gun is.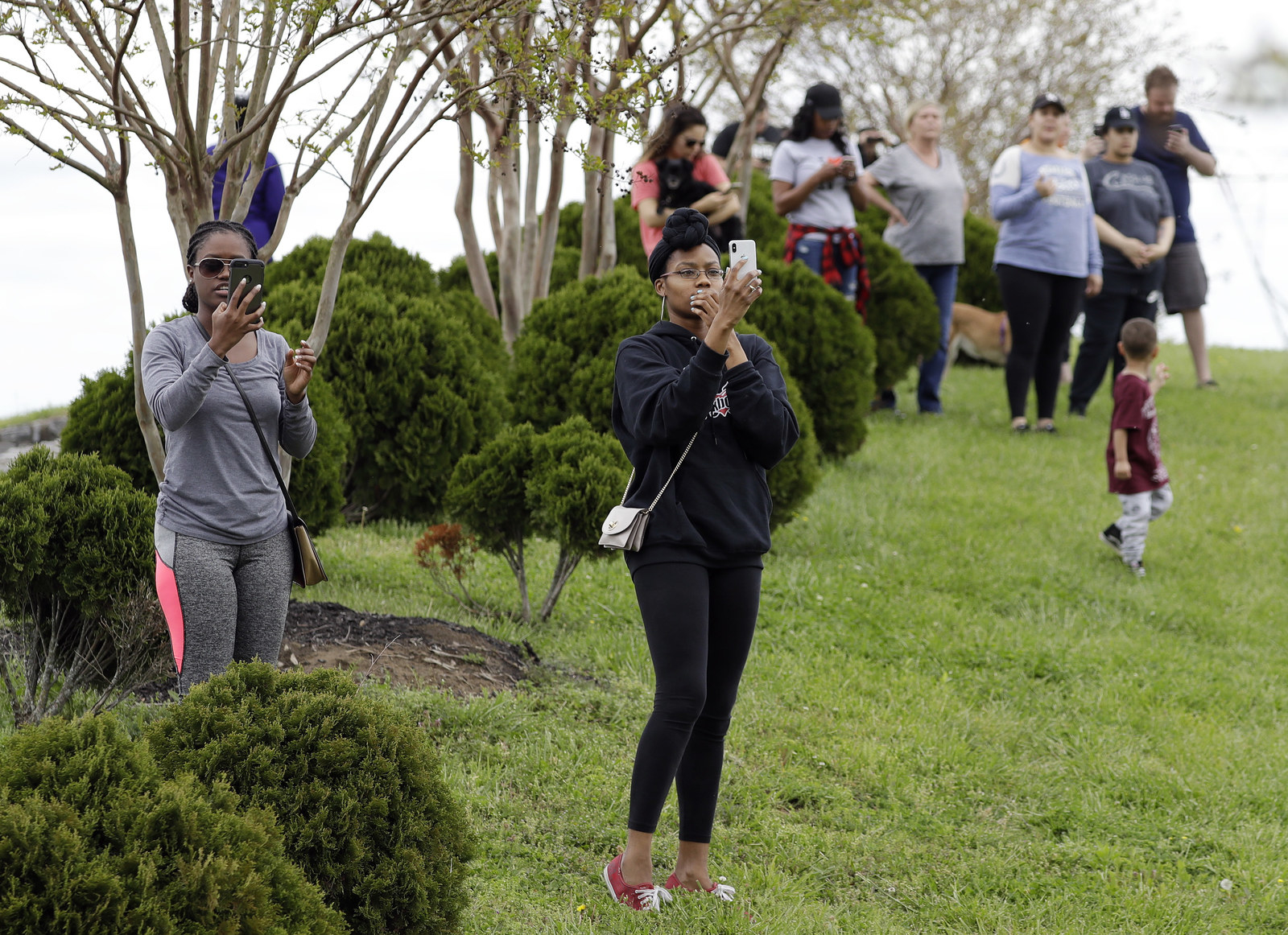 The ATF confirmed that the suspect "should not have had weapons in Tennessee" and that his father possibly violated federal gun laws by giving the guns back to his son.
"It is possible. If you transfer weapons knowingly to a person that is prohibited, that could potentially be a violation of federal law," said Marcus Watson, acting special agent in charge with the ATF in Tennessee, adding that "all federal departments are looking at him for any potential violation of federal crime laws or the homicide that was committed."
Residents in the Nashville area had been on high alert as the nearly 34-hour hunt unfolded. Schools had imposed stricter security measures and those who lived next to Reinking had been evacuated as SWAT teams swarmed the area.
"Yesterday was a horrible day for the city of Nashville. Today is a day we can start to move on, I hope," Mayor Briley said Monday. "I share the commitment to help the families who lost loved ones. We will gather around them and lift them up in the coming weeks."
CORRECTION
David Briley's name was misspelled in an earlier version of this post.