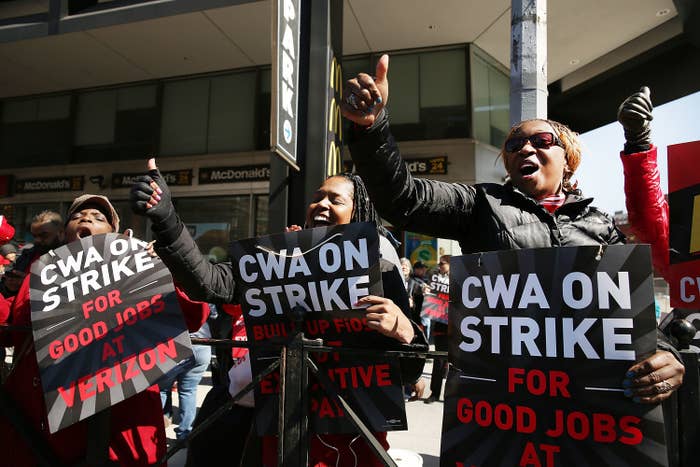 Striking Verizon workers will begin receiving weekly payments from a $441 million union relief fund, the Communication Workers of America told BuzzFeed News on Wednesday, as the strike enters its third week with more than 36,000 workers feeling the financial pinch of walking off their jobs.
Losing regular pay checks could push some employees back to work, and "hundreds" of strikers have broken ranks with their unions and returned to their jobs, Verizon told BuzzFeed News — a claim dismissed by the union.
The strikers say they're standing strong, despite many receiving letters from the company instructing them in how to cross the picket lines and return to work. In Q&A format, the letter gave staff answers to questions including "What if I choose to work during the strike?" and "If I choose to resign my union membership, how do I do so?" according to a union report.
Verizon confirmed sending the letters and said they want striking employees "to know that they have options."

"Many of their colleagues have chosen to come back to work and we applaud them for doing that," said Verizon spokesperson Richard Young in an email to BuzzFeed News. "For those who remain out on strike, we want them to know the facts as to what they can and cannot do, so that they can make the right choices for themselves and their families."
Candice Johnson a spokesperson for the Communication Workers of America union, dismissed the company's claim that some have returned to work. "Verizon executives are wasting time making up stories," she said. "Picket lines are strong, members are determined to fight, there is no backing down."
For now, all striking workers will receive a $200 payment from the CWA's relief fund, and another $200 next week if the strike continues. After that, the weekly payments will increase to $300, and eventually $400 if the action continues for longer than eight weeks. Those facing hardship can also apply for extra cash from a separate Solidarity Relief Fund, which can distribute money on a case-by-case basis.
The union "has pledged that no striking member or family member will go without medically necessary health care, no matter what Verizon chooses to do," Johnson told BuzzFeed News. "Each local has a relief fund coordinator and a community service committee that works with our union members to ensure that all workers get the care they need throughout the strike."

Christine Lauria, a wire-line electrician who has worked for Verizon for 16 years, said spirits and resolve were high among her fellow picketers in Bay Ridge, Brooklyn.

"We've got UPS workers bringing us pizza in the afternoon, workers from Time Warner Cable bringing us ice and water, coffee from Dunkin' Donuts," she told BuzzFeed News. "Buses are honking for us. The NYPD aren't chasing us away. Retirees walking by telling us to stay strong. It's amazing to see the support on this."