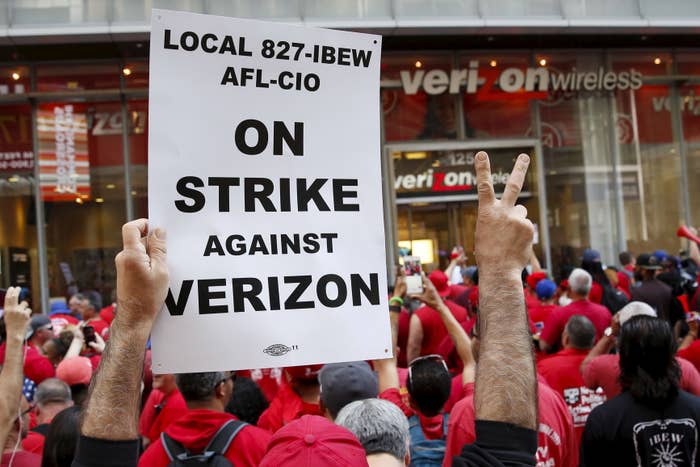 Verizon has warned of the financial costs of the ongoing strike by more than 36,000 employees, which is now in its tenth day.
"Given the status of labor contract negotiations, there will be pressure on second-quarter earnings due to the timing of cost reductions," the company said on an earnings call Thursday.
Verizon is still rolling in cash, saying Thursday that it made a $4.4 billion profit in the first three months of 2016, with revenues of $32.2 billion. The strikers have pointed to the company's profitability as proof it can afford the pensions and healthcare it's asking workers to cut back.
After 10 months of contract negotiations with the Communications Workers of America and the International Brotherhood of Electric Workers, the unions that represent the striking employees, workers walked off the job last Wednesday.
On the ground in Brooklyn, workers said some customers have been refusing to cross picket lines to shop at Verizon wireless stores, and some stores have been opening late or closing early. In Bay Ridge, a store that was slated to open before 11 a.m. (pictured below) stay shuttered past noon, workers said.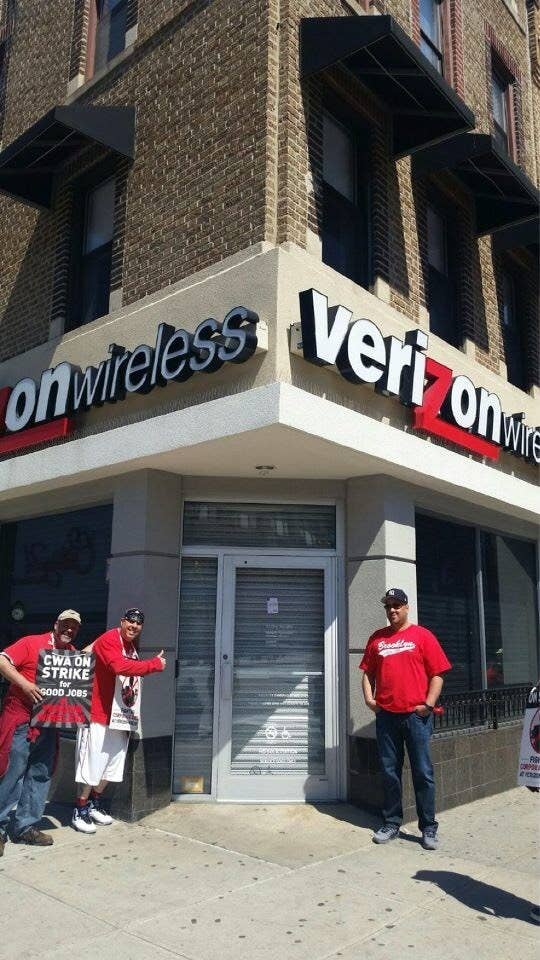 Verizon spokesperson Richard Young said in an email to BuzzFeed News that the company has "reduced operating hours at a couple of stores" but that wireless operations have been virtually unaffected.

"Keep in mind, we have thousands of retail locations nationwide," he wrote. "Cutting back for a couple of hours and a couple of stores has little to no impact on Verizon Wireless."
Jazmin Sypher, who has worked at Verizon for five years, told BuzzFeed News the strikers were feeling economic pressure, but "remaining very positive."
"We're hoping it's not going to be a long haul, but we're prepared as much as we can be prepared," she said, adding that the union has said they will support workers experiencing financial hardship as a result of the prolonged work-stoppage.
Sypher and other Brooklyn workers said that potential customers have declined to cross picket lines to shop at wireless retail stores, and over 120,000 people have signed an online petition of support.
The unionized workers last struck for two weeks in 2011 over contract negotiations, and Sypher said they were prepared to hold the line for that long or longer, if necessary.
Seventy-five workers in Verizon's six Brooklyn retail stores and 10 workers at a store in Everett, Massachusetts voted separately to join CWA union almost two years ago. They are striking in solidarity, and over the fact that their own contract negotiations are stalled.