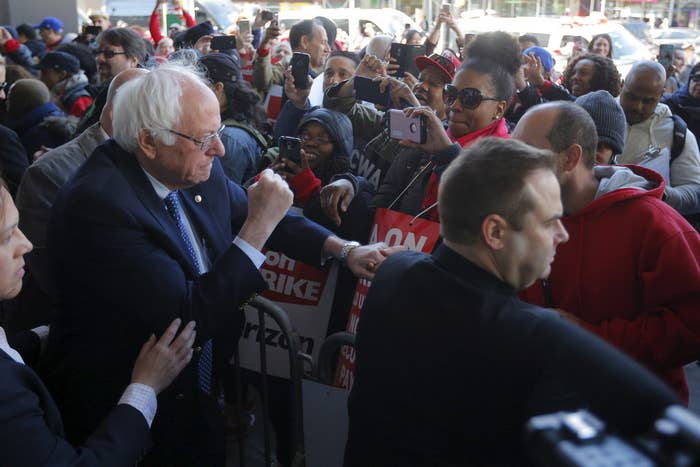 Verizon's CEO called Bernie Sanders' criticism of the company "contemptible," "uninformed," and "plain wrong" in a LinkedIn post Wednesday, as the Democratic presidential candidate joined striking Verizon workers on the picket line in New York City.

"'Feeling the Bern of reality, yet, Bernie?" the CEO asked.
Sanders joined thousands of striking Verizon workers in Brooklyn Wednesday morning, expressing support for their decision to walk off the job after 10 months of failed contract negotiations.
"I want to thank you for standing up to the outrageous greed of Verizon and corporate America," Sanders told workers Tuesday. "When you do that, you're not just standing up for your own members — you're standing up for working people all over this country."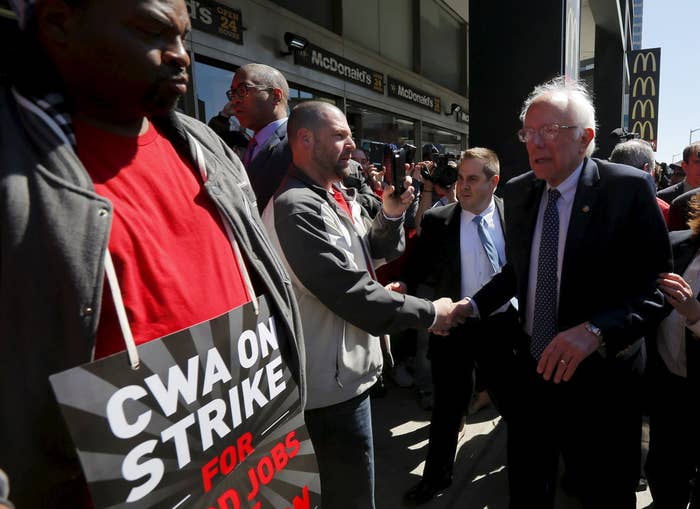 In his post, McAdam likened the senator's targeting of Verizon to his previous criticism of General Electric — which also drew a heated response from the executive suite.
"We've never been a big hit with socialists," wrote General Electric CEO Jeff Immelt in his own response, also on LinkedIn.
Like GE, "Verizon is in Sanders's bull's-eye, as well," posted McAdam, adding that "big companies are an easy target for candidates looking for convenient villains for the economic distress felt by many of our citizens."
Democratic candidate Hillary Clinton also expressed her support for the striking Verizon workers in a statement Tuesday, saying she's disappointed that negotiations have broken down. "Verizon should come back to the bargaining table with a fair offer for their workers," she said. "Instead, they want to outsource more and more jobs."

The Communications Workers of America and International Brotherhood of Electric Workers, which represent about 36,000 Verizon workers, have said that the company is sending more customer service jobs to the Philippines, Mexico, and elsewhere.
McAdam specifically took issue with Sanders' comments on Verizon's tax practices and his claim the company "doesn't use its profits to benefit America," saying Sanders "oversimplifies the complex forces operating in today's technologically advanced and hyper-competitive economy."
He also didn't appreciate his presence on the picket line.
"Sen. Sanders has also involved himself in our on-going negotiations with the labor unions representing some 36,000 communications workers in our wireline business," McAdam wrote. "Our objective in these negotiations is to preserve good jobs with competitive wages and excellent benefits while addressing the needs of our ever-changing business."
The workers, whose last strike in 2011 lasted two weeks, have been on strike since 6 a.m. Wednesday.
"We're disappointed that union leadership chose to step away from the negotiating table and strike," said Director of Corporate Communications for Verizon Kevin King. "We've accepted the help of the Federal Mediation and Conciliation Service, and we welcome the union leadership back to the table."