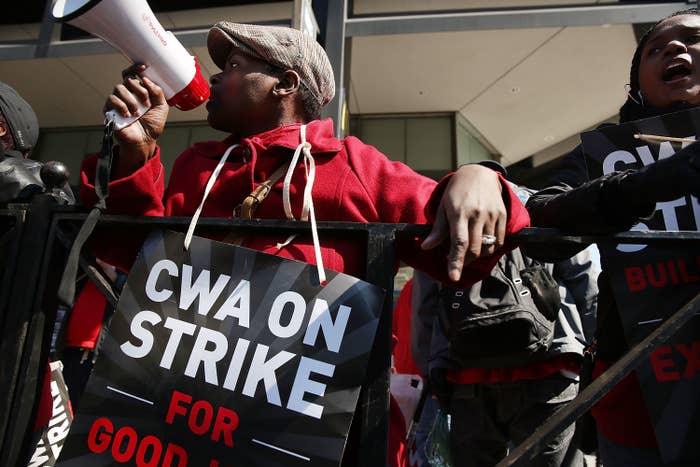 Verizon agreed to adding 1,300 new call center jobs as part of an agreement to end the largest strike in America since 2011 between the company and the unions representing their workforce, labor groups announced Monday.
The agreement, reached Friday, also includes reversing several outsourcing initiatives that will create new field technician jobs, a 10.9% raise over four years, and a signing bonus.
"The addition of good new jobs at Verizon is a huge win not just for striking workers, but for our communities and the country as a whole," Chris Shelton, president of the Communications Workers of America, said in a statement. "This contract is a victory for working families across the country and an affirmation of the power of working people."
Verizon workers, who have been on strike for the past 45 days, will return to work Wednesday, June 1.
As part of the agreement, all the call centers that had been threatened to be closed in the Mid-Atlantic region — including three in upstate New York — will remain open. Employees of the two call centers in upstate New York which are closing will be offered jobs locally in the company.
"The tentative agreements reached today are good for our employees, good for our customers and will be good for our business," Marc Reed, Verizon's chief administrative officer said in a statement. "The new contracts will help ensure that Verizon employees continue to receive solid wages and excellent healthcare and retirement benefits. They also include key changes sought by the company to better position our wireline business for success in the digital world."
During the work-stoppage, the company hired and trained a large replacement workforce to fill in for the striking employees.
U.S. Secretary of Labor Thomas Perez called the tentative resolution "a testament to collective bargaining" and said that he expects "workers will be back on the job next week."