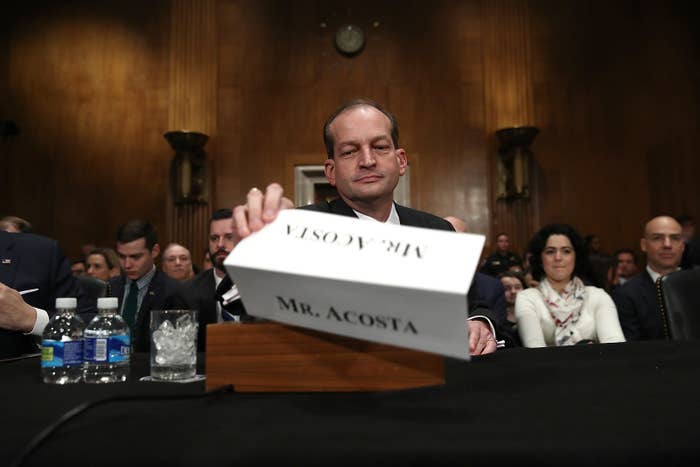 His predecessor was the first and only Trump cabinet nominee to go down in flames, but Alexander Acosta, the president's second pick for labor secretary, is attracting about as much attention as a tree falling in an empty forest.
It has been a low-key confirmation for the Bush administration alum, ever since the announcement of his mid-February nomination was overshadowed by what immediately followed. Donald Trump's first press conference as president began with "I just wanted to begin by mentioning that the nominee for secretary of the Department of Labor will be Mr. Alex Acosta," but within minutes had shifted to "the press honestly is out of control. The level of dishonesty is out of control."
The next hour was just as raucous. The headlines by the end of the day were not about Acosta, and it's mostly stayed that way ever since.
Acosta has remained under the radar these past weeks thanks in large part to the fact that so few seem to have fired up the radar in the first place. He's dodged the Bloomberg centerfold treatment that fast-food CEO Andy Puzder received just days before withdrawing his nomination. The organized resistance that dogged and defeated Puzder — and which almost finished Education Secretary Betsy DeVos — just hasn't materialized.

It's quiet out there for Alex Acosta.
So it was true to form that his Senate hearing on Wednesday morning wasn't just overshadowed by bigger news — it was practically invisible in the media landscape, on a day that also featured a ferocious health care policy battle on the Hill, hearings for a Supreme Court nominee, another round of the Trump–Russia–Intelligence drama, and a terror attack outside the British Parliament.
As all that happened, Acosta stuck carefully to a nondescript script, and the sparsely attended Senate hearing produced almost nothing of note.
"The president has directed each cabinet officer to review all rules and make determinations as to whether any rules should be revised," the nominee said again and again in various iterations, when asked about his plans should he be confirmed. "Based on that executive action, I can't make a commitment."
Acosta rarely moved from that position for much of the three-hour hearing, with the law school dean and former federal prosecutor declining to take a strong stance on a number hot-button topics that will be considered during the Trump administration. Several of these policy issues concern the implementation of Obama-era labor regulations: the salary threshold at which workers should earn overtime pay; the fiduciary rule regulating financial advisers; and rules on protecting workers from silica, a poisonous dust.
He was committed to a noncommittal position on them all.
Acosta also emphasized the authority of states in setting workplace policy, including controversial rules that allow some workers to be paid at below the minimum wage. At one point, when pressed to take a clearer position, Acosta stated, "I don't think any cabinet secretary can make commitments, because ultimately, you have a boss."
"That's what worries me," responded Democratic Sen. Patty Murray of Washington, the ranking member on the Senate health, education, labor, and pensions committee.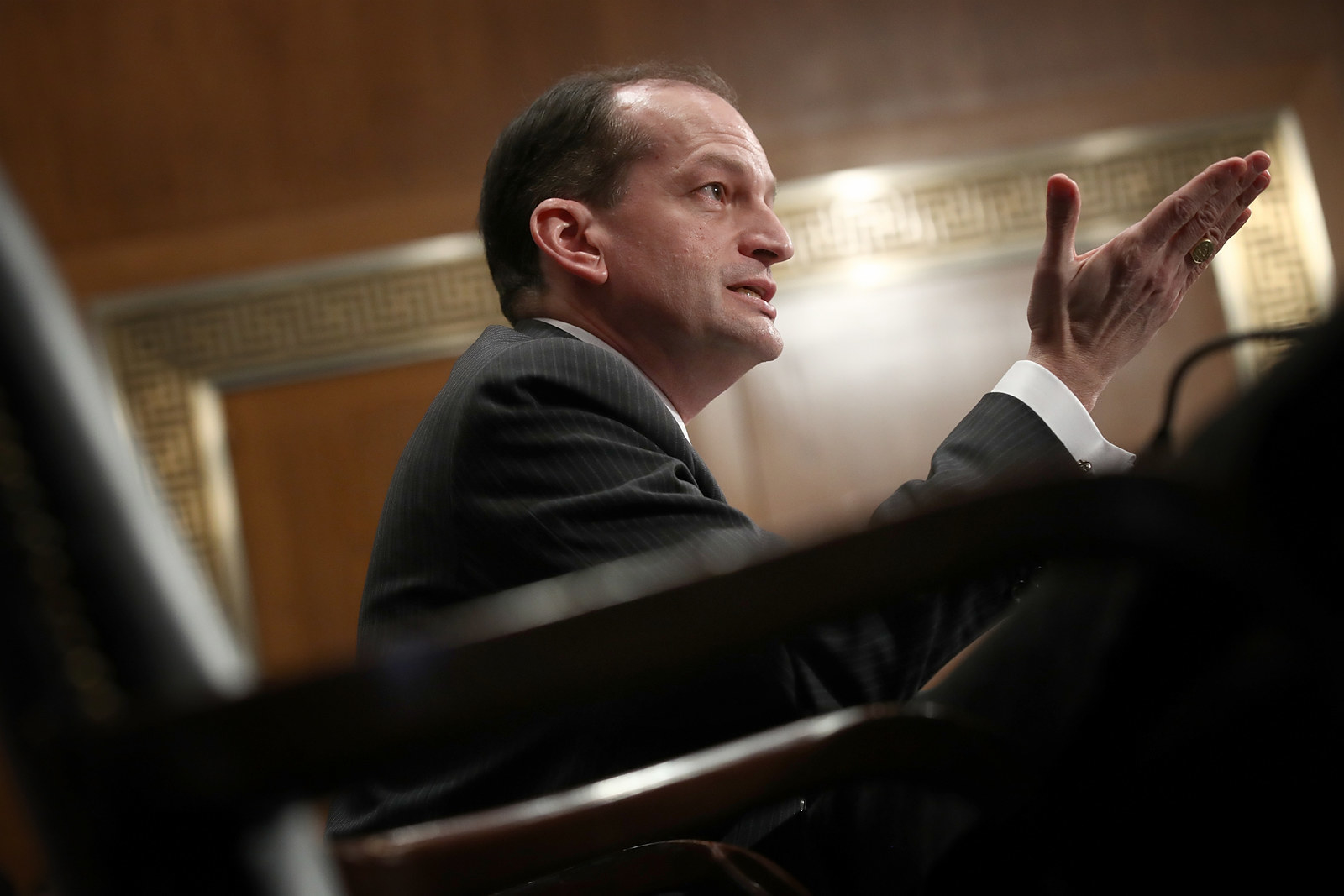 One position Acosta did take was on the definition of a "joint employer" — a contractual relationship that the Obama-era Labor Department had sought to define broadly to include large corporations whose frontline staff are directly employed by a local franchise owner. The joint employer fight has focused on fast-food chains like McDonald's, which insists it has no legal obligations to the burger flippers in its restaurants.
When pressed, Acosta said he supports the older, "traditional" definition over the more recent, expanded one, which threatened to bring disputes over minimum wage and worker safety rules directly to the doorstep of giant fast-food businesses.

Business groups and Senate Republicans say they are happy with Acosta and his performance Wednesday. He "came off as smart, accomplished, and an individual who will enforce the laws on the books, not pursue a political agenda," said Trey Kovacs, who focuses on labor policy at the right-leaning Competitive Enterprise Institute.

David French, senior vice president at the National Retail Federation, wrote that Acosta would be "an effective and pragmatic leader at the Department of Labor," while Matt Haller, a senior vice president at the International Franchise Association, said Acosta "has shown the appropriate balance needed to protect the interests of employees and employers."
"Franchise owners around the country are facing a great deal of regulatory uncertainty as a result of the wreckage created by the previous administration's out-of-control Department of Labor," Haller told BuzzFeed News. "Following today's hearing, we are hopeful that there will be bipartisan support for his nomination in the U.S. Senate, so a new Labor Secretary can address the regulatory issues facing the franchise model as quickly as possible."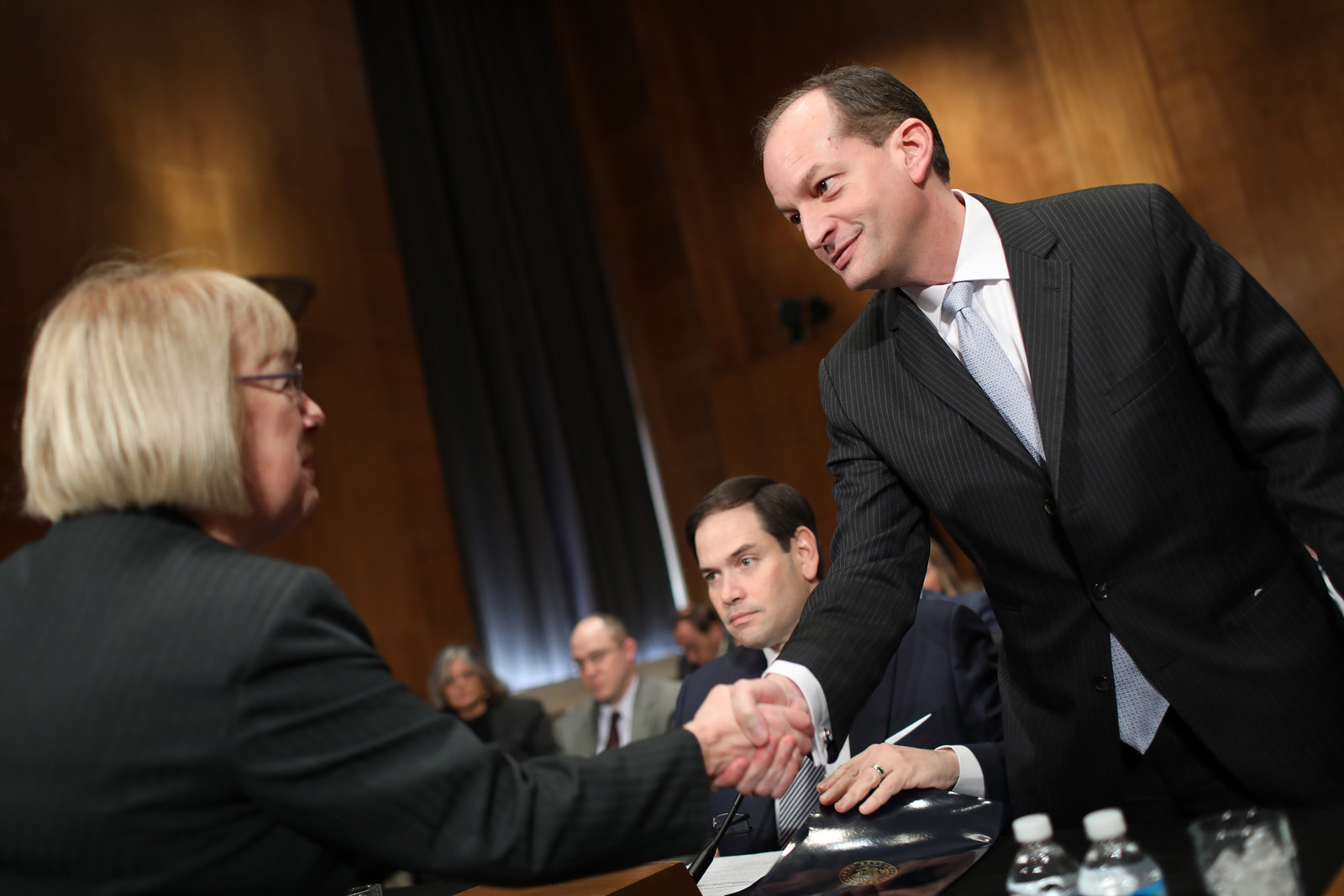 Leading Republicans also cheered. GOP Sen. Marco Rubio of Florida called him "an outstanding choice" with a "sterling record of public service to our state and country," and Republican Sen. Ted Cruz of Texas said he was "someone who will fight for the working men and women of this country."
But not every conservative or business group was so quick to praise the nominee. Richard Berman, the executive director of the Center for Union Facts — typically a vocal advocate for management- and industry-side interests — declined to comment on the hearing.
And Senate Democrats remain unconvinced.

"I'm relieved that our hearing today wasn't with Andrew Puzder, but that doesn't mean the new standard is 'not Puzder,'" wrote Sen. Murray in an emailed statement to BuzzFeed News. "Workers have made very clear they want someone in this role who will stand up for their rights and be an advocate within this administration, and unfortunately, the hearing only increased my concern about whether Alexander Acosta is truly willing to take on that role."
Towards the end of her questioning, Democratic Sen. Elizabeth Warren expressed similar concerns.
"If you can't give them straight answers on your views on this," she said, "and commit to stand up for workers on these obvious and very important issues, then I don't have any confidence you're the right person for the job."