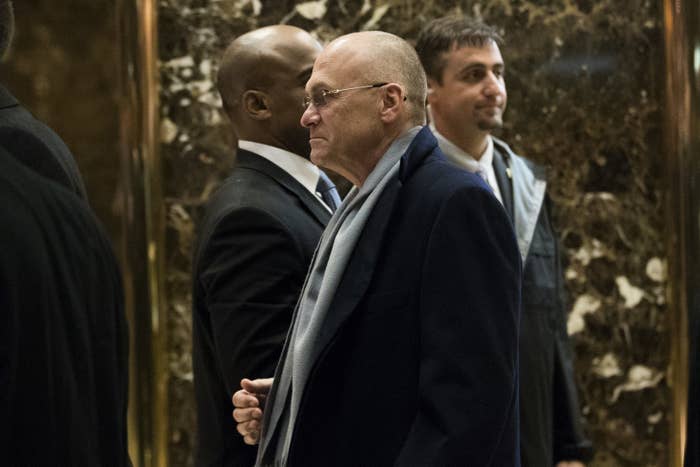 President Donald Trump's nominee for Labor Secretary, Andy Puzder, admitted Monday he employed an undocumented immigrant for years as a housekeeper.
Puzder has informed the administration and officials involved in his confirmation process and will be moving ahead, according to the Huffington Post. Puzder's hearing has been delayed four times, and he has not yet completed the required ethical and financial disclosures for his confirmation hearing to be rescheduled.
A spokesperson for Puzder said in a statement on his behalf, "My wife and I employed a housekeeper for a few years, during which I was unaware that she was not legally permitted to work in the US. When I learned of her status, we immediately ended her employment and offered her assistance in getting legal status. We have fully paid back taxes to the IRS and the State of California and submitted all required paperwork."
Trump's nominee for commerce secretary, Wilbur Ross, also admitted at his confirmation hearing last month that he had employed an undocumented household worker.
In the past, two nominees for attorney general chosen by President Bill Clinton withdrew from the confirmation process when their employment of undocumented workers came to light. Officials have encouraged Puzder to continue with the process despite this history, the Huffington Post reported.
Prior to his nomination, Puzder signed on to a corporate letter to Congress in favor of immigration reform. He has also spoken sympathetically about the lives of undocumented workers. In June 2013, at the American Enterprise Institute, he specifically spoke about "maids without citizenship" who live in fear of deportation.

"People that are here illegally have to live in the shadows," Puzder said at the time. "They may have children that are US citizens. They're married, they've got families, they've got houses. They may be working as maids without citizenship here, but they've got jobs.
"They know people," he continued. "They've really integrated themselves into society. But they've got to live in the shadows. They've got be afraid if they're driving too fast, they're going to get picked up for speeding and end up being deported.
"If we had immigration reform and were able to hire these people who really want to work, we'd have a more diverse, incentivized, and productive workforce," he said. "We'd have access not only to low-skilled workers in our business but the high-skilled workers everyone talks about. You'd have consumption from these individuals because, obviously, if they're working and they're making money, supporting their families, they're out there buying things.
You'd really reinforce this idea that the United States is the land of opportunity, the land of entrepreneurial vision — and that could use some reinforcing."
The White House did not immediately return a request for comment.