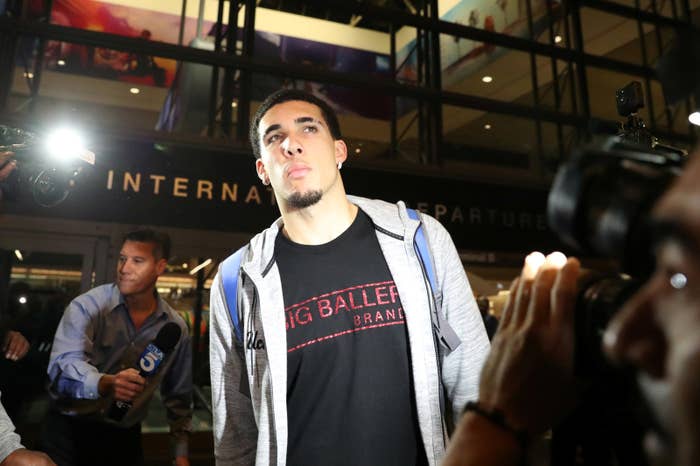 President Trump wondered Wednesday morning whether three basketball players from the UCLA would thank him for helping free them from detention by Chinese authorities following an alleged shoplifting incident.
Several hours later, at a press conference Wednesday afternoon, the three players did just that.
"To President Trump and the United States government, thank you for taking the time to intervene on our behalf. We really appreciate you helping us out," said Bruins player Cody Riley.

"I would like to thank President Trump and the United States government for the help they provided as well," said LiAngelo Ball.
Jalen Hill also thanked the president in his statement.
All three players were arrested on Nov. 7, Tuesday of last week, for allegedly stealing sunglasses from a Louis Vuitton store adjacent to their hotel in Hangzhou, according to ESPN. The players were released Wednesday on bail, giving them time to participate in a Friday game against Georgia Tech in Shanghai.
The rest of the team left the country Saturday, but the three players stayed behind as the charges were being investigated.
Trump was traveling in Asia during the players' arrest and told reporters he asked Chinese President Xi Jinping to help resolve their case. Based on the value of the stolen merchandise, the players could have faced further detention and jail time — Trump said potentially 10 years in jail. Instead, they departed Shanghai for Los Angeles on Tuesday, Nov. 14.
"The basketball players, by the way — I know a lot of people are asking — I will tell you, when I heard about it two days ago, I had a great conversation with President Xi," Trump told reporters Tuesday on board Air Force One. "What they did was unfortunate. You know, you're talking about very long prison sentences. [The Chinese] do not play games."

Trump responded Thursday morning, tweeting that the players should "give a big thank you to President Ji Xinping."
UCLA Chancellor Gene Block said in a statement to press that the school "take[s] seriously any violations of the law."

"In this particular case, both Athletics and the Office of Student Conduct will review this incident and guide any action with respect to the involved students," he said. "Such proceedings are confidential, which limits the specific information that can be shared."

LiAngelo Ball, one of the UCLA players who had been detained, is the son of basketball player and businessman LaVar Ball, who often appears on TV discussing his family's athletic skills. Like Trump, the senior Ball once appeared on WWE (World Wrestling Entertainment) and has launched a line of merchandise based on his family name, called Big Baller Brand.
BuzzFeed News has reached out to UCLA and LaVar Ball for comment.