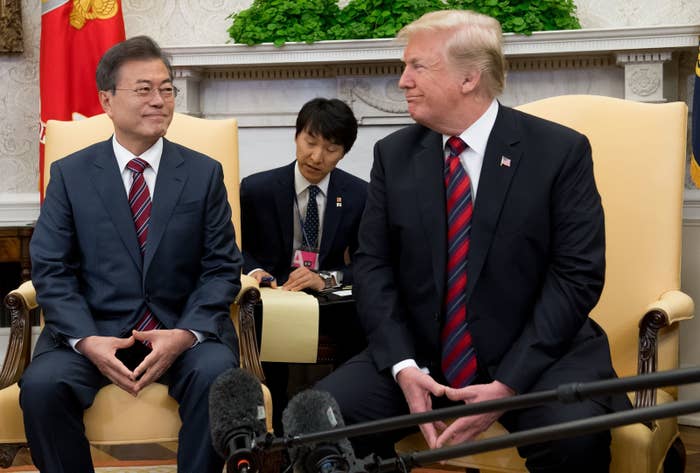 President Trump said Tuesday it's possible that an unprecedented summit with North Korea, planned for June 12, may not take place.
"We're moving along. We'll see what happens," Trump said during a meeting with South Korea's President Moon Jae-in. "If it doesn't happen, maybe it will happen later ... It may not work out for June 12."
The president also suggested that China may have been in part responsible for a perceived change in North Korean leader Kim Jong Un's attitude toward the summit.
"There was a difference when [he] left China a second time," Trump said, referring to Kim's recent visit. The US is currently battling with China over tariffs.
Trump's comments follow threats from North Korea to cancel the planned meeting, in response to statements from White House National Security Advisor John Bolton that the US would pursue a hardline denuclearization policy in the region, taking Libya as a model.
North Korea's vice foreign minister, Kim Kye Gwan, said at the time that North Korea was "no longer interested in a negotiation that will be all about driving us into a corner and making a one-sided demand for us to give up our nukes."
In response, the White House said the threats were "expected" and that it would continue to seek denuclearization on the peninsula while backing away from the Libya comparison.
"The Libya model was a much different model," Trump previously clarified. "We decimated that country."
In 2003, Libyan dictator Muammar al-Qaddafi voluntarily gave up nuclear weapons in exchange for sanctions relief. Following the Arab Spring, in 2011, he was violently executed by his own people.
Asked whether the US would protect North Korea's Kim, following a deal, Trump said, "We will guarantee his safety, and we've talked about that from the beginning. He will be safe. He will be happy. His country will be rich."
Questioned on whether denuclearization could be incremental or immediate, Trump said, "All-in-one would be nice. I won't go beyond that."
"It would certainly be better if it were 'all-in-one,'" he continued. "Does it have to be? I don't want to totally commit myself, but 'all-in-one' would be a lot better."

Trump said that "you do have some physical reasons that it may not be able to do exactly that. So for physical reasons, [denuclearization could take place] over a very short period of time. Essentially that would be 'all-in-one.'"
On reunification, the president said that the leaders are currently "looking at two Koreas," but that "maybe they will go back to one Korea."
Telling reporters they would "know soon" about the potential sit-down between world leaders, Trump declined to say whether he had spoken directly with North Korean leader Kim.
During the meeting with Moon, Trump also said South Korea, China, and Japan "will be willing to help ... to make North Korea great."

South Korea's Moon said that he knows there is skepticism about the summit between the US and North Korea, but expressed optimism.
"This will be the first time there will be agreement among the leaders," he said. "The person who is in charge is President Trump. President Trump has been able to achieve this dramatic change."
Moon said he has "every confidence" that Trump can make a deal, ending the Korean War and bringing "peace and prosperity."
The president also called North Koreans, "hardworking, great people."
At the White House press briefing on Tuesday afternoon, press secretary Sarah Huckabee Sanders said the administration will "continue to prepare for the summit."
"If they want to meet, we'll be ready. The president I think rightly stated that if North Korea commits to denuclearize, it will be a bright feature for them. We continue to prepare and see what happens," she said.
Another reporter asked why the North Korean leader's safety is being guaranteed when his regime has committed known human rights abuses, and given the death of US college student Otto Warmbier as a result of injuries he sustained while he was being held prisoner there.

"Why is that the morally right thing to do?" the reporter asked.

"The goal and purpose of the conversations is to have complete and total denuclearization of the peninsula. The president has been up front about that. We're going to continue to move forward," Sanders said.