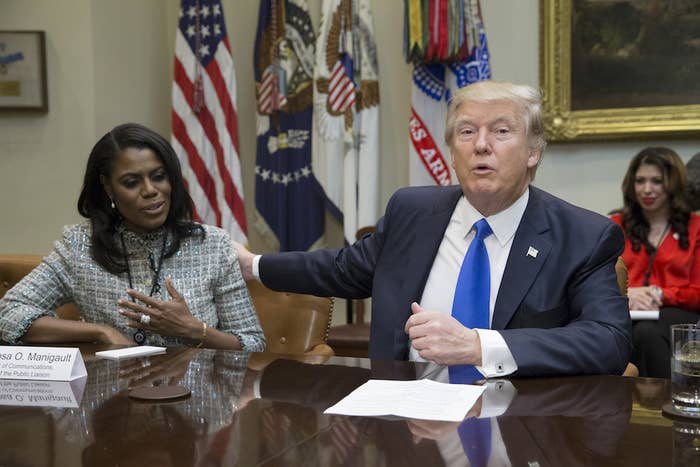 President Donald Trump called Omarosa Manigault Newman, his former protégé and top White House aide, a "dog" Tuesday morning, continuing his pattern of sharply degrading speech toward women — especially toward black women.
Trump lashed out during the latest scandal — of his own making — surrounding his administration. Manigault Newman, who is on a publicity tour for her new book, claims a tape exists of Trump saying the n-word during an outtake of his former reality show, The Apprentice.
On Monday night, Manigault Newman, a former Apprentice contestant, appeared on MSNBC and said she had heard audio recordings of Trump saying the n-word "multiple times."
"When you give a crazed, crying lowlife a break, and give her a job at the White House, I guess it just didn't work out. Good work by General Kelly for quickly firing that dog!" Trump said on Twitter Tuesday morning.

Manigault Newman was fired from the White House in December. In advance of her book Unhinged, which comes out today, she has released a steady stream of recordings of her firing and subsequent conversations with the president to seemingly prove her bona fides.
She released the latest audio recording Tuesday to CBS News. On it, the former aide can be heard discussing with other campaign staff how to handle the situation if the alleged audio of the president using the n-word were to be released.

The president has denied that such a recording exists, saying that Apprentice producer Mark Burnett had personally called to tell him that "there are no tapes."

On the recording, made in October 2016, Manigault Newman can be heard speaking with Lynne Patton — then an assistant to Eric Trump and now a high-level appointee in the federal Department of Housing and Urban Development — as well as with former Trump campaign spokesperson Katrina Pierson and campaign Communications Director Jason Miller.
"I am trying to find out at least the context it was used in to try to figure out a way to spin it," Pierson says in the audio.
Later, Pierson says, "He said it. He's embarrassed."
The Trump campaign on Tuesday filed an arbitration against Manigault Newman, with the American Arbitration Association in New York City, for breaching her 2016 confidentiality agreement with the Trump campaign, an official told BuzzFeed News. The official did not provide further details on how Manigault Newman had violated her NDA.
A spokesperson for the American Arbitration Association did not immediately return a request for comment.
The move was aimed at intimidating her into silence, Manigault Newman told the Associated Press.
"I'm not going to be bullied by Donald Trump," she told the AP.
Over the past several days, Trump has called Manigault Newman "wacky," "deranged," a "lowlife," and "crazed."
Appearing on MSNBC Tuesday afternoon, Manigault Newman reacted to Trump's "dog" comment by saying her former boss is unfit to be president of the United States.
"If he would say that publicly, what else would he say about me privately. He has no respect for women, for African-Americans," she said. "... He is unfit to be in this office and to serve as the president of the United States."
Both Pierson and Patton have denied to CBS that such strategizing took place or that the tapes exist.
In a lengthy, tweeted statement late Monday evening, Patton wrote that she had been "the closest confidante & friend to Ms. Manigault Newman during her tenure at the White House, Transition and Campaign - texting and speaking multiple times per day."
"At no time did I participate in a conference call with Katrina Pierson advising me, Jason Miller and Omarosa Manigault-Newman that Frank Luntz had heard President Donald J. Trump use a derogatory racial term," she wrote, adding that "the past few weeks have been wrought with disappointment, immense sadness, anger and outright disgust."

Patton wrote that Manigault Newman had previously told her about an alleged tape's existence on the night she was fired in an effort to have Patton resign from her White House post as well.
Patton identified the source of the tape as former Apprentice producer Bill Pruitt but said that Pruitt has assured her no such tapes exist.
Separately, Manigault Newman told CBS News on Monday that she had personally heard audio of the president using the n-word multiple times in reference to cast member Kwame Jackson, who is black.
Asked by BuzzFeed News whether he would like to comment on the allegations, Jackson wrote in an email, "Hard pass on all things Omarosa, no thank you. By me commenting or you covering the story it simply adds fuel and attention to tomfoolery."
Tasneem Nashrulla contributed to this report.
CORRECTION
Lynne Patton's name was misspelled in an earlier version of this post.