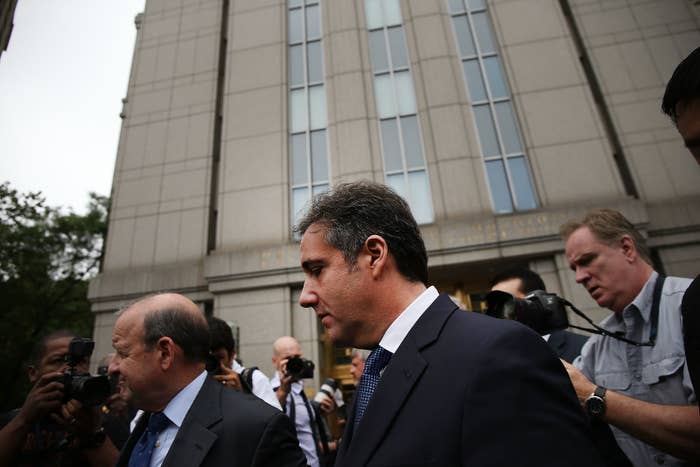 Speaking for the first time since the FBI raided his offices in April, Michael Cohen, personal attorney and political fixer for President Donald Trump, said that he will not be a "punching bag" for the president's defense strategy.
"To be crystal clear, my wife, my daughter and my son, and this country, have my first loyalty, and always will," Cohen told ABC's Good Morning America, when asked what he would do if he were offered leniency from prosecutors in exchange for information on the president. "I put family and country first."
Cohen has defended the president against allegations brought by porn star Stormy Daniels, as well as represented him in a case dealing with Trump Tower in Moscow. He had famously said that he would take a bullet for the president.
White House spokesperson Sarah Huckabee Sanders declined to comment on the interview.
ABC News' George Stephanopoulos said that Cohen did not praise Trump at all during the 45-minute interview, a significant change in tune from the past.
"I am not a villain in any story and won't allow others to depict me in that way," Cohen said, when asked how he would respond if the president or his legal team were to try to discredit him and his previous decade of work for Trump.
Cohen, who is under federal investigation, has not been charged with any crimes, but he has hired a new attorney.
In April, the FBI seized 4 million files and 13 cellphones belonging to Cohen, as part of an inquiry into his business dealings and a potential hush money payment of $130,000 to Daniels in exchange for her silence on her affair with Trump — a payment that could violate campaign finance law.
Cohen has previously said that he made the payment of his own initiative. Pressed on the question by Stephanopoulos, Cohen declined to answer Monday.
"I want to answer. One day I will answer," he said. "But for now, I can't comment further on advice of my counsel."