Trump Picks Hardee's/Carl's Jr. CEO For Labor Secretary
Andy Puzder, CEO of burger chains Hardee's and Carl Jr.'s, is an outspoken opponent of raising the minimum wage.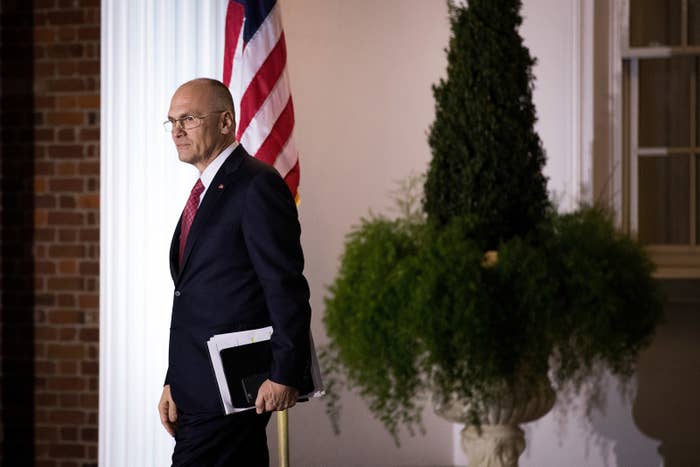 Donald Trump on Thursday announced Andy Puzder, the CEO of burger chains Hardee's and Carl's Jr., as his pick to serve as his secretary of labor.
Puzder, 66, runs CKE Restaurants, the parent company of the fast-food brands. He raised funds for the Trump presidential campaign and advised the candidate on job-creation policy. California-based CKE Restaurants has about 3,700 restaurants and employs about 75,000 people. More than 90% of its restaurants are franchised.
A high-profile critic of raising the minimum wage, corporate tax policy and regulation, Puzder will likely push to roll back much of the pro-worker legislation enacted by the current administration.
"Andy Puzder has created and boosted the careers of thousands of Americans, and his extensive record fighting for workers makes him the ideal candidate to lead the Department of Labor," Trump said in a statement. "Andy will fight to make American workers safer and more prosperous by enforcing fair occupational safety standards and ensuring workers receive the benefits they deserve, and he will save small businesses from the crushing burdens of unnecessary regulations that are stunting job growth and suppressing wages."
In a statement, Puzder offered little hint as to what his priorities in office would be, saying he looked forward to restoring "America's global economic leadership."
"The president-elect believes, as do I, that the right government policies can result in more jobs and better wages for the American worker," he said.
In his eight years in office, President Obama used his executive powers and a supportive Labor Department to enact regulations that raised standards for workers, including executive orders mandating a minimum wage of $10.10 for federal contractors and increasing their paid leave.
Among the key labor questions to be answered by the new secretary of labor: the future of the minimum wage, whether fast food chains should be considered 'joint-employers' of the workers in their restaurants, and federal overtime and sick leave rules.
President-elect Trump has gone back and forth on his position on the minimum wage, alternately stating that "wages are too high," and, most recently, saying he would support raising the federal minimum to $10 an hour, while allowing states to set higher floors. Puzder has said states and municipalities should set their own floors, and that an increase to $15 an hour is "political," rather than "about helping people," and would likely lead to job losses.
Under the Obama administration, a worker-friendly National Labor Relations Board expanded the definition of a "joint-employer," a ruling that makes it easier for workers to hold parent companies responsible for labor law violations committed at franchised or sub-contracted businesses, such as fast food chains. The Board also decided that graduate student teaching assistants qualify as employees, a ruling that permitted them to unionize and which could be overturned under a Trump Labor Department.
A new Obama-era overtime rule, raising the salary threshold for workers covered from $23,660 to $47,476, was set to go into effect Dec. 1, which would have made 12.5 million workers eligible for time-and-a-half pay. The threshold has not been raised in 12 years.
But just before Thanksgiving, a federal judge in Texas issued an injunction against the overtime rule, delaying its implementation such that it is now unlikely to survive under a Trump administration and hostile Department of Labor. (The Justice Department has appealed the injunction.) Trump has also expressed support for increasing paid and sick leave mandates for American workers, as well as reforming or repealing President Obama's Affordable Care Act healthcare policy.
In editorials and interviews, Puzder has spoken out against raising the overtime threshold and stated that government assistance programs keep workers in poverty. He has spoken in favor of automation, such as touch-screen kiosks replacing fast-food cashiers, and of protecting jobs in the coal industry.
Puzder has also consistently criticized the Obama administration's healthcare legislation, the Affordable Care Act, which he said led his business to rely more on part-time workers. He has supported right-to-work legislation, which would reduce the ability of unions to collect "fair share" fees from workers who benefit from collective bargaining but do not belong to a union outright.
Labor leaders are not happy with the pick. Kendall Fells, organizing director for the national Fight for $15 low-wage worker movement to raise the minimum wage, told the American Prospect that naming "Puzder as labor secretary is like putting Bernie Madoff in charge of the treasury."