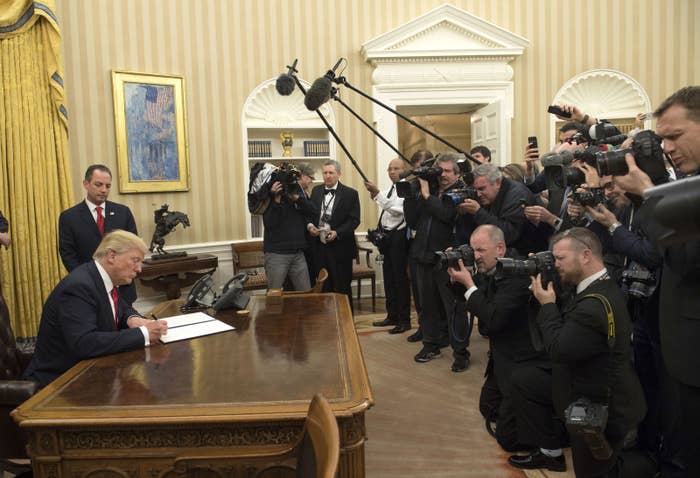 On his first working day as president, Donald Trump met with union leaders who have been outspoken in their support for the controversial Keystone XL and Dakota Access oil pipelines — both projects opposed by many in the labor movement, and blocked by the Obama administration.
With President Trump signing orders to push ahead with both pipelines on Tuesday, those leaders, representing workers in the construction trades, say they have their first win for their members in the Trump era.
"Today, President Donald J. Trump gave continued hope to thousands of skilled craft construction professionals in America's heartland," said the North America's Building Trades Unions, whose president Sean McGarvey was at Monday's White House meeting.
James Callahan, President of the International Union of Operating Engineers, which represents heavy equipment operators, said resuming the Dakota and Keystone projects will bring relief to working families.
"The millions of man-hours that we enjoy when these pipelines are underway go back into the local economies, to health and welfare and retirement benefits, and to workers to feed their families," he said on a call with reporters on Tuesday. "When you have a delay like this people are wondering where their next paycheck is coming from."
Other construction worker representatives invited to the White House on Monday included the leaders of the United Brotherhood of Carpenters, the United Association, which represents plumbers and pipefitters, and the Sheet Metal Workers' Union.
"This is a group I know well — whether personally or because I've hired thousands and thousands and thousands of you," Trump said during a public portion of the meeting.
During election season, some construction unions expressed optimism about Trump's likely approach to energy and infrastructure, and clashed with others in the labor movement over their focus on environmental and social justice issues. They were a dissenting voice against union leaders who joined opposition to the construction of the Dakota and Keystone pipelines, saying they threatened projects that created rare — and dwindling — union jobs.
The Service Employees International Union, a major force in Democratic politics and the main backer of efforts to raise the minimum wage, opposed the pipelines, saying workers in the fossil fuel industry were "caught in the middle" of a battle between environmental activists and energy companies.
"Our government must make the needed investments into building a new clean economy, including a just transition of workers from the fossil fuel workforce, by investing in clean energy and rebuilding and repairing much of our nations aging infrastructure," the union said in an October statement opposing the Dakota Access Pipeline.
Trump gained few endorsements from major unions, most of whom backed Hillary Clinton. But the labor movement was long aware that many of the workers in its ranks leaned toward Trump, and exit polling showed he received a greater share of votes from union households than any Republican candidate since Reagan.
One attendee of Monday's White House meeting was Terry O'Sullivan, the president of the Laborers' International Union of North America. In a call with reporters after the meeting, O'Sullivan said he expects the workers he represents to benefit from President Trump's approach to building energy and transport infrastructure — an area where he was particularly venomous about Trump's predecessor.
Obama "cares more about kowtowing to green-collar elitists than he does about creating desperately needed, family-supporting, blue-collar jobs," O'Sullivan said after the Obama administration blocked the Keystone XL pipeline. "The President may be celebrated by environmental extremists, but with this act, President Obama has also solidified a legacy as a pompous, pandering job killer."
On Monday, O'Sullivan said the time spent with Trump was "by far the best meeting I have ever participated in" during his 18 years in Washington — and the first time he'd ever been invited into the Oval Office.