Trump Says It's Really DC Officials Who Are To Blame For Canceling His Super-Expensive Military Parade
The president tweeted that he'll just go to a military parade in Paris instead.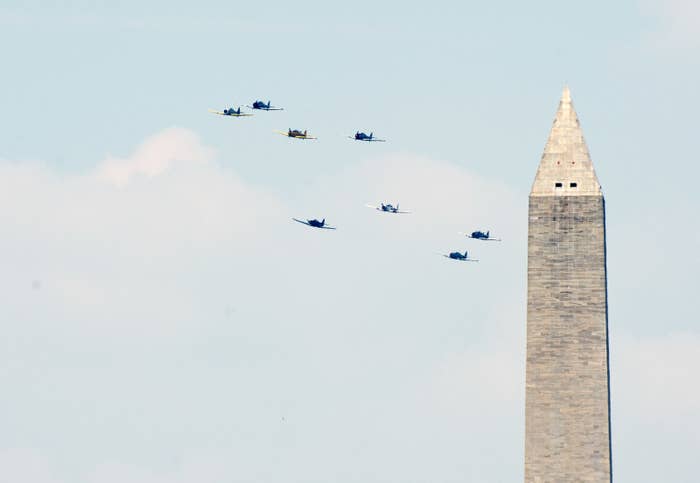 President Donald Trump on Friday said Washington, DC's local leadership is really to blame for the cancellation of his desired military parade — the estimated cost of which reportedly ballooned by $80 million in a matter of months.
In a tweet, Trump said, "The local politicians who run Washington, D.C. (poorly) know a windfall when they see it. When asked to give us a price for holding a great celebratory military parade, they wanted a number so ridiculously high that I cancelled it. Never let someone hold you up! I will instead..."
Then, 13 minutes later, the president said that he would just have to go to Paris to watch troops march in the streets: "....attend the big parade already scheduled at Andrews Air Force Base on a different date, & go to the Paris parade, celebrating the end of the War, on November 11th. Maybe we will do something next year in D.C. when the cost comes WAY DOWN. Now we can buy some more jet fighters!"
The tweets, as is often the case with the president, raised several unanswered factual questions that administration officials refused to immediately answer or didn't immediately respond to. Was it Trump himself who actually called off the parade? What was the exact cost estimate at the time of cancellation? And what was Trump's and/or the Pentagon's ceiling for paying for the parade and why?
In July, the Pentagon estimated such a parade could cost about $12 million.
Then, on Thursday, the cost increased to a reported $92 million estimate. Roughly $50 million was for the Pentagon to fund aircraft flyovers, equipment, personnel, and other military expenses. The remaining $42 million would be made up of the costs of other agencies, largely for security costs along the parade route.
Washington, DC, Mayor Muriel Bowser responded to the president's tweet on Friday with her own, saying, "Yup, I'm Muriel Bowser, mayor of Washington DC, the local politician who finally got thru to the reality star in the White House with the realities ($21.6M) of parades/events/demonstrations in Trump America (sad)."
The city then followed up with its own cost breakdown saying the city's costs for the parade were $21.6 million, including $13.4 million for police and about $3.6 million for emergency services. The details were more than the federal government has released to-date about the parade's expected price.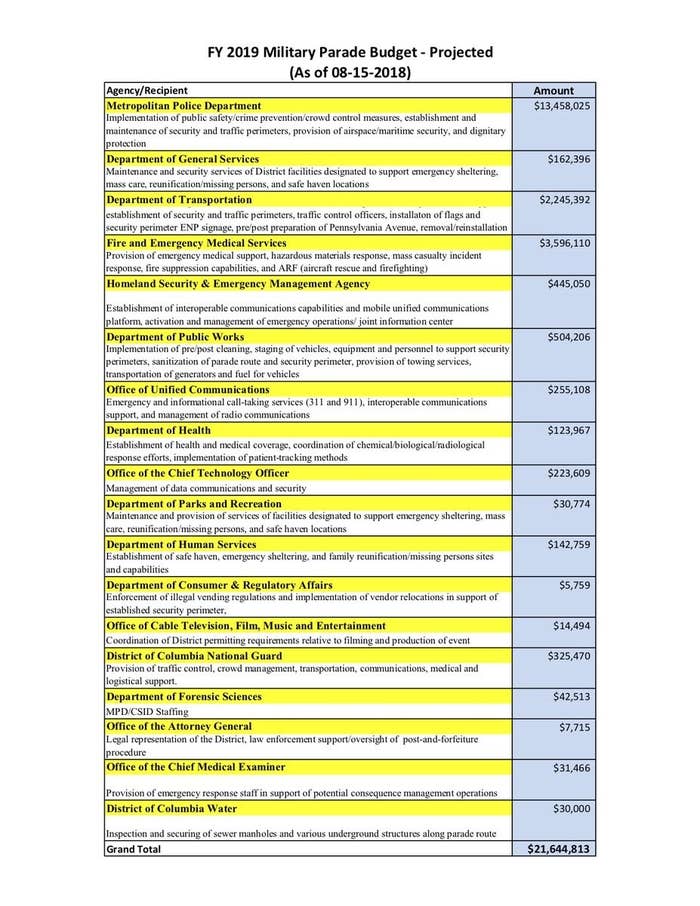 It was unclear whether the DC government's figures were part of the reported $42 million made up from other agencies, or was in addition to that.

The Pentagon didn't clarify on Friday why the president was blaming a high cost estimate for the cancellation that the defense secretary denied existed. The Pentagon referred all questions to the White House, which didn't answer questions.
The chair of the DC City Council responded to the president's claims in a series of tweets, which included a meme signifying surprise and disbelief, and stated that the Pentagon had come up with the projected cost estimate of more than $90 million.
Trump has expressed a desire to hold a military parade since he attended France's Bastille Day celebration in 2017, in which tanks rolled down Paris's Avenue des Champs-Élysées. His order in February to plan a military parade was a logistical headache for the Pentagon from the beginning.
Within the military, some expressed concerns that a large-scale parade would disrupt military training schedules and refocus thousands of soldiers' time on an event very few of them wanted to participate in. Some veterans groups also criticized the event as a vanity project for the president that would be a waste of time and money that could be better spent supporting troops and their families.
Even in the early planning stages, the proposed parade was unpopular.
A Quinnipiac University poll released in February found 61% of voters disapproved of the military parade, compared to 26% who supported the idea.
An informal poll of more than 51,000 Military Times readers found a staggering 89% opposed the parade, saying it was a waste of money and time for military personnel.
After reports Thursday cited defense officials giving the $92 million price tag, Secretary of Defense James Mattis said he had not seen any estimates and questioned their source.
"I haven't received an estimate of $10 million or $92 million," he told reporters traveling with him to Bogota, Colombia, joking that "whoever told you that is probably smoking something that's legal in my state but not most states," referring to his home state of Washington.

But Mattis seemed to push back hard, saying he was "not dignifying" the figure given by anonymous defense officials with a response.
"I would discount ... anybody who said [that number]," he said. "I'll almost guarantee you one thing: They probably said, 'I need to stay anonymous.' No kidding, because you look like an idiot. And number two, whoever wrote it needs to get better sources. I'll just leave it at that."
In the US, a military parade with troops and hardware has not occurred on the streets of an American city since 1991, at the end of the Gulf War, and the idea has faced widespread criticism. Military and civilian personnel have questioned the both the cost of such a parade and the time away from training it would take, as well as the purpose of the overt display of militarism.