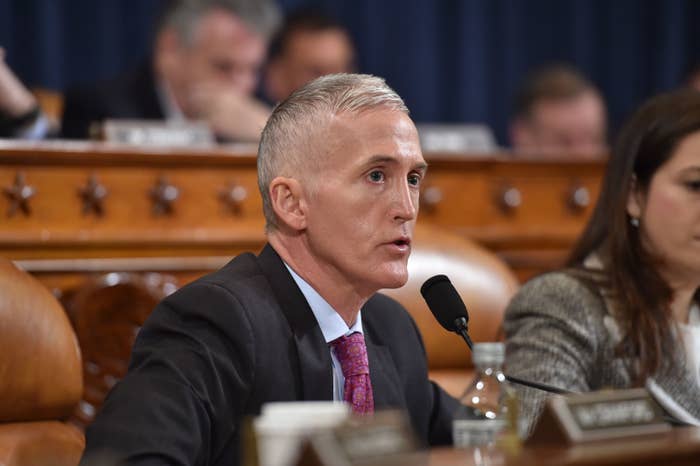 Rep. Trey Gowdy of South Carolina, who famously headed the congressional investigation into the Benghazi terrorist attack, will not seek reelection, instead returning to the justice system, he said in a statement on Wednesday.
Gowdy, a four-term congressman who chairs the House Oversight Committee, has been the Representative for South Carolina's 4th Congressional District since 2011, elected in the Tea Party wave of 2010. He chaired the United States House Select Committee on Events Surrounding the 2012 Terrorist Attack in Benghazi from 2014 to 2016 and is currently a member of the House Intelligence Committee.
"Whatever skills I may have are better utilized in a courtroom than in Congress, and I enjoy our justice system more than our political system," Gowdy said in his statement.
He is now the ninth Republican committee chair to announce he will not run for reelection, and the second Oversight chair in under a year, as former Republican Rep. Jason Chaffetz quit the position last year.

Gowdy was also a vocal critic of former FBI director James Comey during the investigation into Hillary Clinton's emails during the 2016 presidential campaign.
In prior years, Gowdy faced criticism from Democrats and Republicans that his handling of the Benghazi investigation was partisan and intended to derail former secretary of state Clinton's bid for the presidency.

In 2015, Gowdy led the committee in 11 hours of questioning, during which he grilled Clinton on both the death of Ambassador Christopher Stevens in Benghazi and her use of private email during her time as secretary of state.
"Madame Secretary, I understand some people — frankly in both parties — have suggested this investigation is about you," Gowdy said at the time. "Let me assure you it is not."

Fiscally and socially conservative, and anti–abortion rights, Gowdy pledged to defund, repeal, and replace the Affordable Care Act while in congress, and opposed additional EPA regulation.