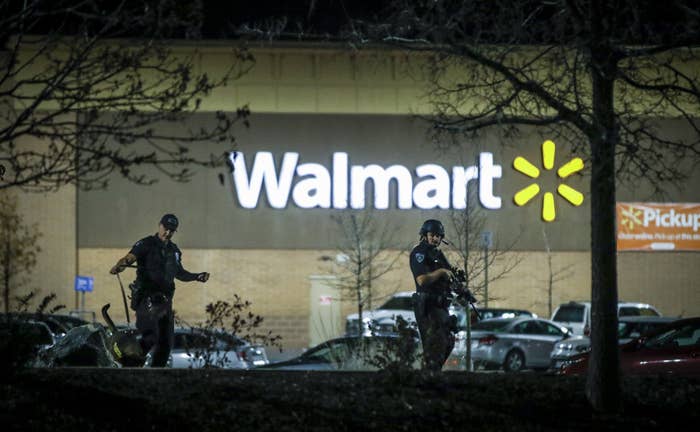 Three people are dead following what police are calling a "random shooting" at a Walmart in Thornton, Colorado, just north of Denver, Wednesday evening. The suspect, identified as Scott Ostrem, was taken into custody Thursday morning, police said.

Around 6:10 p.m. local time on Wednesday, police received reports of shots fired, according to Victor Avila, a spokesperson for the Thornton police department. Officers found three people down with gunshot wounds near the front of the store, Avila said at a press briefing Thursday.
Two men were pronounced dead at the scene, and one woman later died at the hospital, according to police. The store was full of shoppers at the time, witnesses said. Avila did not identify the victims.

One local woman, interviewed by ABC News, said her son called her while hiding from the attacker. "My battery's at 1%, Mom," she said he told her, "but there's a shooter here at Walmart. I'm not gonna tell you which one because I know you're gonna come, but if anything happens to me, I love you guys. I love you all so much."
Authorities shared surveillance images of a middle-aged man in a black jacket, maroon shirt, and jeans, who they said nonchalantly entered the store and began shooting with a handgun at people near the registers Wednesday evening.
The man then left the store and drove away in a red Mitsubishi Mirage, according to police, prompting a manhunt. The suspect was identified as Ostrem Thursday after police reviewed the store's surveillance footage. Avila said that officers also observed others holding guns in the surveillance, as Colorado is an open carry state.

Ostrem was apprehended Thursday morning after a citizen provided an anonymous tip about his location, according to Avila. He was located in his car and confirmed his identity to officers during a "high-risk" stop on his vehicle. He was taken into custody without incident.

Ostrem has a "minimal criminal history" and his motive for the shooting is not yet known, Avila said. Authorities did not know Thursday if there was a connection between the suspect and the victims.
"We are relieved that an arrest has been made in this case," Walmart said in a statement to BuzzFeed News. A spokesperson said that none of their associates were injured in the incident.
"This has been a tragic situation," Walmart said. "Our thoughts and prayers continue to be with the families who lost loved ones and on supporting our associates. We will continue assisting law enforcement however we can."