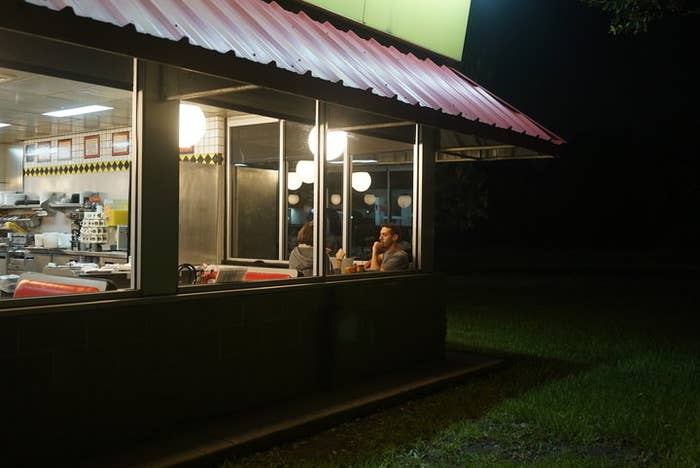 At a Pizza Hut in Jacksonville, Florida, days before Hurricane Irma made landfall, a manager posted a notice threatening consequences for workers who failed to show up for shifts because they decided to evacuate the city early.
"If evacuating, you will have a 24-hour period before storm 'grace period' to not be scheduled," it warned. "You cannot evacuate Friday for a Tuesday storm event!"
"Failure to show for these shifts, regardless of reason, will be considered a no call/no show and documentation will be issued. ... In the event of an evacuation, you MUST return within 72 HOURS," it read in bold type.
The notice went viral on Tumblr, Reddit, and Twitter, with people online expressing outrage. More than a day later, the pizza chain put out a statement that the company is "uncompromising in our commitment to the safety and well-being of our team members."

"We absolutely do not have a policy that dictates when team members can leave or return from a disaster, and the manager who posted this letter did not follow company guidelines," the corporation wrote. "We can also confirm that the local franchise operator has addressed this situation with the manager involved."
The person who originally posted the notice on Tumblr wrote that she was dissatisfied with the response ("throwing the local manager under the bus"), but she was grateful to the anonymous Pizza Hut employee "for standing up for service workers in similar situations everywhere."
The past two weeks of disasters have showed similar situations everywhere. Whether fast-food workers, supermarket workers, or contracted cleaners and gardeners, the nation's lowest-paid employees are often also the ones who can't skip a paycheck or risk losing a steady gig by failing to show up during a crisis — even if winds are howling and highways are blocked.
Service and retail workers lack many basic job protections under the best of circumstances, and hurricanes do not suspend existing labor laws.
Since fast-food cooks and cashiers are at-will employees, missing shifts is a legal reason for firing or disciplining them, even if a severe storm warning is in effect. The same goes for other at-will employees, including white-collar ones, many of whom expressed fear and worry about losing their jobs ahead of the storms.
Low-wage workers are often also expected to be among the first back to work, to feed and supply first responders. Waffle House, for one, is so reliable in an emergency that FEMA uses its openings and closings as an informal metric (the 'Waffle House Index') to gauge the scale of a disaster. Denny's is a safe bet as well for both skeleton-staff personnel and the stranded.
In Texas, following the worst of Hurricane Harvey, Waffle House and McDonald's locations dominated a Houston Chronicle list of speedily reopened restaurants (Waffle House with 23 operating locations, McDonald's with 31), and BuzzFeed News reporters ate at a Waffle House late at night immediately before the hurricane made landfall.
Waffle House spokesperson Pat Warner said the company's policy is "not to put associates in harm's way" during disasters.
"We really stress to our associates: don't come to work unless it's safe to get there," he said. "We don't know the routes, and it's up to their discretion."
Warner said between two and 10 stores closed in the Houston area during Hurricane Harvey, but roughly 36 remained open.
Minimum wage for tipped workers is $2.13 an hour in Texas. If tips don't bring that amount up to the federal minimum of $7.25 an hour, the company is legally required to pay the difference. However, a White House study found that employers skirt these laws in as many as one in 10 cases.

Over the weekend, Florida-based supermarket chain Publix also faced criticism online after a manager-issued waiver for Hurricane Irma started making the rounds on social media.

The document, to be signed by a retail employee, asked authorities to let workers onto roadways regardless of regulations or curfew rules, so that they could get to Publix locations immediately following Hurricane Irma.
Maria Brous, a Publix spokesperson, confirmed the document's validity. Brous told BuzzFeed News that such waivers are common in the retail industry and that they're intended for store managers and frontline staff.

"These are normal procedures that many retailers use," Brous said by phone from Wakeland, Florida, Monday. "The exemption is to get on the road when it is safe to do so."
Brous said that the retailer "doesn't encourage associates to violate curfews" and that there is "no expectation for them to report to work if it is not safe for them to get on the road."
Tuesday, days after Irma tore a devastating path through the southern United States, just 21 Publix stores out of more than 800 in Florida, South Carolina, and Georgia were closed, according to the company.
Brous emphasized that supermarkets, like quick-service restaurants, are "crucial to getting communities up and running, providing water, ice, and other supplies to first responders."
"The safety of our associates and customers is paramount," she said.
At a Walmart in Alvin, Texas, which bore some of Harvey's brunt, a pharmacy cashier told BuzzFeed News that he and several other employees, along with their manager, tried to open the store for three days despite the punishing wind and rain. He asked that his name not be used because of Walmart's policy against employees speaking to the press.

Every attempt to open was unsuccessful, he said, due to either rising rainfall or a fire marshal intervening.
"I tried to show up and open the pharmacy because I know we can't keep patients away from their medication for too long," the worker wrote in an email. "But due to highways being flooded my pharmacist couldn't make it."
Thursday, after more than three days of storm closures, employees opened the store and began to fill a queue of more than 500 prescriptions, he said. They were down to nine by the end of the day.
The Texas Walmart has been open ever since, with staff "working hard to bring back a sense of recovery and normality," according to the employee.
Walmart spokesperson Ragan Dickens said the story matched experiences of employees throughout Texas, many of whom were able to get to work to try to open stores, only to be stopped by the weather conditions or state or local officials.
Dickens said Walmart waived consequences for workers who did not show up for their shifts between Aug. 25 and Sept. 9 in Texas and provided some disaster assistance to affected employees, which he described as a "set amount depending on the worker."
"We made it so the worker has access to those funds immediately so they could get out of harm's way — get the tank of gas, the emergency supplies they need," he said.
"Associate safety is our key priority," he added. "We weren't interested in rushing workers back to the store."
In the state, Harvey made landfall Saturday, Aug. 25, and by Tuesday, Walmart had closed 134 out of nearly 300 stores in the impacted area, according to Dickens.
"Three to four days later, we had brought that number down to fewer than a dozen," he said. By the following Monday, Walmart had just two facilities closed on the coast. All locations were back up and running Tuesday.
As Hurricane Harvey rained down on Houston, one worker spoke to the New York Times as she waded through the waist-deep water on her way to the DoubleTree hotel, where she cleans and folds linens for an hourly wage of $10.
As the skies cleared days later, landscapers emerged to mow lawns in residential areas, before houses had yet drained or flooding subsided.
For many of these workers, the lack of job security and ordinary economic need led them to risk life and limb, or simple comfort, for rock-bottom wages. If they didn't make it to work through hell and high water, there was nothing to guarantee they'd have work to come back to on the other side of the storm.