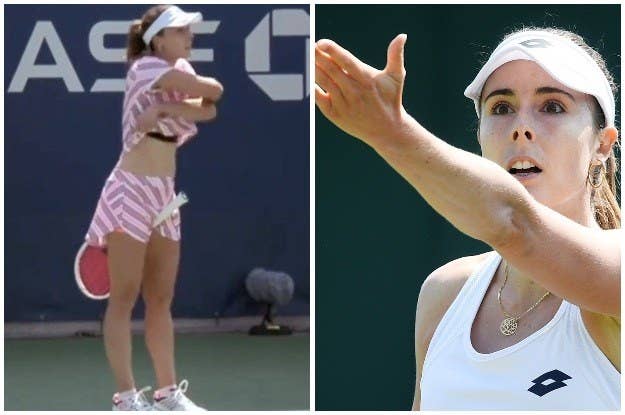 US Open officials have issued a statement apologizing for a penalty issued against French player Alizé Cornet for briefly taking off her shirt, following outcry over a perceived double standard between the treatment of male and female players.
"We regret that a Code Violation was assessed to Ms. Cornet yesterday," the statement said. "We have clarified the policy to ensure this will not happen moving forward."
The officials clarified that Cornet was "only assessed a warning with no further penalty or fine" and that "all players can change their shirts when sitting in the player chair," which is not considered a violation.
"Female players, if they choose, may also change their shirts in a more private location close to the court, when available," they said. "They will not be assessed a bathroom break in this circumstance."

Cornet was issued the violation on Tuesday when, following a break, she noticed her new shirt was on backward and she quickly took it off to fix the error.
Fans had expressed frustration at the penalty, given that male players frequently took their shirts off on the court to cool down with no consequences. An East Coast heatwave brought temperatures at the Queens, New York, stadium to 96 degrees the day of the match.
In a press conference Wednesday, Cornet said she appreciated the statement.
"I think it's very fair from them to apologize to me. I really appreciate it," she said. "I think that the proportion that it took [on] is huge. When I woke up this morning, I didn't think that this code violation would become so famous in less than 24 hours, and I'm very surprised about it, actually, to be honest. Because on the court, it really seemed like a mistake from the umpire and nothing else. That's how I take it."
The Women's Tennis Association also released a statement, saying Cornet "did nothing wrong" and that the code violation was "unfair."

"The code violation that USTA handed to Alizé Cornet during her first round match at the U.S. Open was unfair and it was not based on a WTA rule, as the WTA has no rule against a change of attire on court," the statement said. "This code violation came under the Grand Slam rules and we are pleased to see the USTA has now changed this policy. Alize did nothing wrong."