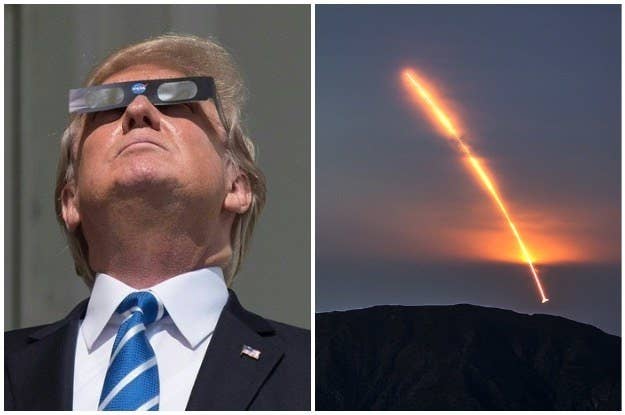 President Donald Trump has once again announced his intention to form a new branch of the US military to establish "American dominance in space," calling it "Space Force."

"I am hereby directing the Department of Defense and Pentagon to immediately begin the process necessary to establish a Space Force as the sixth branch of the armed forces," Trump said Monday. "That's a big statement. We are going to have the Air Force, and we are going to have the Space Force. Separate but equal."
The president then asked Joint Chiefs of Staff Chair Joseph Dunford to "carry that assignment out." The general, present at the remarks, expressed his acceptance.
"Go get it, General," the president said.
The exchange took place at a meeting in which the National Space Council had been slated to unveil new, first-of-its-kind policy on space traffic management.
BuzzFeed News has reached out to the Pentagon and the Department of Defense for comment.
Trump first proposed the idea of starting a Space Force in March, and top military brass has previously expressed a lack of support for the project.

"At a time when we are trying to integrate the department's joint war-fighting functions, I do not wish to add a separate service that would likely present a narrower and even parochial approach to space operations," Secretary of Defense James Mattis wrote in a letter to Ohio Rep. Mike Turner last summer.
"Establishing a service branch requires congressional action. Congress has asked DoD to study how we handle space. We still don't know what a Space Force would do, who is going to be in it, or how much is it going to cost," Turner, the chairman of the House Armed Services Subcommittee on Tactical Air and Land Forces, said on Monday. "The congressionally mandated report evaluating a Space Force to answer those questions is due in August. After we get the report that we required as a legislative body and the President signed off on, then this issue can be appropriately evaluated for what's best for national security."

Secretary of the Air Force Heather Wilson stated that she would direct resources to "lethality, not bureaucracy," when asked about the potential new branch of the military.
"The Pentagon is complicated enough," she said. "This will make it more complex, add more boxes to the organization chart and cost more money."