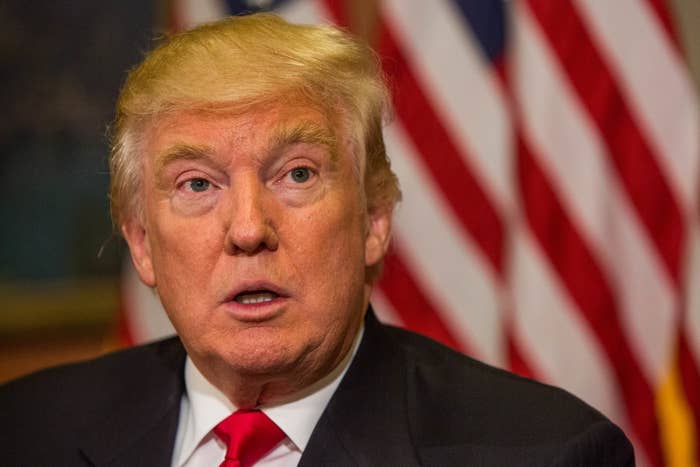 Days after vowing to be "very restrained" when using his Twitter account, President-elect Donald Trump awoke on Sunday morning and fired off three tweets attacking one of his favorite targets: the New York Times.
Trump tweeted that the newspaper is "losing thousands of subscribers" because of its coverage of his election, adding some half an hour later that the paper had supposedly sent a letter to subscribers apologizing for their "BAD coverage." (According to the newspaper's publicists, who responded on Twitter, since the election the New York Times has seen a surge in new digital and print subscriptions at four times the normal rate.)
He then disputed an article that reported he had suggested more countries acquire nuclear weapons, despite previously saying countries such as Japan, South Korea, and Saudi Arabia may need to develop nuclear weapons.

On Friday, New York Times publisher Arthur Sulzberger sent an email to the paper's newsroom at noon stating that the president-elect would be covered "without fear or favor," "fairly," and "without bias."

Later in the day, he and Executive Editor Dean Baquet sent a second letter to readers, saying they believed "we reported fairly on both candidates during the presidential election."

"After such an erratic and unpredictable election there are inevitable questions: Did Donald Trump's sheer unconventionality lead us and other news outlets to underestimate his support among American voters?" Sulzberger and Baquet asked in the second letter. "Most important, how will a president who remains a largely enigmatic figure actually govern when he takes office?"
The tweets may be one kind of answer to this second question.
While Trump has pledged to be "very restrained" on Twitter while in office, the president-elect has not yet reined in his tweeting or switched from using his personal device to a secure, NSA-customized phone, which experts say leaves him vulnerable to hacking and poses a serious cybersecurity risk.

Reaction to the tweets Sunday morning was a mixture of surprise and...a lack of surprise.
Read the full New York Times letters to readers and staffers below:
Dear Colleagues,

As we close one of the most momentous weeks in our nation's recent history, let's pause for a moment on those famous instructions that Adolph S. Ochs left for us: to cover the news without fear or favor.

As Donald Trump begins preparing for his new administration, those words have rarely felt more important.

The Times is certainly not afraid — our investigative report has demonstrated our courage many times over. That fearless, hard-fought journalism will always stand as the backbone of The Times, no matter the President.

But we also approach the incoming Trump administration without bias. We will cover his policies and his agenda fairly. We will bring expert analysis and thoughtful commentary to the changes we see in government, and to their ramifications on the ground.

We will look within and beyond Washington to explore the roots of the anger that has roiled red and blue America. If many Americans no longer seem to understand each other, let's make it our job to interpret and explain.

Our predecessors founded our singular newspaper for just this moment — to serve as a watchdog to the powerful; and to hold mighty institutions accountable, without fear or favor. We are more than ready to fulfill that promise.

Together, we have built the world's best digital newsroom and it, too, was made for just this moment. We will chronicle the new administration with a lightning-fast report that features stories told in every medium and on every platform.

Here is what we have all dedicated our careers to: Going after the biggest stories in the world, and telling them as ambitiously as possible.

Get some rest this weekend. We have lots to do.

Arthur