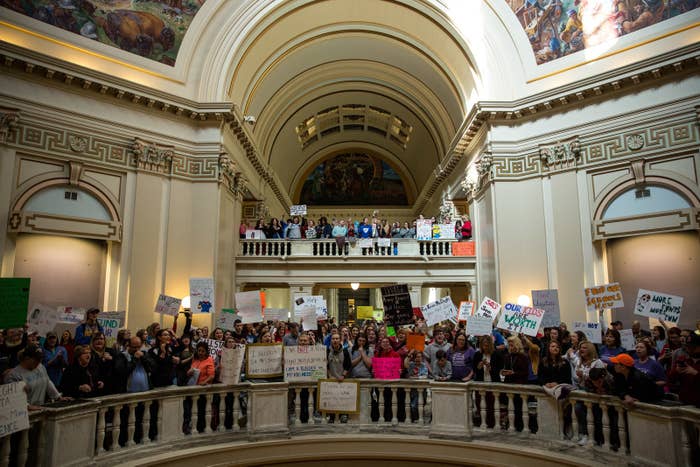 Oklahoma public school teachers ended a nine-day strike and will return to their classrooms across the state, having won millions in education funding from state legislators.

The teachers spent the days staging demonstrations at the state capitol that attracted national attention.
Alicia Priest, president of the Oklahoma Education Association, called the strike "a victory for teachers" at a news conference. The teachers won an average of $6,000 raises, with $1,250 raises for support staff.
The funds will come from new taxes on oil and gas, tobacco, online sales, and gambling. But the teachers failed to overturn a capital gains tax repeal, which the governor signed into law Wednesday.
The OEA, the state's largest union, encouraged teachers to now turn their focus to helping elect candidates for the state legislature who will support more education funding.
The strike of public school teachers, which affected about 500,000 of the state's 700,000 students, came in response to years of austerity and education budget cuts. All public schools in Oklahoma City and Tulsa, the state's two largest cities, were shuttered for nearly two weeks of classes.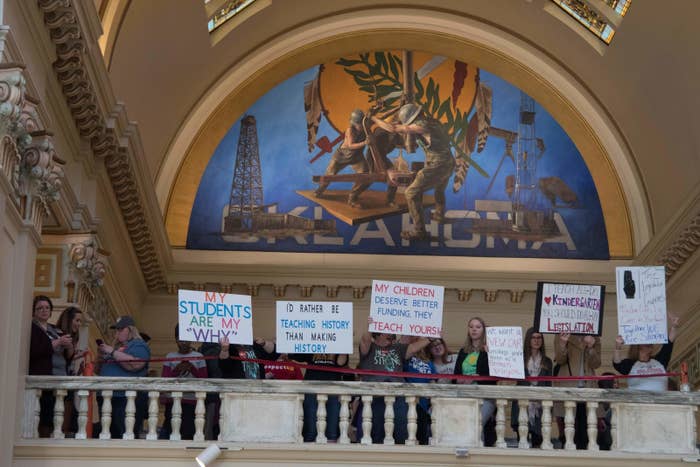 The Oklahoma walkout is the latest in a spreading pattern of public school teachers across red states taking collective action. A nine-day strike in West Virginia last month garnered teachers there a 5% raise and sparked walkouts in Kentucky over teacher pension reform. In Arizona, teachers staged a "walk-in" Wednesday, while laying the groundwork for a possible strike in coming days.
In each of these four states, which went for Trump in the presidential election, public employees have organized independently of labor leadership, relying heavily on Facebook and social media to protest years of reduced funds and an exodus of qualified teachers to other states, where they can earn thousands more. Teachers posted photos of their outdated textbooks and broken desks, and held classes on the lawn outside the capitol building. Some political strategists say the actions indicate that Republican state leadership is at risk in November.
Teachers struggled with their decisions to walk off the job, across the states, where it is technically illegal for public employees to go on strike. Parents expressed concerns over childcare and whether students would be prepared for upcoming high-stakes tests. And teachers and parents alike worried over how to feed students who relied on public schools to provide free meals.
A nonpartisan poll released by local outlet News 9 Friday found that 72% of Oklahomans polled supported the teachers' walkout.