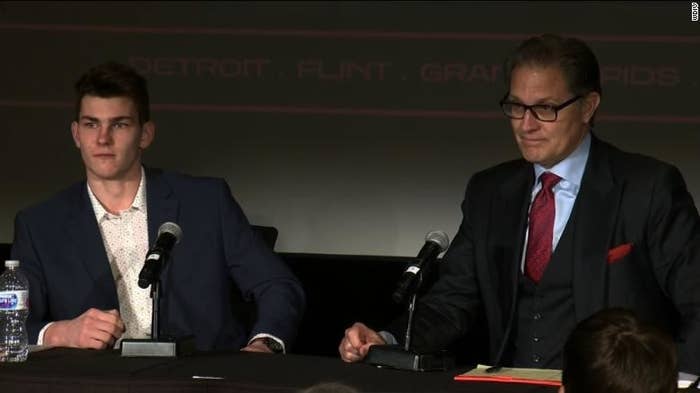 The first male accuser of former doctor Larry Nassar said he was 16 when the doctor applied acupuncture needles to his genitals in the presence of a female gymnast, while asking her if she had seen a male sex organ before.

"I wasn't a dumb kid. I knew, kind of, what medical practices were, and that one was out of the ordinary," Jacob Moore, now 18 and a freshman gymnast at the University of Michigan, told NBC News Tuesday. "I felt uncomfortable."

Moore has joined a civil complaint against Nassar, who has pled guilty to possession of child pornography and molestation charges, and who is expected to spend the rest of his life in prison. In the complaint, Moore states Nassar's behavior constituted sexual assault, battery, abuse, molestation, and harassment.
Moore's sister Cameron, who was also allegedly abused by Nassar and read a victim impact statement at his sentencing hearing in January, mentioned her brother in her reading.
In a press conference with his lawyer Monday, Moore said that he decided to come forward after he saw the bravery and strength of the other victims, including his sister.

"I was inspired by my sister and everyone else in this community to come out and help bring change to what allowed this to happen," he said. "I don't want [other victims] to be scared to come out because of stigma that guys can't be sexually abused or taken advantage of."
Moore also told NBC that he believes organizations that employed Nassar, including USA Gymnastics and Michigan State University, are complicit in his crimes.

"Nassar could not have done what he did without the complicity of each and every one of these organizations," he said.
USA Gymnastics has apologized to their athletes for Nassar's conduct and called his crimes "despicable," stating they are committed to doing whatever they can to prevent such abuse from recurring. In January, Michigan State University said it is "committed to continuing to support those in our community affected by these terrible crimes."
Moore called the experience "sickening," but said it did not and will not stop him from competing in gymnastics. He said that the emergence of the other abuse allegations led him to think back to his own experience.
"It was very uncomfortable being, kind of, in the room with him during that time," he told Megyn Kelly on NBC. "Even though, you know, sometimes things feel uncomfortable, you never really know that something is blatantly wrong."

Both Michigan State University and USA Gymnastics are being sued over their employment of Nassar, and both the university president and the entire board of USA Gymnastics have resigned.
BuzzFeed News has reached out to Moore's lawyer for comment.