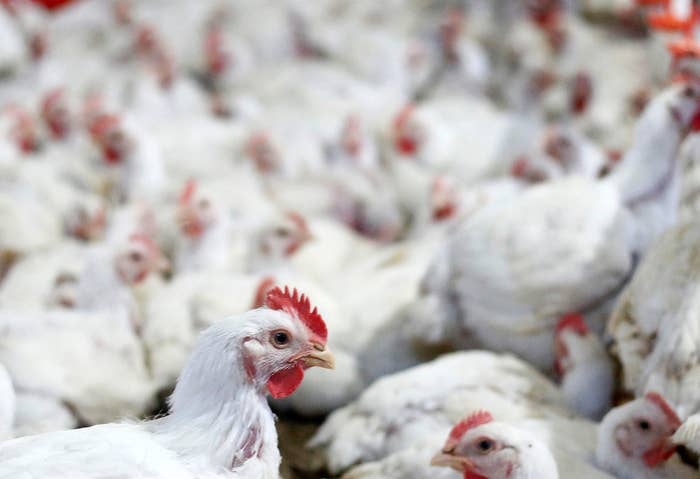 Pilgrim's Pride, America's second-largest chicken producer, has been cited by the Department of Labor for 14 serious violations of health and safety standards, including denying hurt workers access to medical care.
The Department of Labor citation includes gritty details of the risks it says are faced by employees in poultry-processing plants, which have long been notorious for their difficult working conditions. It cites amputation risks at un-covered "shear points" in the "evisceration area," hole-riddled floors in the knife room, rotting platforms from which workers hazarded 12-foot falls, and stagnant water near bathrooms.

From the document:
"On or about March 18, 2016, in the evisceration area, at the right end of the heart and liver hang conveyor of the number 1 production line, employees working on and around the USDA inspection area were exposed to an amputation hazard, at the in-going shear point of the conveyor and the guide plate."
"On or about March 22, 2016 in Ammonia Engine Room #1, the upper platform by the Chiller Surge Drum had the wooden platform decking deteriorated and rotted, exposing refrigeration technicians servicing the condensers to a 12 feet fall hazard."
"On or about March 25, 2016, in the front line area close to Evisceration, the ladies restroom had stagnant water and was always wet, exposing employees to slip and fall hazards."
Most significantly, the 26-page citation outlined a pattern of regularly ignoring injured workers asking for medical care.

"On or about February 1, 2016 and at times prior, throughout the processing plant, the employer failed to make timely appropriate medical referrals for employees with injuries."
Pilgrim's Pride said it is aware of the OSHA citation but has not yet spoken directly with the Department of Labor about the claims.

"While we take any allegation regarding the safety of our team members seriously, we have not yet been afforded the opportunity to discuss the contents of OSHA's press release directly with Department of Labor representatives," the company's Head of Corporate Affairs, Cameron Bruett, told BuzzFeed News. "We are in the process of reviewing the citations internally and look forward to formally discussing any alleged concerns with OSHA."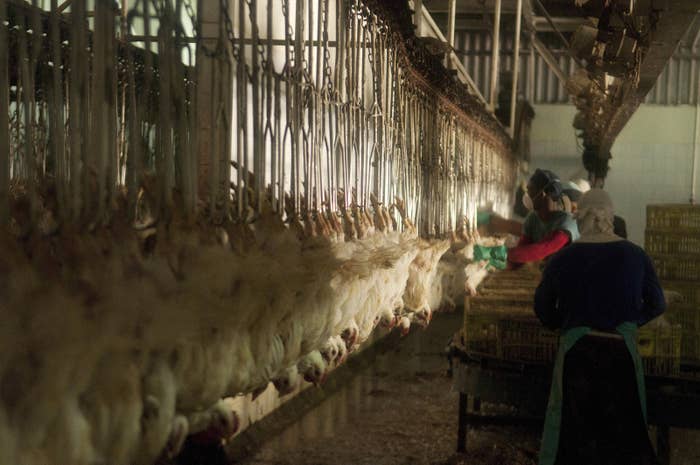 Based in Greeley, Colorado, Pilgrim's Pride employs 35,000 workers in 12 states and Mexico. The company says it produces one in every five chickens in the U.S. In addition to supermarket products like Honey-Dipt Popcorn Chicken, Pilgrim's Pride supplies restaurants and retailers like Walmart with fresh and frozen chickens.
Naomi Tsu, Deputy Legal Director for the Southern Poverty Law Center (SPLC), called conditions such as those found at Pilgrim's "rampant and systemic" in the chicken processing industry. SPLC regularly represents workers subject to unsafe conditions at poultry plants, most of which are located in the South.

The DOL citation comes after the Occupational Safety and Health Administration started a program aimed at reducing injuries and fatalities at poultry plants in southern states last fall, and after a recent report from Oxfam America that said injuries in the industry were chronically under-reported.
"OSHA's finding of serious health and safety violations at Pilgrim's Pride confirms what Oxfam has heard from poultry workers across the country," said Oxfam Senior Campaign Strategist Oliver Gottfried. "Poultry companies do not provide proper medical care when workers are injured on the job, and poultry companies do not record all injuries that take place at work, artificially lowering official injury statistics."
Deborah Berkowitz, worker safety & health expert at the National Employment Law Project, who also served as senior policy adviser and then Chief of Staff at OSHA for six years during the Obama administration, said employers in poultry processing typically find it cheaper to work employees until they quit, rather than paying for medical care or improving conditions.
"We really have never seen this kind of inhumane treatment of workers anywhere, in any manufacturing industry, in this kind of sustained way," she told BuzzFeed News. "This is the only industry where OSHA has found that workers are routinely not allowed to use the bathroom. And no matter how hurt someone is they aren't going to send them to the doctor."
Workers at one plant visited a health station for medical attention more than 90 times and were turned away, OSHA has found. At a plant in Delaware, the company allegedly turned its first aid station into an office dedicated to preventing workers from reporting injuries altogether.
Pilgrim's Pride has the option to appeal the OSHA citation and have the fine amount (currently about $78,000) reduced. And even if the fine amount stands, it's not a significant cost for a company of Pilgrim's size.
"Although it's wonderful OSHA is paying attention and creating consequences for poultry plants, $78,000 — or whatever the new low it will become after the appeals process — is not a lot of money to Pilgrim's Pride," said Tsu. "Until the financial consequences of mistreating workers becomes greater, we're going to keep seeing these kinds of conditions being endemic to the industry."