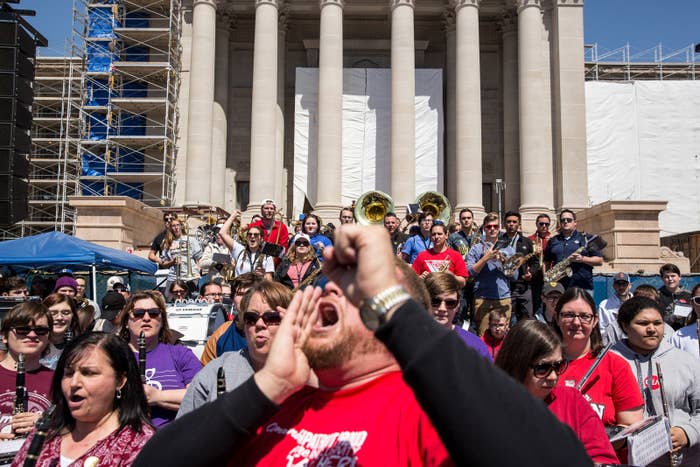 Most have no political experience. They lack name recognition and fundraising bona fides. Some are not even on the ballot, having missed filing deadlines, and are instead waging write-in campaigns. They're the longest of shots.
But in upcoming elections in Oklahoma, Arizona, and Kentucky — all red states where school staff have walked out in recent months over austerity funding — teachers are running for office.
They say they're determined to not only vote out the superintendents, representatives, and senators who did not support their walkouts but to also fill state governments with educators who know firsthand what more money can do for a classroom.
The educators share outsider status, dissatisfaction with the legislative process, and a sense of being shortchanged as public employees.
Take Craig Hoxie, who has been a science teacher in Oklahoma's public school system for 19 years. He thought he'd spend the last third of his career with his head down, "quietly teaching."
Instead, this month, he became one of hundreds of educators who walked more than 100 miles from Tulsa to Oklahoma City to protest declining teacher pay and classroom funding.
Hoxie took part in the march during a statewide strike that ultimately led to a mixed bag for educators: They got raises and promises of increased education revenue, but not reliable explanations of where the money would come from in the future or how long it would last. And a proposed ballot initiative could undo some of those promises come November.
So now, along with dozens of other teachers, Hoxie filed to run for office.
"Even though we haven't been able to pass the legislation we need to, we did start a movement of people who realize the only way to change this is to get involved in the political process," he told BuzzFeed News.
Craig Hoxie
Name: Craig Hoxie
State: Oklahoma
Career: 19 years in education. Currently a science teacher at Booker T. Washington High
Running for: State Representative, District 23
Political affiliation: Democrat
Reason for walking out: "I decided to take part in the walkout for three reasons: Number one, the young teachers who work at those beginning salary levels. They get paid ridiculously low wages. I don't understand why anyone under 35 would want to start a career in Oklahoma, when you could step across to Texas and make so much more money.
"Number two: Support staff and state workers have not received raises in forever. When you look at inflation versus what we're paid, we're all making less than we were 10 or 15 years ago. Prices have gone up and our wages haven't.
"Three: I teach science. I haven't had a budget to buy supplies for my classroom since 2003, and even then it was $100 for a chemistry class. That doesn't buy anything. I'm tired of asking parents for gift cards and begging for supplies from the local university.
"I want whoever is in these classrooms to be able to buy the materials they need without dipping into their own pockets."
Reason for running for office: "I participated in the march from Tulsa to Oklahoma City, walking 110 miles with a bunch of other teachers. As we were walking, we were talking about what really needs to change. We saw that 70% of these legislators have been running unopposed. So we started to say, 'We need to find people to run against them.'
"I contacted the state and county party and said, 'Who have you got to run against the guy in our district?' They came back and said, 'Thank you for volunteering to run.' I said, 'I didn't say that.'
"I met my representative and sat down and spoke with him for a few minutes. At the end of that conversation, I understood that I would have to be that person. At the same time, another teacher in Tulsa was making the same decision. So I have a primary against another teacher in Tulsa. But that's great, because that's democracy."
Fundraising and obstacles: "It's going to be an uphill battle. The Democrat who did the best in our district only [received] 41.5% of the vote. I'm going to have to work really hard to galvanize Democratic voters, to let them know they need to get to the polls. I need to capture independent voters and moderate Republicans.
"I don't think that the incumbent is a bad person. But I don't think he's very available to the voters.
"I've been receiving the majority of my financial support from currently active teachers. The unions will probably not make their decision — we have associations, not really unions, since we don't have the power to strike — the associations will become more involved once the primary is over, especially because I'm running against another teacher."
Kathy Hoffman
State: Arizona
Career: Six years in education. Currently a speech therapist at the Peoria Unified School District
Running for: State Superintendent
Political affiliation: Democrat
Reason for walking out: "I want to see better teacher pay and more funding for our schools."
Reason for running for office: "Education policy is decided at the level of the legislature — our budget, our pay, our policies. All the teachers have realized it's not enough to just call your legislator. We needed to walk out, and we need to vote them out.
"A stronger union would help, but what I see as the bigger issue is that we have a Republican-dominated legislature and government, and I see their policies holding us back.
"My running for office was also prompted by Betsy DeVos's confirmation hearing."
Fundraising and obstacles: "I'm running as a 'clean elections' candidate. So is my opponent. So we're only taking small donations from individual donors — no lobbyists, super PACs, or corporations. The state funds our campaigns with $100,000 for the primary and $100,000 for [the] general. On top of that, I've raised $40,000 on my own.
"The biggest obstacle is getting my name out there because I'm a first-time candidate. I'm at the festivals and rallies and marches trying to talk to as many people as I can. I have no name recognition."
Christine Porter Marsh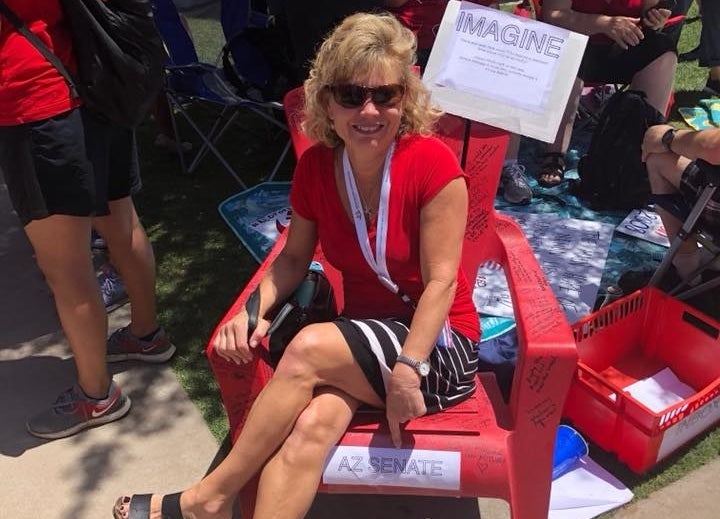 State: Arizona
Career: 26 years in education. Currently teachers junior English at Cactus Shadows High
Running for: State Senate, District 28
Political affiliation: Democrat
Reason for walking out: "I think to me the most troubling issue is the large class sizes, low teacher pay being closely on its heels.
"Even if we were to reduce class sizes, which we desperately need to do, we don't pay teachers enough to attract and retain enough of them for those new, smaller classes. We need to create an environment where students feel valued, and it's almost impossible to do that when you have 38 or 40 kids in a class."
Reason for running for office: "I wasn't necessarily planning on being one of the teachers who ran. As it turns out, I was approached to run and said yes.
"I've been inspired by the teachers who were down at the capitol every day. We now have so many teachers who have not only been at the capitol who have never been there before — but who have been in the Senate and House galleries, inside the rotunda, filling out requests to speak.
"One of my former students, who is now a teacher, who has been a teacher for five years — he spoke before the house appropriations committee about funding. He only got a minute — they were timing them because there were so many people. The line to get into the House and Senate was hundreds deep."
Obstacles: "I don't think I fully appreciated how draining [and] tiring it would be. But I knew the time commitment of running was going to be extreme — I was braced for that."
Nicole Britton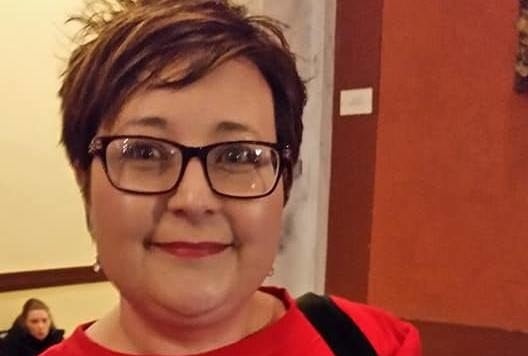 State: Kentucky
Career: 13th year. Currently teaches students with moderate to severe disabilities and autism
Running for: State Senate District 16
Political affiliation: Democrat
"I was a Republican when I first started out, but I changed my party after I spent some time in the classroom — after I experienced and witnessed some of the things that students faced — because of the color of their skin, their gender, their ability."
Reason for walking out: "It was everything — it was the pension issue; it was that our legislators failed to find revenue before they started adjusting the budget, to the point where it would affect children and older people and people with disabilities. But mainly, the pension benefit for future teachers.
"Many states are also experiencing a teaching shortage. The pension had always been a bargaining chip. When I told people this was what I was going to do for a living, they would say, 'That will be a good job, you'll have a good pension.' But how will we attract teachers when the wages are low and the retirement is not what it should be?
"West Virginia has really raised this conversation around the nation. Some time ago, we decided people who teach or work in public service should do what they do just because they feel good about it. Well, we have bills to pay, and you choose a career in part for the benefits, and we don't want to apologize for that."

Reason for running: "The party that is in power right now, largely, in Kentucky is not supportive of any type of union work or any type of collective bargaining. They support right-to-work laws, so that erodes away at its base anything that could help us advocate in another direction. So we had to make the decision to become involved in the legislative process."
Fundraising and obstacles: "I did not turn in my intention to run before the cut-off date to get on the ballot as a Democrat, but there have been write-ins who have won before. Of fifty-odd educators running, 10–15 candidates in Kentucky are write-ins.
"Are we gonna run a campaign with glossy signs and unlimited TV ads and corrugated cardboard? No. But that's okay; we don't need to. I will not be doing the bidding of any organization that does not have the best interests of people at heart, because I don't have to.
"The fundraising is going slow. If you have any tactful ways to ask people for money, I could use them. I need ways to ask people — 'Will you write my name in?'; 'Will you put my sign in your yard?'; and also 'Give me all your money.'
"I don't plan on being a career politician. I do have a little girl who is seeing her mama run. I hope she will follow in my footsteps and grow up to be a strong female voice in the political arena. It's more about that principle and instilling these values in our children."
Mona Hampton-Eldridge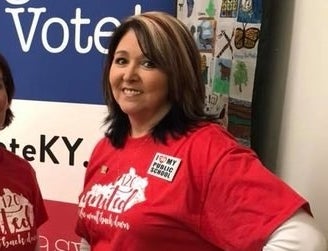 State: Kentucky
Career: 17 years in education. Currently an eighth-grade language arts teacher at Northern Middle School
Running for: State Representative, District 85
Affiliation: Democrat
Reason for walking out: "When the pension issue started happening, we all kind of laid low and listened to what was going on. We tried not to have a reaction at first, but when we saw we needed to take action, we organized a 'walk-in,' instead of a walkout. We decided to do a walk-in because we're there first for our students.
"We vote these people into office, our legislators, and we put our trust in them. And they let us down. Unless you're aware of what's going on, no one is going to go knocking on their door.
"They're trying to defund our schools. We live in a rural area, and we can't go without funding. We have probably a 70% free and reduced lunch rate in our school district. They're just not as well-off as some of the city schools are. We are in the country. We live in one of the biggest counties in Kentucky, so there's a lot of roadway. Some of them ride a bus for an hour a day, just to get to school, on country roads."
Reason for running: "I went to a meeting and we were all talking, saying somebody needs to run. I've always helped my students with the mock junior assembly. We have a 'youth in government' club here called the Y club, and I'd been a sponsor on and off since 2002. I helped students develop and write bills in the Kentucky youth assembly. I never dreamt I would be doing it myself.
"I think Kentucky becoming a 'right-to-work' state has put a damper on collective bargaining. I don't think there's enough power there for us."
Fundraising and obstacles: "I do have an ActBlue account where people have contributed. I know collecting funds will be a challenge, but every day I am making more contact with people who are helping."
Lydia Coffey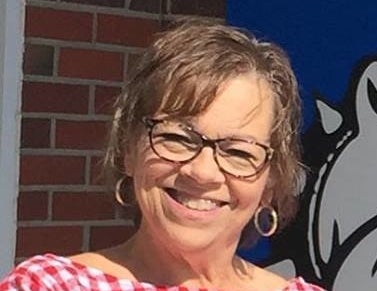 State: Kentucky
Running for: State Representative, District 54
Career: Retired after 27 years. Currently a substitute teacher three days a week
Political affiliation: Democrat
"I grew up in a household where my mom was a Republican and my dad was a Democrat. So there was always someone to debate."
Reason for walking out: "In many ways the attack in Kentucky was more on retired teachers than the regular classroom teachers, because it's their pensions. But the governor's whole plan has hurt education in Kentucky. Many schools are going to have to cut back their staff because they won't have money coming in."
Reason for running: "David Allen, a man that was at one time president of the Kentucky Educators Association, decided he was going to make it his goal to get, maybe, 10 educators to run for office this year. There's no one there [at the statehouse] who understands schools, the plight of teachers, the whole situation. Everyone thinks they know what it would be like to be a teacher, but until they've taught in our classrooms they really don't. His goal was to get 10 people. When it was all said and done there were at least 45 of us."
Fundraising and obstacles: "I have a niece that's creating my webpage. I was giving her time — she was graduating from college — to let her get through her finals. My daughter is going to work with her and get that up and running.
"There are lots of volunteers, teachers especially, who want to help me canvass door to door and do other things for me.
"There's no way I'm going to raise $170,000 [the amount she says her opponent has raised so far]. I'll be going door to door. The idea of taking huge amounts of money like that, when I think about what it could do for the students, that really bothers me. I'll be honest with you. I never made $50,000. I didn't make it to that before I retired."
Thumbnail images from Matt York/AP; and Kathy Hoffman