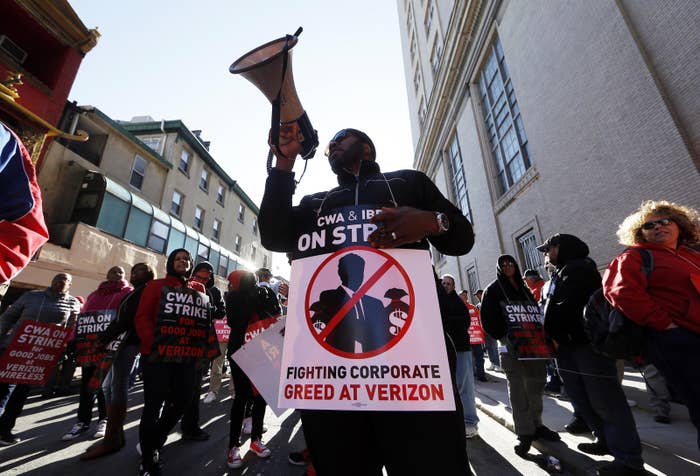 Verizon will cancel healthcare benefits for more than 36,000 striking employees at midnight on Saturday, in a move union leaders described as "unconscionable."
"Per federal law, when striking employees are out, healthcare coverage is not guaranteed at the end of the calendar month," Verizon spokesperson Rich Young told BuzzFeed News. "As of tomorrow, these employees have the option of selecting COBRA coverage on their own, or, as we understand it, the CWA [union] is offering to cover healthcare for their [unionized] employees."
Unions representing the strikers have said they will cover the cost of medical care for strikers via a $441 million relief fund, for the duration of the strike.
"This heartless move by Verizon shows why the strike is so important," said CWA district Vice Presidents Dennis G. Trainor and Ed Mooney in a joint statement. "CWA has pledged that no striking member or family member will go without medically necessary health care, no matter what Verizon chooses to do."
Negotiations between Verizon and the unions representing the strikers broke down again Thursday, with Verizon offering offering a wage raise of 7.5%, up from its previous offer of a 6.5% increase. The unionized workers are in their third week of striking, over wages, benefits, and loosened rules over off-shoring and job relocation.
"Executives refused to back off of callous proposals that would hurt working families and destroy middle class jobs, including shipping jobs overseas and outsourcing work," union representatives said after Thursday's bargaining sessions in Westchester and Philadelphia.
The unions are currently considering next steps in the negotiating process, with no new sessions currently scheduled.
"We've laid out our hand," said Young, the Verizon spokesperson. "It's time for the union to respond."