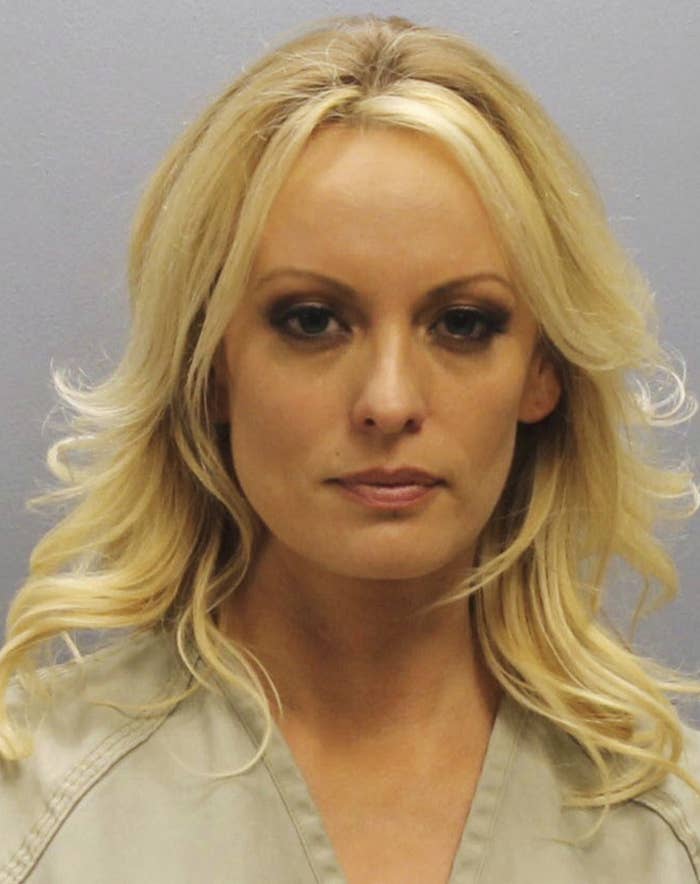 Adult film actor Stormy Daniels, who alleges she had an affair with President Donald Trump and is currently suing him, was wrongly arrested at a strip club in Columbus, Ohio, early Thursday, the city's police chief said.
Daniels, whose legal name is Stephanie Clifford, faced three counts of illegally touching a patron, but the charges were dismissed Thursday afternoon. Her lawyer, Michael Avenatti, tweeted Thursday that his client was "arrested for allegedly allowing a customer to touch her while on stage in a nonsexual manner."
Under an Ohio law known as the "Community Defense Act," an employee who regularly appears naked or semi-nude as part of a sexually related business is not permitted to touch anyone who is not a family member while undressed at said business.

Columbus Police Chief Kim Jacobs said in a statement Thursday that the officers believed they had probable cause to arrest Daniels, but that "one element of the law was missed in error."
"A mistake was made, and I accept full responsibility," Jacobs said.
Judge James P. O'Grady dismissed the charges Thursday on the grounds that Daniels does not "regularly" appear nude or semi-nude on the premises, according to documents shared by Avenatti.

"My office has reviewed the charges filed by the Columbus Division of Police, and I've determined that these crimes were not committed, based on the fact that Ms. Clifford has not made regular appearances at this establishment as required under the law," Columbus City Attorney Zach Klein said in a statement. "The charges have been dismissed."

Franklin County Municipal Court records show Daniels had been charged with three misdemeanor sex offenses, was released on bail for $6,142, and was scheduled to appear in court Friday for a 9 a.m. arraignment.
"Are you kidding me?" Avenatti tweeted Thursday morning. "They are devoting law enforcement resources to sting operations for this? There has to be higher priorities."

According to an affidavit from the Columbus Police Department, at her performance, Daniels "began forcing the faces of the patrons into her chest and using her bare breasts to smack the patrons" while performing topless.
The officers also "observed Ms. Clifford fondling the breasts of female patrons," according to the document.
Daniels also proceeded to hold the faces of several undercover officers between her breasts, the affidavit states, "fondling" one officer's buttock and breasts, forcing the officer's "head into her chest between her breasts," and "smacking" her face with her breasts.
Avenatti tweeted that the arrest was "a setup & politically motivated" and "reeks of desperation," adding that they will "fight all bogus charges." He tweeted that Daniels would plead not guilty.

In a statement from Daniels on Thursday morning, tweeted by Avenatti, the performer said she will not be going forward with an act scheduled for the evening.
On Thursday afternoon, Daniels took to Twitter, stating that two other dancers at the strip club were also arrested on Wednesday evening and that their charges were not dropped.
"All tips from my stage performance tonight at Sirens in Columbus will go towards their legal fees," she tweeted. "Come support the working women of this city. #letussurvive."
Klein's office said the charges for the "other women are being reviewed."
On MSNBC, Avenatti called the sting operation "an absurd use of law enforcement resources." He said Clifford was gratuitously taken "on the perp walk to be videotaped getting out of the paddy wagon," and that the two of them had been "up all night dealing with the situation."
One of the officers involved in the arrest, Steve Rosser, was previously found to have participated in entrapment in 2015.
Daniels came into the national spotlight in January when she alleged that she had an affair with Trump in 2006 and that she received $130,000 in hush money from his attorney in 2016 to stay silent.

The performer is suing the president and his former personal attorney, Michael Cohen, to be released from a nondisclosure agreement she says she signed prior to the 2016 election. Avenatti has also argued the payment was a violation of campaign finance law.
Trump has denied the affair took place and said he reimbursed Cohen for the payment.