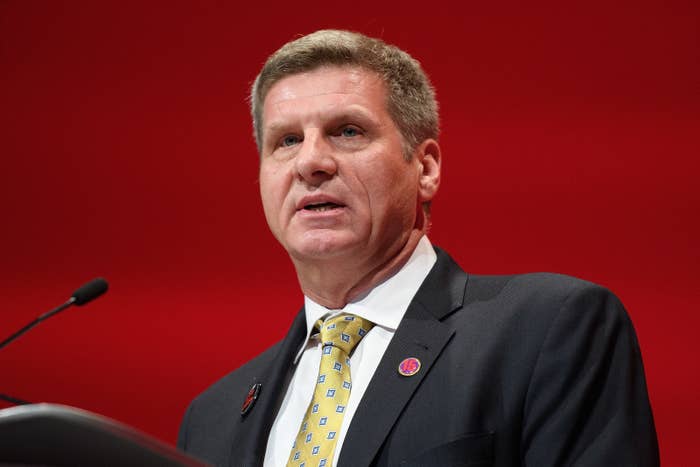 A top labor movement figure who led the Fight for $15 minimum wage campaign resigned Monday after he was suspended amid complaints from staffers about his conduct toward women, BuzzFeed News has learned.
Amid an ongoing investigation into Service Employees International Union Executive Vice President Scott Courtney, a staff member has been fired and another placed on administrative leave "as a result of information discovered through [the] investigation," SEIU President Mary Kay Henry wrote in an email to staff on Monday that was obtained by BuzzFeed News.
Henry also said the powerful union will conduct an "external review of all related policies, procedures, structures and enforcement mechanisms" and expand "non-harassment, non-discrimination, and ethics training for all staff across the union."
Courtney didn't immediately respond to a request for comment.
"This morning, President Mary Kay Henry accepted Scott Courtney's resignation as an elected officer and member of SEIU," wrote Sahar Wali, spokesperson for the Service Employees International Union, in an email to BuzzFeed News.
"This comes a week after she suspended him from his assigned duties based on preliminary information that surfaced through an internal investigation launched to look into questions about to potential violations of our union's anti-nepotism policy, efforts to evade our Code of Ethics and subsequent complaints related to sexual misconduct and abusive behavior towards union staff," Wali added.
As first reported by BuzzFeed News, the SEIU suspended Courtney last Monday following complaints about his relationships with staffers and after "questions were raised ... relating to our union's ethical code and anti-nepotism policy," Wali said in a statement at the time.
On Wednesday, Mary Kay Henry, the union's international president, wrote in an email to her staff that questions has been raised "relating to a romantic relationship between a staff person and a supervisor."
In the initial email, Henry said an investigation by SEIU general counsel Nicole Berner was underway. Wali said Monday "the internal investigation will continue and President Henry has taken additional steps to ensure that, across our union, all staff are respected, their contributions are valued, and their voices are heard."
Earlier this month, Courtney married a union staffer.
"President Henry has said, 'There is no place in our organization for conduct that violates our Code of Ethics," Wali wrote in the email. "Such conduct does not reflect who we are or represent the values that guide the important work we do every day for working people, our families, and communities.'"
The complaints about Courtney had been an open secret among women in the high-profile Fight for $15 campaign within the union, which is itself led by one of the most visible women in US labor.
The SEIU lies at the heart of the US labor movement's attempt to transform itself from a traditional trade union body into a broad force for social and progressive change for union members and nonunion members alike.
The Fight for $15, which is focused on raising the wages of a low-income, largely female fast-food workforce, has been the highest-profile symbol of that effort, and won dramatic victories from New York to Arizona to California. But women inside the union say the internal culture of the Fight for $15 contrasts starkly with the values Henry and the union preach.
"Our union has been fighting for justice for working families, immigrants, women, people of color, LGBTQ people, and people of all faiths and backgrounds in their work places, in our communities and in our economy and democracy," Henry wrote in her email last Wednesday. "Just as we fight to make change in our society, we know that our organization should reflect the kind of just society that we fight for across the country."
Seven people who have worked with Courtney, including current and former SEIU staffers, told BuzzFeed News the top official had a history of sexual relationships with young women staffers — who were subsequently promoted, they said.
The sources spoke on the condition of anonymity for fear of retaliation within the labor movement.
Two people who spoke with BuzzFeed News also said no significant action was taken after staffers reported abuse and sexual harassment by supervisors — who reported to Courtney.
"Nothing happened on those campaigns without Scott knowing," one of the sources said.
In the emailed statement Monday, Wali wrote, "SEIU's two million members, our leaders, and staff are more committed than ever to continuing forward to build power for working families and our communities across the Midwest, growing the the Fight for 15 movement started because of the fearlessness and courage of fast food workers in New York, and to winning the ability to join together in Unions for millions more workers."