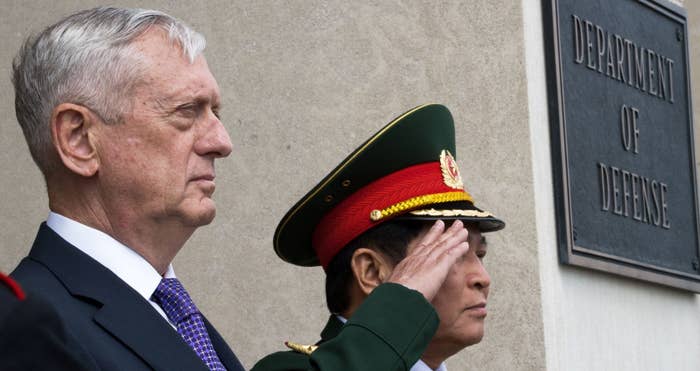 Secretary of Defense Jim Mattis on Wednesday followed President Trump's promise of "fire and fury" against North Korea with strong language of his own, saying the isolated regime needs to "cease any consideration of actions that would lead to the end of its regime and the destruction of its people."

Mattis is the latest administration official to talk tough against Kim Jong Un after it was reported Tuesday that intelligence officials had concluded the North had developed a miniature nuclear warhead that can be placed atop a long-range missile.
Mattis's tone echoed that of Seb Gorka, one of Trump's chief national security advisers.
"We are not just a superpower. We were a superpower. We are now a hyper-power," he said Wednesday. "The message is very clear: don't test this White House, Pyongyang."
But Secretary of State Rex Tillerson appears to either be intentionally taking a more mild tone, out of the loop, or breaking with his colleagues.
"Americans should sleep well at night, and have no concerns about this particular rhetoric over the last few days," he said while refueling in Guam — an American territory in the Pacific that North Korea threatened on Tuesday — after a trip to Malaysia.
"I do not believe that there is any imminent threat, in my own view," Tillerson added.

Here's something else to remember: Though national security experts for months have warned that the large number of unfilled positions at the State Department risks putting the United States in jeopardy in the event of a crisis — one of those unfilled spots is the US ambassador to South Korea.

There was also a lot of confusion Wednesday about whether Trump consulted with his top aides before making the "fire and fury" statement.
A White House spokesperson said the president spoke with Chief of Staff John Kelly, a retired Marine General, prior to tweeting his comments. But the New York Times and Weekly Standard reported that he did not run specific language by advisers, and that the line was "entirely improvised."

Later Wednesday, White House press secretary Sarah Huckabee Sanders confirmed the words were Trump's alone, though aides discussed the "tone" beforehand.
"General Kelly and others on the NSC team were well aware of the tone of the statement of the president prior to delivery," she said. "The words were his own. The tone and strength of the message were discussed beforehand."
State Department spokeswoman Heather Nauert also said the United States is "on the same page."
"Whether it's the White House, the State Department, the Department of Defense, we're speaking with one voice," she said. "Our issue is not with the people of the DPRK, but the regime itself...The president used the language that Kim Jong-un will understand. We would like to see results."
Nauert added: "I know you want to obsess over statements and want to make a lot of noise out of that, but what is important to keep in mind is that...the 10 Asian nations, along with the United States, came to a joint agreement...and put out a very strong condemnation of North Korea."
"We are all singing from the same hymn book," she said.
Trump Tweets BS
Trump had no public events scheduled for Wednesday and a White House spokesperson would not reveal what was on his itinerary. But the president tweeted twice in the morning, saying that the US nuclear arsenal is "far stronger and more powerful than ever before," and that "hopefully we will never have to use this power."

But that is just not true. Weapons and nuclear experts told BuzzFeed News that Trump ordered a Nuclear Posture Review — a paper study — which many other presidents also ordered, including Barack Obama, Bill Clinton and George W. Bush.
America's nuclear arsenal has actually shrunk over the past seven months to comply with a 2011 treaty with Russia, and a modernization program for the nuclear arsenal began under Obama's administration.
"It's up there with crowd sizes and birth certificates," Jeffrey Lewis, director of the East Asia Nonproliferation Program at the Middlebury Institute of International Studies, told BuzzFeed News.

And if Trump were to order an overhaul, it wouldn't be completed in seven months.
When asked about this, Trump spokeswoman Lindsay Walters incorrectly pointed to a presidential memorandum that doesn't back up Trump's tweets — and called it an executive order, which is not the same as a memorandum.
Trump's Aides
Mattis appears to be using increasingly bellicose language as part of a broader effort to push the Chinese to do more to reign in its ally, North Korea. And for China, such intervention could threaten its long-standing desire for stability and non-US intervention in the region.
Here's Mattis's full statement:
The United States and our allies have the demonstrated capabilities and unquestionable commitment to defend ourselves from an attack. Kim Jong Un should take heed of the United Nations Security Council's unified voice, and statements from governments the world over, who agree the DPRK poses a threat to global security and stability. The DPRK must choose to stop isolating itself and stand down its pursuit of nuclear weapons. The DPRK should cease any consideration of actions that would lead to the end of its regime and the destruction of its people.

President Trump was informed of the growing threat last December and on taking office his first orders to me emphasized the readiness of our ballistic missile defense and nuclear deterrent forces. While our State Department is making every effort to resolve this global threat through diplomatic means, it must be noted that the combined allied militaries now possess the most precise, rehearsed and robust defensive and offensive capabilities on Earth. The DPRK regime's actions will continue to be grossly overmatched by ours and would lose any arms race or conflict it initiates.
At the same time, TIllerson's comments and Trump's second tweet appear to be aimed at allies like South Korea and Japan, who are anxious about such stark language. Very simply, the Trump administration is trying to walk a fine line.
It is arguably a risky game the US is playing. What happens if China does not do more? At what point will the US be forced to meet such aggressive rhetoric with action?
Mattis seems to be creating policy on the fly that pivots on Trump's rhetoric, and is ramping up his aggressive language as a means of putting meat on the bones of Trump "fire and fury" statement.
The proof is the shift he has made in just the last month. After the first of two North Korean ICBM tests in July, Mattis warned the House Armed Services Committee about the potential dangers off a war in the region:
"It would be a war like nothing we have seen since 1953, and we would have to deal with it with whatever level of force was necessary ... It would be a very, very serious war," Mattis wrote.
During a February visit to Seoul, Mattis said: "Any attack on the United States or on our allies will be defeated and any use of nuclear weapons would be met with the response that would be effective and overwhelming."
Wednesday's statement is different from his more generic language during a February visit to Seoul, where he stopped short of mentioning specific defenses: "America's commitments to defending our allies and to upholding our extended deterrence guarantees remain ironclad. Any attack on the United States or on our allies will be defeated and any use of nuclear weapons would be met with the response that would be effective and overwhelming."
Guam
In response to Trump's comments on Tuesday, North Korea's Korean People's Army responded, saying the "air pirates of Guam" were in the skies above South Korea "simulating an actual war" — and that they needed to retaliate.
The statement, according to the state-run Korean Central News Agency, called the US territory the "the outpost and beachhead for invading" North Korea and said it would make "an enveloping fire" around Guam.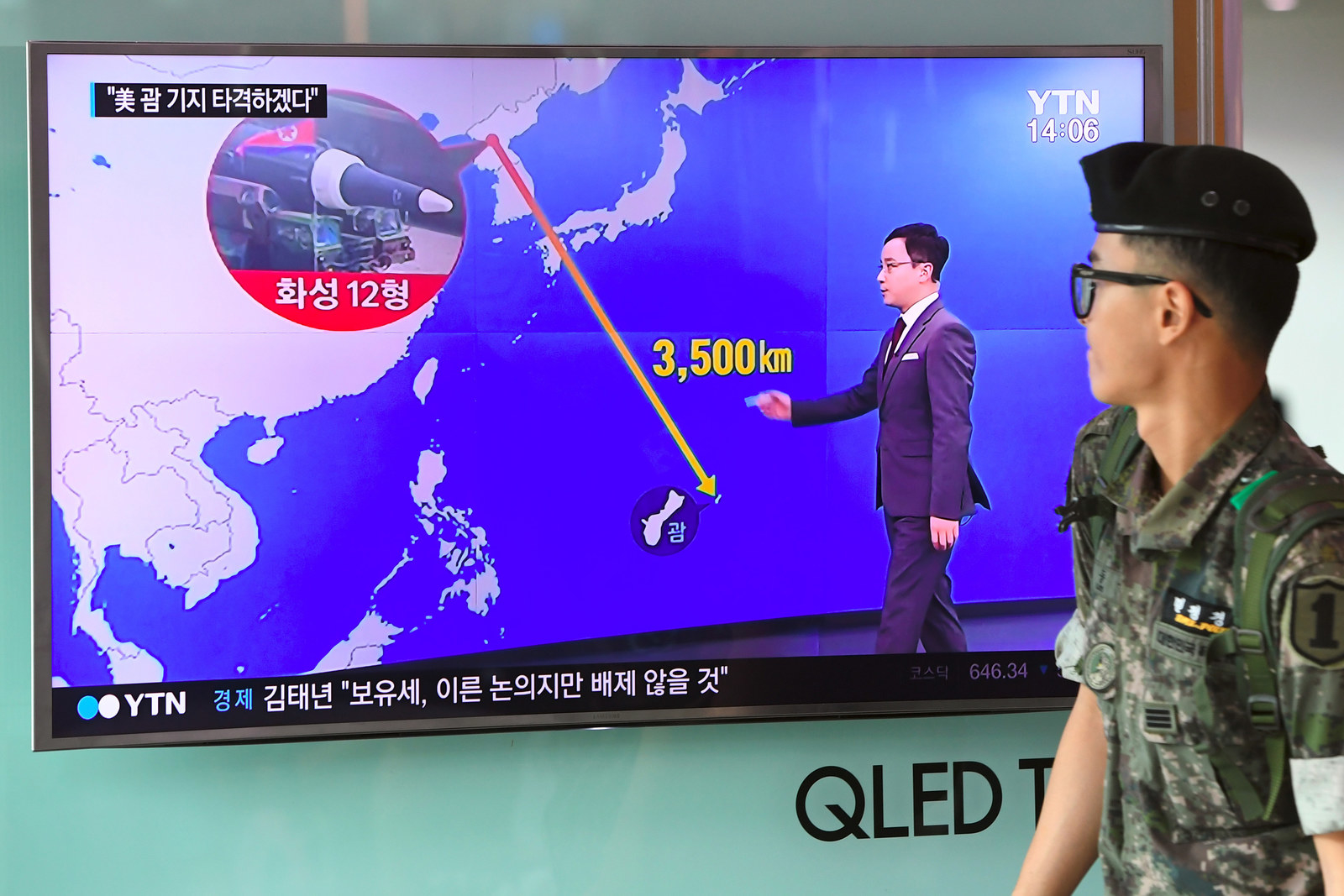 There are currently 7,000 US troops stationed in Guam, most for the Navy and Air Force, according to the Pentagon.
On Wednesday morning, Trump retweeted Fox News reports that American fighter jets were ensuring they could "fight tonight" if necessary — but the Navy says its forces are not under any heightened security stance.

The governor of Guam issued a statement Wednesday, in which he said he was working with the US and the Department of Homeland Security to ensure the island's safety, and that "there is no change in threat level resulting from North Korea events."

"I know we woke up to media reports of North Korea's talk of revenge on the United States and this so-called new-found technology that allows them to target Guam," Governor Eddie Baza Calvo said. "I want to reassure the people of Guam that currently there is no threat to our island or the Marianas."
Calvo emphasized that Guam is a US territory, not merely a strategic outpost.
"Guam is American soil and we have 200,000 Americans in Guam and the Marianas," he said. "We are not just a military installation."
Specifically, on Guam, there are destroyers in place that can defend against an ICBM launch. The US military already is scheduled to conduct a joint exercise, Ulchi Focus Guardian, in the next few weeks. It focuses on inner operability and includes the US, South Korea and sending states — Australia, Canada, Denmark, France, and Great Britain.
Additional reporting by John Hudson.