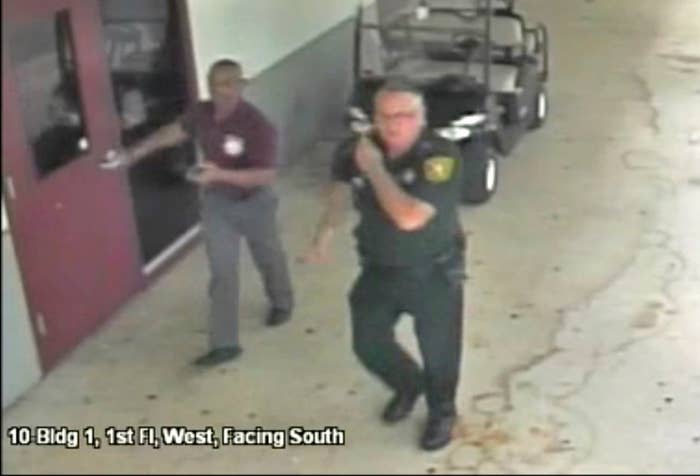 Scot Peterson, the Broward County sheriff's deputy who stood outside Marjory Stoneman Douglas High School as a shooter opened fire in a massacre that left 17 dead on Valentine's Day, said Tuesday that he would be haunted the rest of his life by his actions.
Peterson told Savannah Guthrie of NBC News on Today that when he first heard the shots, he believed they were coming from outside the building, and that he stayed in position to contain the area, drawing his weapon and making sure no traffic continued to the site of the attack. In a tearful exchange, he told the families he was sorry.
"I'm sorry that I didn't know where he was, or if it was one person." he said. "I didn't know who it was, or where they were."
Knowing what he knows now, Peterson said, is the hardest part.
"It's awful," he told Today. "It haunts... knowing that I didn't know... I'm never going to get over this... Those were my kids. I was there to protect those kids."
In February, surveillance video footage that showed Peterson appearing to stand calmly in place during the rampage infuriated the public, who labeled him the "coward of Broward County."

The sheriff's office placed Peterson on unpaid leave, and he retired a week later. He now receives more than $8,000 a month from his state pension. Should Peterson be convicted of a crime that involves a breach in public trust, he could lose his pension, according to the Florida Sun-Sentinel.
Wednesday, Peterson insisted he "did not violate any rules or procedures."
Radio messages later released also contradicted Peterson's story that he did not know where the shooter was and indicated that he had directed officers to stay away from the building where the attack was taking place.
Peterson said that he had received bad information, and that he "didn't get it right," but that he was not acting out of cowardice.
"There was no time," he said. "Things went so fast."
According to a timeline constructed from video footage and radio transmissions, shooter Nikolas Cruz began firing into classrooms at the high school at 2:21 p.m. Two minutes later, Peterson received a call reporting firecrackers from a school monitor. At that point, 11 of the 17 were already wounded and dying.
Peterson said Monday that he left his office and began moving right away, racing to the building and taking up a location outside with a view of multiple buildings, to spot what he believed could be a sniper.

"I thought they were gunshots," he said. "I thought they were outside immediately. And the first thing I thought was, Somebody's shooting at us."

Peterson said he remembered the recent Las Vegas shooting, in which a man fired multiple rounds from the windows of a hotel overlooking a crowd.
"I didn't think they were shooting at the kids," he said. "I thought they were shooting out at the building."

At this point, while Peterson was still outside, students were also calling 911 from the classrooms, leading to confusion. Conflicting reports from police radio implied shots may have been coming from the football field, he said. Instead of going in one direction or another, he held his position.
"When you get a position to cover it, we're trained to scan and look," Peterson said. "If there's a shooter outside, the last thing I wanted was vehicle traffic coming all into towards the school. I am trying to contain this area."
The officer added that he believed that students were on lockdown and that it never dawned on him to go inside. By the time Peterson had arrived at his post, at almost 2:24 p.m., Cruz had shot and killed six more people inside the building in 46 seconds.
Prior to the Valentine's Day massacre, Peterson had a respectable record as a school security officer. In 2014, he was named school resource officer of the year for the City of Parkland district, a position he had held since 2009.

Following the events in February, the Broward County Sheriff's Office opened an investigation into Peterson's actions on the day of the shooting. Florida's Department of Law Enforcement is also conducting a probe into official responses.

Andrew Pollack, the father of one of the Parkland shooting victims, has sued Peterson over his response during the shooting, as well.