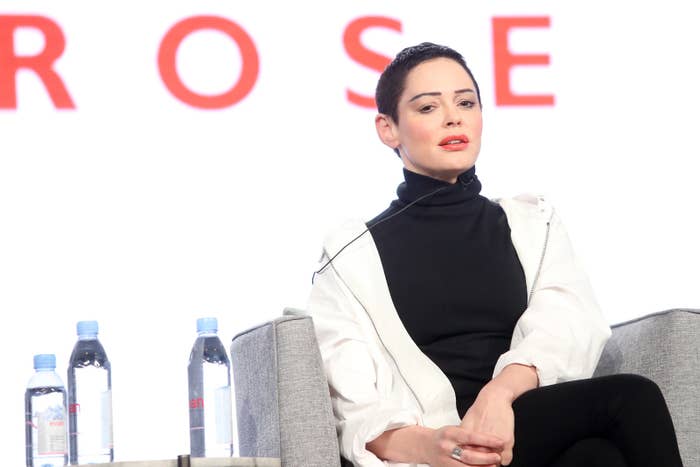 Speaking on Good Morning America Tuesday, the same day of the release of her book Brave, actor Rose McGowan praised Twitter for its role in facilitating the #MeToo movement, which has revealed sexual harassment and abuse throughout industries across the country.
"It's nice being able to speak for myself," she said. "Pre-Twitter there was no way to speak for myself."

McGowan had tweeted implicitly about abuse by Hollywood producer Harvey Weinstein, without naming him, prior to the publication of an investigation by the New York Times that exposed his pattern of sexual harassment and assault of dozens of women.
"I put that out there as a clarion call," she said. "'Come on, journalists, let's go.' I said everything but the name, so draw your conclusions."
McGowan emphasized in the interview that sexual harassment and abuse was systemic in Hollywood, and extended to "the machinery set up in every country [Weinstein] would go to for the handlers to hand him the victims," including agents and managers.
"What about all the others?" she asked. (The Weinstein Company's board fired Weinstein following the investigation.)
McGowan also said that "everybody knew" about Weinstein's behavior.
"There's such gaslighting in this culture," she said, of Hollywood writ large.
McGowan also said that she had considered buying a billboard with the $100,000 settlement money she'd received in exchange for not speaking about her experience with Weinstein.
Asked whether she has any peace of mind, McGowan said it was nice to be able to speak for herself.
"Every interview I did for so many years, every time I was in front of the camera, pre-Twitter, there [was] no way to speak for myself," she said. "Every interview started with, 'What was it like to work with this man?'"
"I was like, 'Well, it's exactly what you think,'" she said.