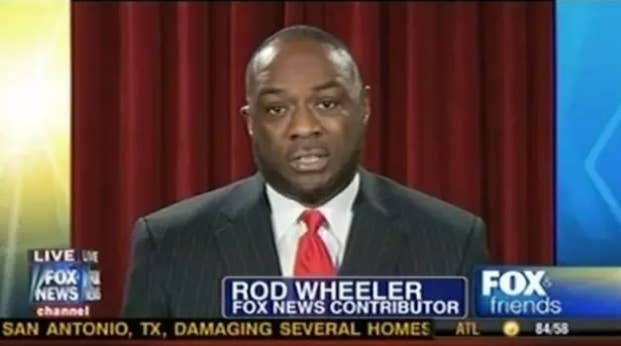 The private detective who ignited a false conspiracy theory about a murdered Democratic National Committee staffer sued Fox News and others on Tuesday, saying the network "created fake news to advance President Trump's agenda."
The suit, first reported by NPR, concerns the murder of Seth Rich, a DNC employee who was shot on a Washington, DC, street in July 2016. Police have described the shooting as a botched robbery. However, according to the conspiracy theory, Rich — not Russia, as US intelligence agencies have concluded — provided DNC emails to Wikileaks and was murdered in response. Right-wing media has latched onto the conspiracy theory as evidence that Trump didn't collude with Russia.
Tuesday's lawsuit was filed by Rod Wheeler, a former DC Metropolitan Police Department homicide detective and Fox News contributor who was hired to investigated Rich's death. Defendants in the case include Fox News, a FoxNews.com reporter, and Ed Butowsky, the man who hired Wheeler.
The lawsuit argues that Fox News defamed Wheeler and destroyed his reputation when it ran a story on Rich in May that included made-up quotes. The issue began in February 2017, according to the suit, when Butowsky — a Texas investor and Trump supporter who contributes to Fox News on financial matters — reached out to Wheeler and offered to pay for the Rich investigation. Butowsky also allegedly told Wheeler he was working with FoxNews.com reporter Malia Zimmerman.
"As it turned out," the suit continues, "Butowsky and Zimmerman were not simply Good Samaritans attempting to solve a murder. Rather they were interested in advancing a political agenda for the Trump administration."

The lawsuit argues that Butowsky and Zimmerman thought they could "undermine reports of collusion between Russia and the Trump administration" by proving Rich leaked the DNC emails.
The lawsuit also details the process that went into producing the FoxNews.com article, and alleges that members of the Trump White House were involved. On April 20, a month before the story was published, Wheeler and Butowsky met with then-White House press secretary Sean Spicer in the West Wing of the White House to review the information they had gathered.
At the time, "Butowsky and Mr. Wheeler met with Mr. Spicer and provided him with a copy of Mr. Wheeler's investigative notes," the suit states. "Mr. Spicer asked to be kept abreast of developments and, upon information and belief, Butowsky did keep Mr. Spicer abreast of developments."

Spicer told NPR he took the meeting as a favor to Butowsky and was unaware of any contact involving the president.
"Ed is longtime supporter of the president's agenda who often appears in the media," Spicer added in a statement to BuzzFeed News. "He asked for a 10-minute meeting, with no specified topic, to catch up, and said he would be bringing along a contributor to Fox News."
White House press secretary Sarah Huckabee Sanders said Tuesday that "the president had no knowledge of the story, and it's completely untrue that there was White House involvement in the story." She also said she didn't find Spicer meeting with the media "to be a strange thing."

"You guys are all members of the media... It doesn't bother me that the press secretary would take a meeting with someone about a story," Sanders said at a White House press briefing. "I've taken meetings with the majority of the people of this room, and we don't always know the nature of the stories beforehand."

Tuesday evening, Wheeler's attorney Douglas Wigdor told BuzzFeed News that he wants to depose President Trump and Spicer as part of the suit.
"We will, of course, seek documents and testimony from [Trump] as well as Mr. Spicer to determine what communications he had with other people in the White House and Mr. Butowsky," Wigdor said in an email.
But despite the White House's insistence Tuesday that Trump wasn't involved, the lawsuit states that Butowsky texted Wheeler to say that the president had read the still-unpublished FoxNews.com article and "wants [it] out immediately. The text was sent two days after the meeting with Spicer, and prior to the article's publication.
Then, about 36 hours before the story ran, Butowsky left a voicemail for Wheeler, saying, "We have the full attention of the White House on this. And tomorrow, let's close this deal, whatever we've got to do."

Butowsky later told NPR he "was kidding" about Trump's reviewing the story.

Tuesday night, he told CNN that neither Trump "nor the White House has anything to do with any of this." He also said the lawsuit is actually the result of Wheeler being "broke."
"This lawsuit is all about Rod Wheeler trying to get money," Butowsky said.
Spicer also seems to have been caught in a lie. On May 16, the day the FoxNews.com article ran, Spicer was asked about it at the daily press briefing — and said he didn't know anything about it:
Q: Sean, can we get a White House reaction or the President's reaction to the report that said Rich was emailing WikiLeaks before his murder?

MR. SPICER: I don't -- I'm not aware of -- generally, I don't get updates on DNC -- former DNC staffers. I'm not aware of that.

Q: It would certainly have a great influence on where the leaks came from, if they could potentially -- I mean, there's a lot of implications in this story, of course. But --

MR. SPICER: I understand that. But for me to comment from here about an ongoing investigation -- I believe it's still ongoing; I don't even know the status of it in terms of D.C. -- but it would be highly inappropriate to do that.
After its publication, the FoxNews.com article sparked a media firestorm and soon afterward, in May, Wheeler told BuzzFeed News the network attributed two quotes to him that he never said.

The suit alleges the reporter, Zimmerman, fabricated the quotes with support from Butowsky because "that's how the president wanted it."
Shortly after the article was published, "Mr. Wheeler called Butowsky and demanded an explanation for the false statements about him in Zimmerman's article. Butowsky stated that the quotes were included because that is the way the President wanted the article, referring to President Donald Trump."

Spicer said in a statement Tuesday, "As Ed himself has noted, he has never met the president, and the White House had nothing to do with his story."

Fox's president of news, Jay Wallace, told NPR there was no "concrete evidence" that Zimmerman misquoted Wheeler, and declined to make Zimmerman available for comment.
In a statement to BuzzFeed News Tuesday, Wallace said, "The accusation that FoxNews.com published Malia Zimmerman's story to help detract from coverage of the Russia collusion issue is completely erroneous. The retraction of this story is still being investigated internally, and we have no evidence that Rod Wheeler was misquoted by Zimmerman."
Wheeler's suit also alleges that he experienced racial discrimination at the network, which resulted in his advancing more slowly professionally than white employees.
Wallace said in his statement that "FOX News vehemently denies the race discrimination claims in the lawsuit — the dispute between Zimmerman and Rod Wheeler has nothing to do with race."
Fox News — specifically host Sean Hannity — was a chief peddler of the Rich conspiracy theory, and the network was later forced to retract Zimmerman's story. Hannity also said he would stop pushing the theory.
A spokesperson for Seth Rich's family said in a statement Tuesday, "While we can't speak to the evidence that you now have, we are hopeful that this brings an end to what has been the most emotionally difficult time in our lives and an end to conspiracy theories surrounding our beloved Seth."
Here's more reading on the fake conspiracy theory:
Outside Your Bubble is a BuzzFeed News effort to bring you a diversity of thought and opinion from around the internet. If you don't see your viewpoint represented, contact the curator at bubble@buzzfeed.com. Click here for more on Outside Your Bubble.